Foreign minister's response to US ambassador: A story for all the wrong reasons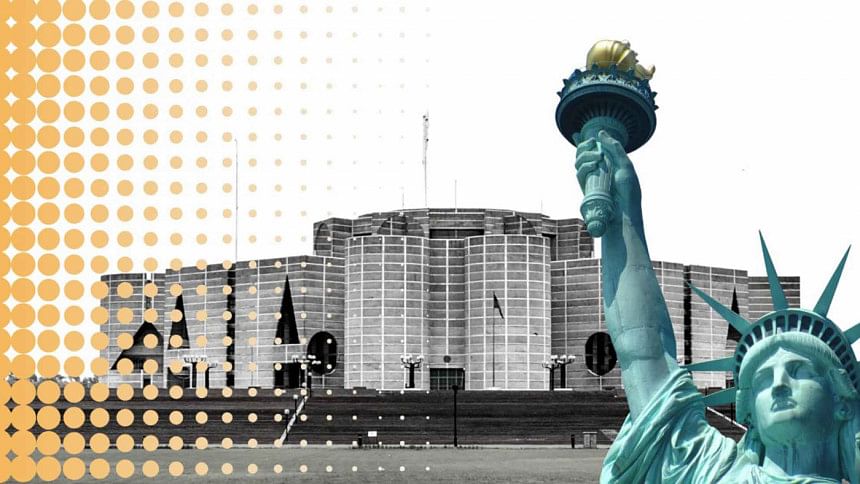 On May 31, our diplomat-in-chief, Foreign Minister AK Abdul Momen, sent a message to diplomatic correspondents in Dhaka suggesting what questions they should ask the US ambassador. By the time his message was transmitted to journalists, the US ambassador's press event, DCAB Talk, was over, and the minister's note ended up as a story itself. It couldn't be ascertained whether the message was a government advisory or a tutorial note as there was no official explanation about it following the publication of the story.
It was a story for all the wrong reasons. Contents of his note suggest that he was unhappy – perhaps angry, too – at the US ambassador's public comments on the state of democracy, human rights, press freedom and sanctions on Rab. He wrote, "Please, you (the newsmen) ask the US envoy why they cannot stop such extrajudicial killings in their own country. Secondly, about 100,000 US citizens go missing every year. Even children are deprived of reuniting with their Hispanic parents. Ask the US about their problems, not about Bangladesh." In his message, Mr Momen added, "It is not the responsibility of the US to rule our country and its development. If the US wants freedom of press, why have they censored the Russian television channel RT? If they want accountability, why are the US security forces or police not punished or held accountable for killing more than 1,000 citizens, mostly Black and Hispanic, every year?"
Questions suggested by Mr Momen also included, "… if their electoral process is fair, why don't young Americans believe in their election system and why is there a low turnout among young Americans? Why is there a 25 percent voter turnout in each election? Is it a participatory electoral process?"
These questions, based on half-truths or questionable facts, coming from none other than a person who has spent more than one-third of his career in the US, are quite shocking. The foreign minister made his stay in the US a special point when he met Secretary of State Anthony J Blinken on April 4, saying, "I always have some indebtedness to you, because when I was homeless, jobless, and stateless, it is the US that provided me a home and a job, and I am thankful for that." Do we have to believe that he is incapable of differentiating between missing persons and enforced disappearances? The voting statistics he has cited is also far from the truth as the official records show that the lowest turnout in the US presidential election was 49 percent posted in 1996. In the last presidential election, the turnout was 62 percent.
Questions suggested by Mr Momen were nothing new, rather a repetition of unverified claims made by some politicians in their public speeches. But political speeches are quite different from the statements made by people steering diplomacy for their country. One may wonder whether he has minutely followed recent statements and comments by US diplomats, including Ambassador Peter Haas, as they now frequently admit the challenges they are facing at home in relation to press freedom and elections. Ambassador Haas, on May 24, told editors and senior journalists in Dhaka that the US was not perfect when it came to having a free press. Quoting from the most recent Reporters Without Borders World Press Freedom Index, he said the US had ranked 42nd out of 180 countries, which, according to him, was far from the top. He added, "Frankly, the United States needs to do better." There were admissions, too, about the difficulties the US is facing regarding elections, especially the allegations of fraud made by former President Donald Trump and his followers in the Republican Party.
The biggest problem with these statements, aimed at deflecting the focus of alleged violations of human rights and democratic principles by pointing out failures of others, is that it is a futile exercise and, to some extent, counterproductive. When Ambassador Haas or any other Western diplomat emphasises on a credible election according to international standards, wouldn't it be wiser to respond with expressing commitment to follow such standards? Trying to find justification of a discredited election through pointing out flaws in other countries' elections exposes desperation to deflect the issue.
The same is true when attempts were made to counter issues of human rights abuses, press freedom and accountability by raising questions about intentions and making wild allegations of conspiracies to destabilise the government. It also contradicts assertions by other functionaries of the government that it has been reviewing disputed legislations like the Digital Security Act (DSA) to ensure that it does not become a tool to harass journalists.
The news about the foreign minister's suggested questions to reporters was especially troublesome as he has already earned some notoriety for his diplomatic language. His characterisation of Indo-Bangla relationship or comments about seeking help from India to bring an end to the US sanctions on Rab and importing oil from Russia can be cited here as examples. One may wonder whether these words are advancing our cause and brightening our image abroad, or harming it instead.
Kamal Ahmed is an independent journalist and writes from London, UK. His twitter handle is @ahmedka1