Burn cases surge amid winter chill
Experts point at lack of awareness, negligence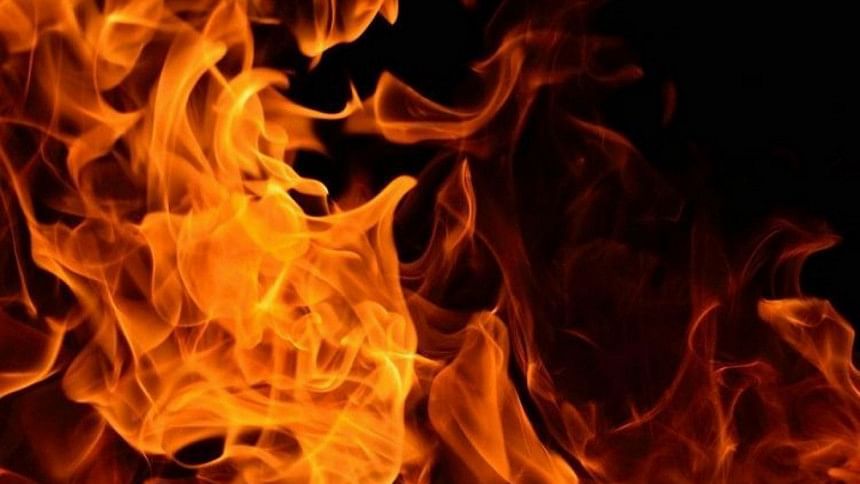 On a chilly winter night, 18-year-old Sonia Begum from Bhola's Lalmohan upazila was sitting by a fire in order to warm her body. Suddenly, the edge of her dress caught fire. By the time she noticed the flame, it was too late. It spread quickly and engulfed her within minutes.
The incident took place recently. From Bhola Sadar Hospital, she was referred to the Burn and Plastic Surgery Unit of Dhaka Medical College Hospital where she is now fighting for life with 30 percent burns.
As the winter progresses, such incidents are increasing across the country. Most of the victims thronging Dhaka's burn hospitals from different parts of the country are women and children.
The burn hospitals in Dhaka are almost always packed these days. On December 27, as many as 486 burn patients were being treated at the 500-bed Sheikh Hasina National Institute of Burn and Plastic Surgery, while the number in DMCH's 300-bed burn unit was at least 200, according to hospital sources.
While visiting the hospitals on January 5, these correspondents saw that all the beds at the National Institute of Burn and Plastic Surgery and DMCH burn unit were filled with patients. Authorities had to set up additional beds in the balconies and corridors in the DMCH burn unit due to patient influx.
Three months back, the total number of both burn and plastic surgery patients was 400-450 at the Sheikh Hasina National Institute of Burn and Plastic Surgery. But in winter, the hospitals give priority to accommodating more burn patients, doctors said.
After coronavirus gripped the country in 2020, the burn unit of DMCH was dedicated for Covid patients. The number of burn patients in the facility was about as low as 50 during that time. But now again, the whole unit is dedicated to burn patients. Besides, many patients are also coming to the outdoor unit with minor burns requiring primary treatment, doctors said.
While visiting the hospital, this newspaper also met four-year-old Arafat.
The child was playing in his house in Burichang upazila of Cumilla while his mother Parul Akhter was boiling bathwater. She was unmindful for few minutes, and Arafat fell in the hot water. The child sustained 13 percent burn injuries following the incident.
For the last 16 days, he has been at the burn unit of DMCH.
"Although almost everything is free at the government hospital, we still needed to spend about Tk 30,000 to buy some medicines and to meet our everyday cost," said Parul.
Mohammad Hasan, a college student from Barishal, came to visit his cousin in Mirpur-11 recently. The two went out on Thursday morning and while returning to his cousin's home in the evening, Hasan saw a group of people warming themselves with a fire they lit up using dried leaves and branches. Hasan and his cousin joined them. After a while, Hasan threw a branch into the fire to keep it running.
"As soon as I did it, the branch exploded and some splinters along with fire hit my face," he told The Daily Star.
He sustained eight percent burns and received treatment including burn dressing at the National Institute of Burn and Plastic Surgery on Thursday night. 
Talking to The Daily Star, Dr Samanta Lal Sen, chief national coordinator for plastic surgery and burn projects in Bangladesh, said every year, the number of burn patients increases in winter as the usage of fire and cooking stove go up for the purpose of warming body, boiling water and heating curries.
Many times, it leads to unexpected fire incidents due to negligence and unawareness, he added.
Burn treatment is comparatively expensive than other treatments. Generally, a severe patient needs to stay at the hospital from one to six months, according to doctors.
"This winter, we could not accommodate all patients at the same time as the number of beds is still low. So, we are giving primary treatment to those who have small burns and asking them to visit hospitals for dressing as per doctor's advice," Dr Sen said.
Dr Sen added that they have taken steps to create awareness among people. From this year, National Burn Day will be observed across the country to raise awareness, he added.