Bagerhat in festive mood ahead of Padma Bridge opening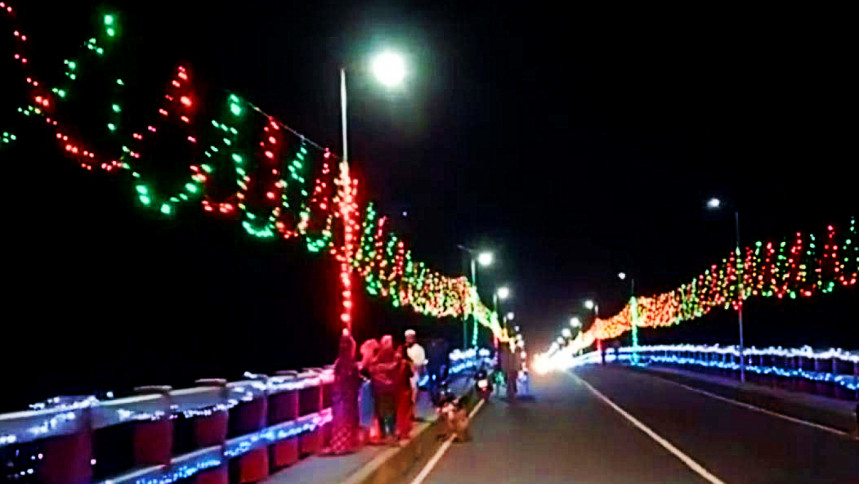 The countdown is on. Padma Bridge, the largest megaproject of the country, will be opened by Prime Minister Sheikh Hasina on Saturday morning (June 25).
A festive mood is prevailing all over the country, centring the inauguration ceremony. The southern district of Bagerhat is no exception and has been decorated in a befitting manner.
A variety of Padma Bridge-related banners, festoons, and posters have been put on throughout the district. Important roads, highways, bridges, and government buildings have all been lit up.
Padma Bridge related songs are being played at various places of Bagerhat. Awami League and its affiliates have also made extensive preparations to participate in the inaugural function.
The district administration has been conducting various programmes for a week on the occasion of the inauguration of Padma  Bridge.
On the opening day, Padma Bridge related songs will be performed by Baul artists. A big projector will be installed at the Swadhinata Udyan to livestream the inauguration programme.
All the major bridges and important roads including Daratana Bridge in Bagerhat, Muniganj Bridge, Abul Khair Bridge in Mollahat have been illuminated. All in all, people are in a festive mood.
Sarwar Sheikh, a resident of Amlapara area of Bagerhat town, said, "Padma Bridge is not just a bridge, it is our dream. On this occasion, not only the government and the Awami League, but the entire population of Bagerhat are happy.
Businessman Bappi Debnath said, "Everyone in our area is happy ahead of the inauguration of Padma Bridge.''
Bagerhat District Awami League General Secretary Advocate Bhuiyan Hemayet Uddin said, "Our leaders and workers are very excited to take part in the inauguration ceremony of Padma Bridge. More than 50,000 people will join." He also said the leaders and workers of each union will hold joyous processions and distribute sweets.
Bagerhat Deputy Commissioner Mohammad Azizur Rahman said the district administration has arranged rallies and cultural programmes.
At the same time, arrangements have been made to broadcast the inauguration ceremony of the bridge on a big screen, he said.