AI-Run Traffic Signal: Thoughtless, likely to fail
Say experts about DSCC move; 'no science will work unless roads expanded, discipline enforced'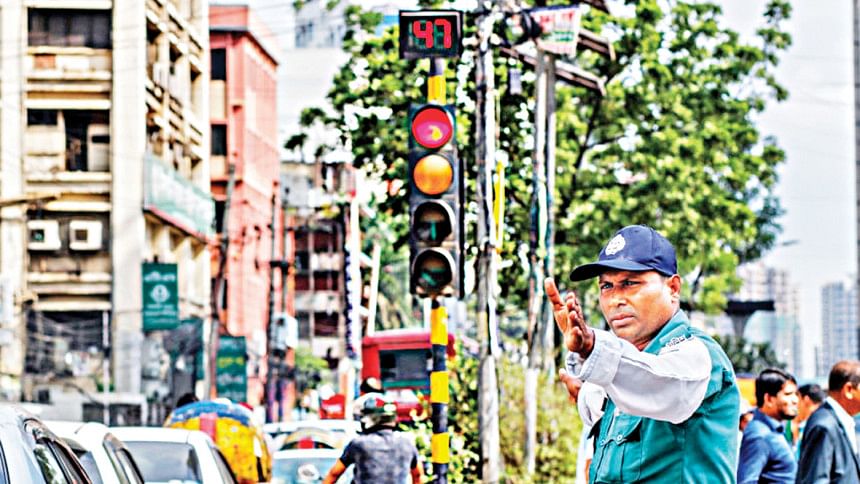 After spending Tk 119 crore over 15 years on traffic lights that came to nought, Dhaka South City Corporation has moved to install an artificial intelligence-driven signalling system which experts fear is destined to fail.
Prof Md Shamsul Hoque of Buet said no digital initiative would work in the city unless a proper traffic system was in place.
"You can take up as many projects as you like, but the digital system simply can't work here. It did not work before and will not work in the future.
"Our road network is not disciplined. There is no lane concept; both motorised and non-motorised vehicles ply the same road, and the flow of vehicles is much higher than the capacity of the roads. In this condition, no science will work."
But the project is already set in motion.
"The DSCC has appointed a consultant firm named EPC [Engineering and Planning Consultants Ltd] to conduct a feasibility study for running 53 of its designated traffic signal points with artificial intelligence technology," Kazi Md Borhan Uddin, superintending engineer of Traffic Engineering Circle of DSCC, told The Daily Star recently.
The city corporation has already paid EPC Tk 5 crore in consultation fees.
Borhan said they expect to get the study report within four months.
He said AI technology with multiple cameras and other devices would enable them to monitor traffic volume and act accordingly.
"But it would take time to make the technology operational as it requires funding and the government's approval," he said.
About the budget, Borhan said they have not worked on it yet.
The initiatives DSCC took in the past to control traffic include the installation of digital signal lights, countdowns for light change, solar panels to power them, and digital display boards at some major intersections.
The automatic traffic lights were first installed between 2001 and 2005, but they were hardly followed and they soon became non-functional due to poor maintenance.
At least 68 of the set of lights were meant to be synchronised but they worked independently.
In 2012-13, the DSCC restored them and launched a trial run, which failed.
Later, remote controls were given to traffic police to control the lights but that too did not last more than a month and since then the traffic flow has been managed with hand signals, and in cases ropes, cones, and bamboo fences are being used.
Meanwhile, 17 large and 14 small digital boards displaying traffic rules and speed limits were set up at some key points, but they remain largely ignored. Dhaka Metropolitan Police set up those displays at a cost of Tk 27 crore.
Many of them have since been removed for ongoing projects like metro rail and U-loops.
The traffic in the city of more than two crore remains chaotic.
Dhaka is the seventh worst city in terms of traffic management among 241 surveyed, according to the World Traffic Index 2020.
Buet's Accident Research Institute (ARI) said the country lost an estimated Tk 55,685 crore due to traffic congestion in Dhaka city last year.
Urban transport experts blame unthoughtful traffic management, unrealistic projects and unplanned permission for new vehicles on overcrowded road for the situation.
Poor road conditions, rickety public transport, jaywalking, and non-motorised vehicles also contribute to gridlocks, they said.
Adil Mohammad Khan, former general secretary of Bangladesh Institute of Planners, said, "Though the government had prepared a Strategic Transport Plan (STP) in 2005 for 20 years, later revised for 2015 to 2035, it was not followed properly."
In the STP and RSTP, experts suggested clearing footpaths, constructing eight roads connecting roads outside Dhaka, three ring roads, and discipline in public transport management, said Adil, adding that there were proposals for five metro rails, two bus rapid transport systems, six expressways, and 21 transport hubs.
He said metro rail alone will not solve the problem as it would cater to only 10 percent of the passengers.
Even though the government is working on a bus route rationalisation system, only three routes have been opened and those failed to provide optimum benefits to people due to a lack of buses, he said.
Adil said 20 to 25 percent of areas of a city should be roads but in Dhaka less than 10 percent of the area are roads.
"Even the existing roads cannot function more than 60 to 70 percent due to a lack of coordination among city corporations and utility service providers, uncontrolled parking, and mismanagement of hawkers."
Monibur Rahman, additional police commissioner (traffic) of Dhaka Metropolitan Police,  said an integrated plan is important to make the city's traffic signals functional and to implement that plan, coordination among all the relevant stakeholders is crucial.
He said traffic police is just one stakeholder among others like Dhaka North City Corporation, Dhaka South City Corporation, Bangladesh Road Transport Corporation, Bangladesh Road Transport Authority, Roads and Highways Department, and Dhaka Transport Coordination Authority.