UP polls: EC orders to file case against AL chairman candidate
Election at Banshkhali's Chambal union cancelled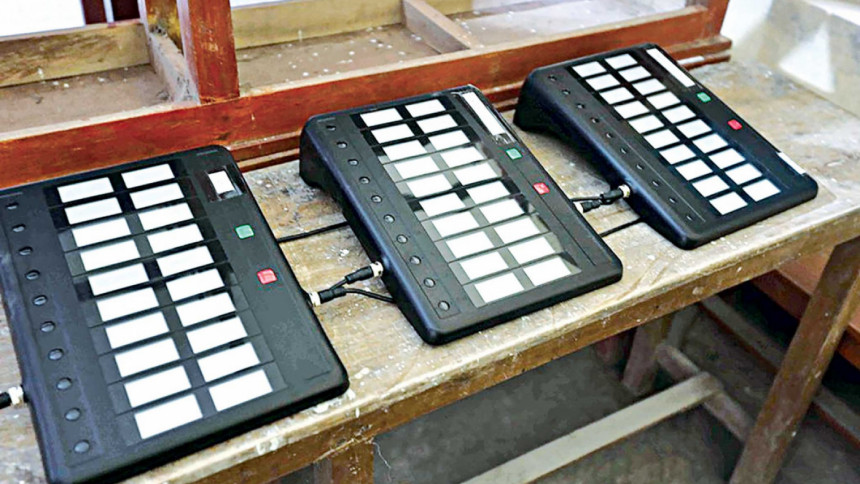 Election Commission today decided to file a case against Awami League (AL) chairman candidate for Banshkhali's Chambal Union Parishad as he said that he would "keep his men at polling booths to press the EVM buttons if voters fail to do so". 
The EC also cancelled the election date for the union parishad scheduled to be held on June 15.
EC in an order asked Banshkhali upazila election officer to file the case against AL candidate Mujibul Haque Chowdhury. It, in separate order, informed the concerned officials about cancelation of the election schedule.
Mujibul, also the incumbent chairman of the union, on May 29, said if there were no electronic voting machines (EVMs), he would have gotten all the votes the night before the election day.
He said this while talking at an election rally on May 29. Since then, a video clip of his speech has gone viral.
He said, "Voting will be held through EVMs. So, what would I do? You have to give a little effort and cast votes, putting pressure with your fingers. If you can't push [EVM buttons], I'll keep people there to do it …"
"You must come to cast votes because it is EVM voting. If the voting was not held using EVM, I would not have been looking for anyone. I would have stamped the ballots as much as I could."
Contacted, last week Mujibul dismissed the allegation, claiming that the video was fake.
"I am not a child. I am the incumbent chairman. Can I give such a childish speech at a public rally?" he said.
"My rivals made it and disseminated it to tarnish my image," he said, adding, "I will go for legal action".