"If I were CEC of New Zealand or Britain, could've wrapped up polls while sipping tea"
CEC Kazi Habibul Awal says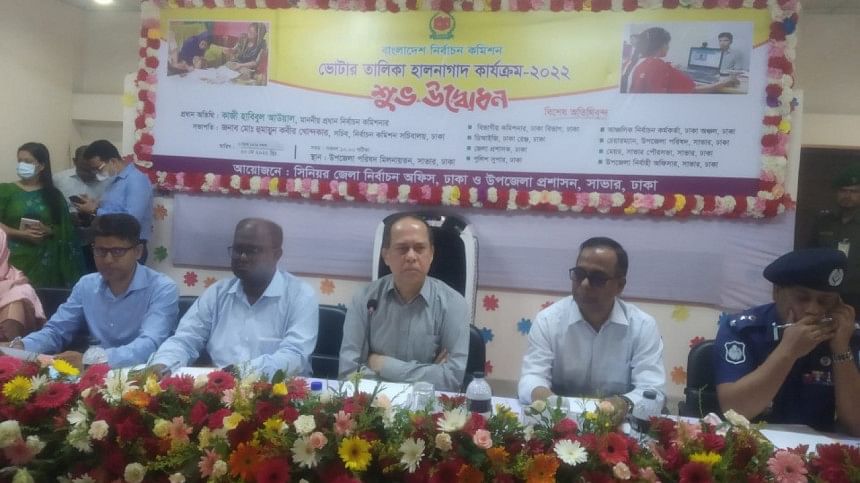 Chief Election Commissioner Kazi Habibul Awal said if he had been made the CEC of New Zealand or Britain, he could have finished the election by sitting on a chair sipping tea.
He said this while inaugurating the voters' list update programme-2022 at Savar in Dhaka today (May 20, 2022), reports our local correspondent.
"I told my colleagues that if I were the Chief Election Commissioner of New Zealand or Britain, I could have finished the election by sitting on a chair and sipping tea," he said.
"In many countries of the world, elections/voting rights are exercised, as you know, and I also know that no violence happened there. Everyone stands in queues and everyone goes and exercises their rights to vote," he added.
"I didn't have any kind of stress, and would not suffer from high blood pressure. But the situation in Bangladesh makes us stressed during the elections. We have to be careful," said the CEC.
"The Election Commission alone can never make an election a success. But here those who are employees of the Republic, such as police administration, and district administration have to play a very important role during the elections," he also said.
"Here, however, we have a big challenge. Exercising the voting right is the big challenge," he said.
"Yesterday I read a report of violence during elections in a newspaper. We want competition and a participatory election. But sometimes violence takes place in the vote. Chase and counter chases happened. A writer said that this is not our election crisis, it is our cultural crisis," he went on saying.
"How our culture has developed that we have to commit occurrence during elections. In many cases, this makes us sad. We need to get out of this exercise and maybe it will take some time," he added.
Md Humayun Kabir Khandker, EC secretary, also spoke at the event and called upon people, local government representatives, and administration to come forward for the cooperation of the staff engaged in the updating process of the voters' list.