Gaibandha-5 by-polls out of control: CEC
By-elections to Gaibandha-5 constituency has gone out of control, Chief Election Commissioner (CEC) Kazi Habibul Awal said today.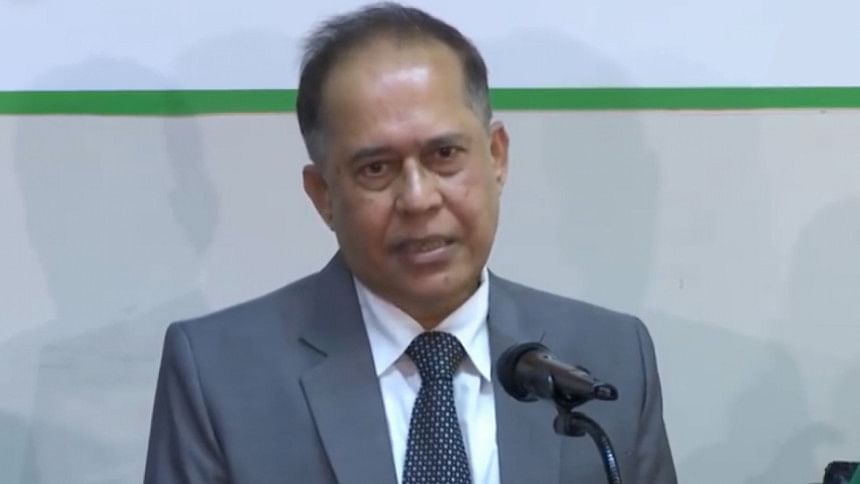 By-elections to Gaibandha-5 constituency has gone out of control, Chief Election Commissioner (CEC) Kazi Habibul Awal said today.
The CEC made the remarks while sitting at the monitoring cell of Gaibandha-5 constituency at Nirbachan Bhaban in the capital's Agargaon.
"We have seen people entering the secret room and casting votes unlawfully, with our own eyes,," He said.
Those centres were locked as primary action, he said adding that the EC will consider later what actions to take further.
"We have told the SP, DC, returning officer on the phone that we have seen these from here through CCTV cameras. That's why we stopped the voting immediately. If the commission thinks that the election is not being held properly, then it can stop it," he also said.
"We can see that a lot has gone out of control. You have also seen what is happening in the secret room and that the elections are not being held in an orderly manner. But I can't immediately tell you why this is happening," the CEC added.
Suggesting that human behaviour is at wrong here, as people other than the voters are entering and directing who to vote, he said that "we can't say at the moment whether the law enforcement agencies are working properly or not. I don't see any defects in EVMs either."
"This is against an orderly election. They are robbers, they are miscreants. We can address those who do not obey the law, as robbers and miscreants. Because everyone has to respect the law. If everyone does not obey the law, the Election Commission will not be able to sit here and deliver a beautiful election," he added.
Earlier, all candidates of Gaibandha-5 (Fulchhari-Saghata) by-elections, except the Awami League nominated candidate, boycotted the polls.
The four candidates announced their decision in a press conference held at Bagervita Government Primary School premises in Saghata Upazila around 11:30 am.
Meanwhile, Election Commission (EC) postponed voting at 40 polling stations in the by-polls over "Irregularities".
Voting began at 88 centres in Saghata upazila and 57 in Fulchhari upazila at 8am today (October 12, 2022).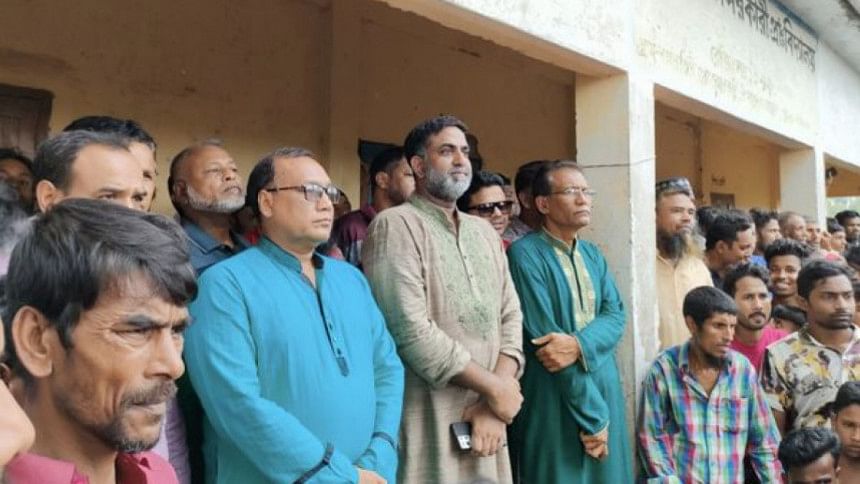 Voting is being held through Electronic Voting machines (EVMs) for the first time at 952 booths in 145 centers.
Chief Election Commissioner (CEC) Kazi Habibul Awal said, "We are directly monitoring the election commission through CCTV."
Asked about the reasons, he said, "We won't say this!  We have seen irregularities, that's why. There were serious irregularities. "
"We are the Election Commission, the independent commission.…There have been some irregularities, no fair election was being held there. It will not reflect the public opinion. That's why we postponed voting at those centers.
"We are monitoring the situation further," the chief election commissioner said.
The seat fell vacant on July 23 of this year when Deputy Speaker Fazle Rabbi Miah, the then lawmaker of Gaibandha-5 constituency died while undergoing treatment at a hospital in the US.
The five candidates are contesting the seat are- Awami League nominee Md Mahmud Hasan, Jatiya Party nominee HM Golam Shahid Ronju, Bikalpa Dhara Bangladesh's Jahangir Alam, independent candidate Nahiduzzaman Nishad and, another independent candidate Syed Mahbubur Rahman.
The total number of voters in the constituency is 3,39,743.