Will work together for regional stability
Hasina, Modi hold bilateral meeting in New Delhi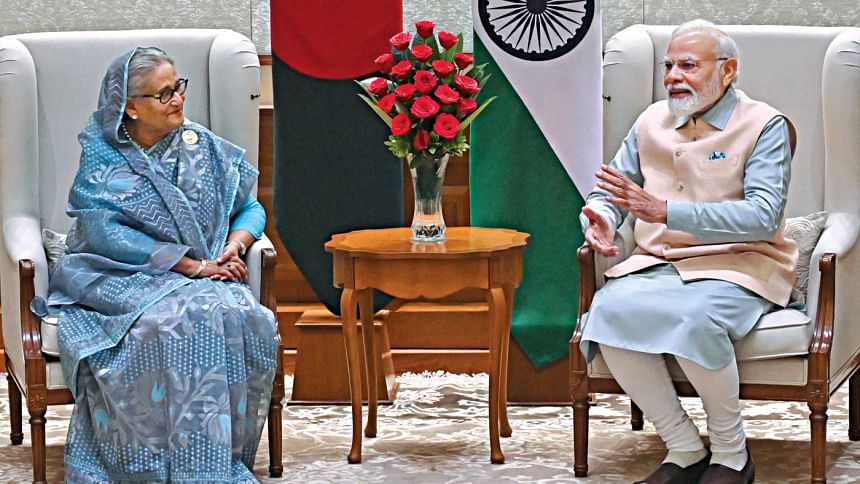 Prime Minister Sheikh Hasina and her Indian counterpart Narendra Modi have agreed that Dhaka and New Delhi will work together to ensure political and economic stability in the two countries as well as the region.
"India and Bangladesh think the same way. We want regional peace and stability for development," Foreign Minister AK Abdul Momen said while briefing reporters after Hasina and Modi held a bilateral meeting in New Delhi on the eve of the G20 Summit.
Momen said this when a reporter asked him about India's attitude towards elections in Bangladesh amid pressure from the US and other western countries that are calling for free and fair polls.
Momen said there was no pressure because the government is committed to free and fair elections. He also dismissed the likelihood that there will be an election-time caretaker government.
The foreign minister then added that BNP's 2001-2006 tenure saw a rise in violence against minority communities, militancy and terrorist attacks.
Hasina and Modi held the hour-long meeting at the official residence of the latter yesterday evening.
At his briefing, Momen told reporters that the Awami League government took actions against the insurgents from India's Northeast region who took shelter in Bangladesh.
Modi expressed deep gratitude to Hasina for her government's role in ensuring peace situation in northeastern India, Momen said.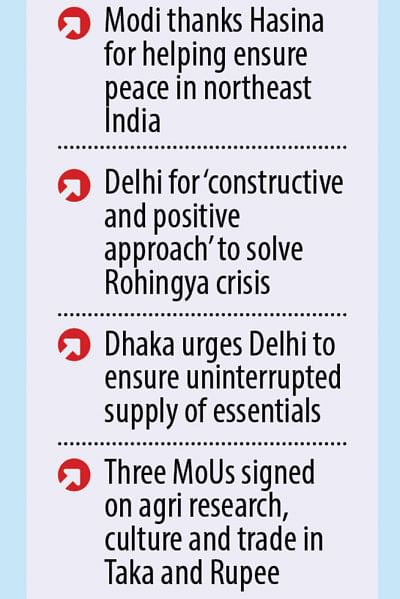 Asked if Modi and Hasina discussed Bangladesh elections, Momen said, "I don't know."
Before the formal meeting, Hasina and Modi also had a tete-a-tete.
Asked whether elections were discussed in the private meeting, Momen said, "Maybe. I don't know about that."
Hasina reached the Indian capital around 1:15pm. She travelled there to attend the G20 summit at the invitation of India, this year's G20 president. Indian State Minister for Railways and Textile Darshana Jardosh and Bangladesh High Commissioner to India, Mustafizur Rahman, welcomed the premier at Palam Airport.
Immediately after the bilateral meeting, Modi wrote on X, formerly known as Twitter: "Had productive deliberations with PM Sheikh Hasina. The progress in India-Bangladesh relations in the last 9 years has been very gladdening. Our talks covered areas like connectivity, commercial linkage and more."
The Indian Ministry of External Affairs issued a statement after the meeting, saying that the two leaders discussed political and security cooperation, border management, trade, connectivity, water resources, power, energy, development, and cultural and people to people ties.
"Current developments in the region and cooperation in the multilateral fora were also discussed," it read.
At the meeting, Hasina requested Modi to ensure uninterrupted supplies of essential goods to Bangladesh.
In December 2022, Dhaka sought India's assurance of annual supplies of 45 lakh tonnes of wheat, 7 lakh tonnes of onions, 30,000 tonnes of lentils, 20 lakh tonnes of rice, 15 lakh tonnes of sugar, 10,000 tonnes of garlic and 1.25 lakh tonnes of ginger.
Bangladesh-India trade is about $14 billion, and essential commodities comprise a major portion of it.
Momen said that on multiple occasions, supply shortage sent the prices of certain goods spiralling in Bangladesh.
"We requested the Indian side to inform us of the quantity of commodities they can supply a year. They have accepted this proposal."
Bangladesh and India last month agreed to trade by Taka and Rupee. Towards that end, an MoU was signed between Bangladesh Bank and the National Payments Corporation of India to facilitate digital payment mechanisms in Rupee and Taka.
"This will help us, to some extent, save dollars," Momen said.
Prior to the meeting, Dhaka and Delhi signed two other MoUs -- Cooperation on Agricultural Research and Education and Extension of Cultural Exchange Programme from 2023 to 2025.
Hasina requested Modi to extend cooperation for quick repatriation of Rohingyas from Bangladesh.
Currently, Bangladesh and Myanmar are working on a pilot project for repatriating 3,000 Rohingyas under a trilateral mechanism mediated by China.
Modi expressed appreciation of the burden shouldered by Bangladesh in hosting over a million Rohingyas, and conveyed India's "constructive and positive approach" to support solutions towards safe and sustainable repatriation.
India welcomed Bangladesh's Indo-Pacific Outlook.
The two leaders look forward to beginning negotiations on the Comprehensive Economic Partnership Agreement.
They also look forward to the joint-inauguration of Agartala-Akhaura Rail Link, Unit-II of the Maitri Power Plant and Khulna-Mongla Rail Link.
Hasina thanked Modi for inviting her to the G20 Summit, where Bangladesh is expected to present the challenges facing the Global South.
Momen said he met his Indian counterpart S Jaishankar separately and discussed bilateral, regional and global issues.
Today, Hasina will address a session titled "One Earth" at the G20 Summit.
She is also scheduled to hold meetings with Saudi Crown Prince Mohammad Bin Salman Bin Abdulaziz, Argentina President Alberto Angel Fernandez and Korean President Yoon Suk Yeol.
She will also attend the launch of Global Biofuels Alliance.