PM hopes arrival of FIFA World Cup trophy will inspire youth
Says Football most popular sport in Bangladesh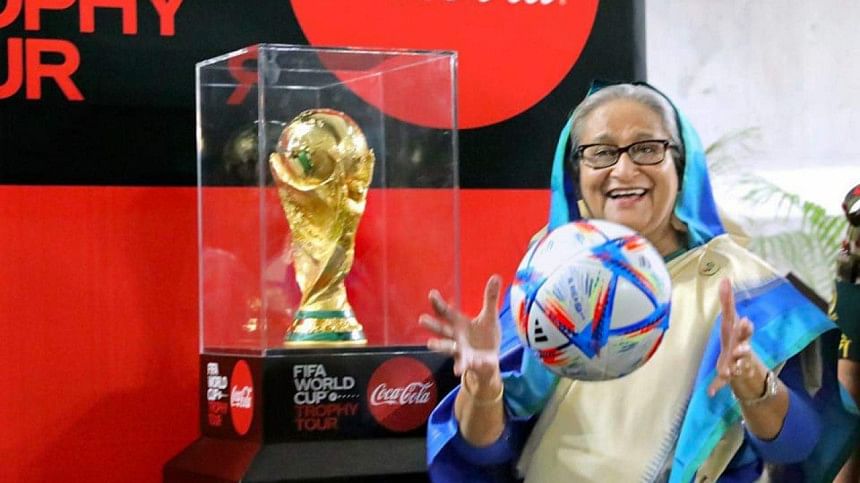 Prime Minister Sheikh Hasina today (June 8, 2022) said, "Football is the most popular sport in Bangladesh. We are also tirelessly working to get our children involved in sports."
She made the comments while meeting the FIFA delegation on the occasion of the arrival of the "FIFA World Cup Trophy" in Bangladesh, according to a Prime Minister's Office press release.
She exchanged pleasantries with the members of the delegates at the parliament and in a brief speech, she reminisced about her family's involvement in sports, especially football.
At the time, Hasina mentioned that her grandfather, father Bangabandhu Sheikh Mujibur Rahman, the Father of the Nation, her brothers, children and even grandchildren are very athletic and have been closely involved with sports.
The premier thanked FIFA, Coca-Cola and Bangladesh Football Federation authorities for the arrival of the World Cup trophy in Bangladesh.
She expressed hope that the visit of the FIFA Trophy to Bangladesh will encourage sports lovers of the country, especially the younger generation.
Md Zahid Ahsan Russel, state minister for Youth and Sports, Kazi Salahuddin, BFF president, along with senior officials of FIFA, Coca-Cola and BFF were present at the time, among others.