Tipu murder: Five more arrested, 2 firearms recovered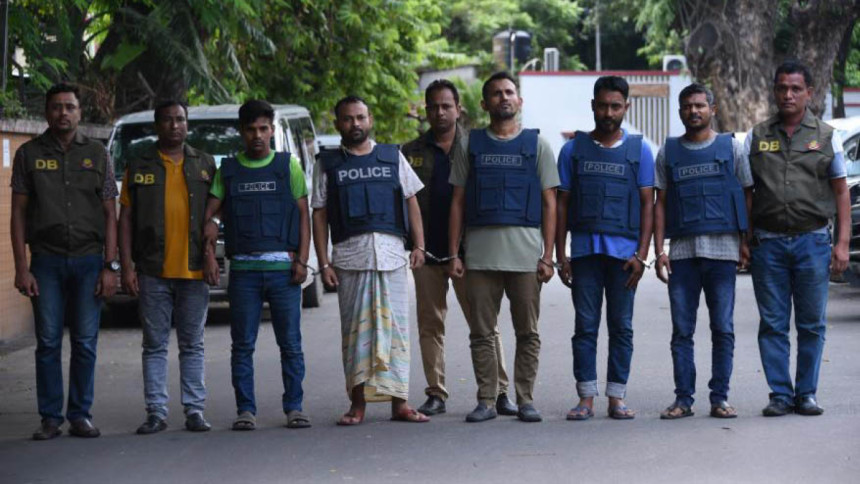 Detective Branch of police has arrested five more suspects in connection with the murders of Awami League leader Jahidul Islam Tipu and college student Samia Afran Jamal Prity.
The arrestees are: Shamim Hossain alias Molla Shamim, Tawfique Hasan alias Babu, Sumon Hossain, Ehtesham Uddin Chowdhury alias Apu, Shariful Islam Ridoy.
The DB officials arrested them from different areas in Jashore's Benapole and Dhaka yesterday, Mohammad Harun Or Rashid, chief of detective branch of DMP, told a press briefing today.   
With them, at least 23 persons have been arrested in the double murder case so far.
In the briefing, Harun said one of the five arrestees, Shamim, was directly involved in the murder but remained out of touch.
He was staying in Benapole and waiting to cross the border, he said.
The DB officials also recovered two pistols, eight bullets and a motorcycle, used in the murder, from south Goran area.
Detective officials said Shamim brought shooter Akash, who was arrested earlier, on a motorcycle to execute the murder.
On March 24 this year, Tipu (55), former general secretary of Motijheel AL, was returning home in his microbus from his restaurant in Motijheel AGB Colony area. The vehicle was at a traffic light in Shahjahanpur when attackers arrived at the scene on a motorcycle and opened fire.
College student Prity (22), who happened to be in a rickshaw next to the vehicle, also got shot. The two were declared dead after being taken to Dhaka Medical College Hospital.