Tipu Murder: Strings pulled from Dubai
Rab claims his insistence on getting justice for killing of aide resulted in his own murder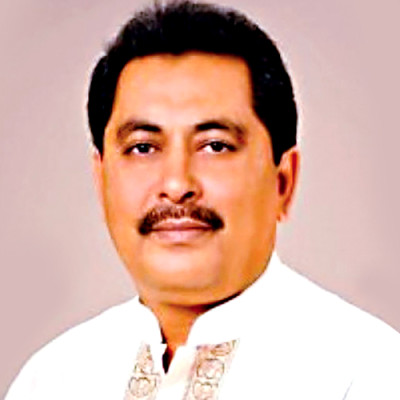 His pursuance of a murder case filed after the killing of a close aide was one of the reasons behind Awami League leader Zahidul Islam Tipu murder, said Rab.
It also said long-standing feuds over exerting influence in school-college admissions, and kickbacks from extortion, illegal kitchen markets, and tender bid manipulation in Motijheel were among the other reasons.
Rab said this yesterday after arresting Omar Farooq, 52, AL general secretary of Dhaka South City Corporation Ward-10 unit. It claimed that Farooq was one of the masterminds.
It also held Abu Saleh Sikder, also known as Shooter Saleh, 38; Nasir Uddin aka Killer Nasir, 38; and Morshedul Alam aka Kayla Palash, 51, at Mirpur, Mugda, and Shahjahanpur.
The law enforcers also recovered a motorbike used for surveilling Tipu and Tk 3.30 lakh "blood money".
The rivalry between Tipu and Farooq and others began even before the 2013 sensational murder of Dhaka North Jubo League organising Secretary Riazul Haque Khan Milky in front of Shoppers World in Gulshan.
Tipu lost his post of AL Motijheel Police Station unit general secretary as he was arrested in the murder case. Even though he was later dropped from the charge sheet, Farooq and others held demos demanding Tipu be punished. 
Commander Khandaker Al-Moin, director of legal and media wing of Rab, at a press conference yesterday said Farooq with his cohorts killed Tipu's aide Rizvi Hasan in 2016 over establishing supremacy in the area and share of kickbacks.
The murder case that followed is now pending with a speedy trial tribunal and Farooq, Nasir, and Saleh, all accused in the murder case, believed that Tipu was backing the case.
They had tried to settle the case with Rizvi's father and had allegedly offered Tk 50 lakh but could not reach a settlement, said Moin quoting the arrestees.
They thought removing Tipu would get them off the murder case and planned to murder him three months ago.
The arrestees also admit that Palash, a witness to Rizvi murder, was paid to not testify but Tipu made sure he gave his statement before the court, said Rab.
Tipu has a hotel in Ward-10, in Farooq's area. He was also a contractor there and a member of a renowned school's managing committee.
On March 24 around 10:15pm, Tipu was returning home in his microbus from his hotel. As the car was stuck in traffic at Khilgaon Bagichha, one person fired shots through the window. Tipu, his driver Monir Hossain, and rickshaw passenger Samia Afran Jamal Prity, 22, were hit.
Tipu and Prity died.
Tipu's wife Farhana Islam Doly, who filed a murder case, told The Daily Star yesterday that the arrestees were low-profile criminals. "They may be involved in the killing but it needs to be ascertained who is the actual mastermind."
Six people have so far been arrested in the case. Masum Mohammad Akash and Arfan Ullah Damal, a local Jubo League leader, are the other arrestees.
EXECUTED FROM DUBAI
Suman Sikder Musa, another accused in the Rizvi murder case, coordinated the Tipu killing mission. He left the country for Dubai on March 12, Moin said.
Commander Moin said the murder contract was Tk 15 lakh, most of which was paid by Farooq.
Musa planned and appointed the hitman for the murder, said Moin.
Moin said they have so far found the involvement of several top underworld criminals, who stay in the UAE and France.
Asked who actually shot Tipu, Moin said that only Musa knew who the person was.
ARRESTEES' ROLE
According to Rab, Nasir monitored Tipu during the murder mission,CCTV footage shows. He also paid part of the blood money.
After the killing, he destroyed his SIM card and sold his phone.
Palash introduced Farooq and Musa to people who could supply the firearm and backups, said Rab.
He was arrested earlier in an arms case filed with Motijheel Police station.
Saleh is accused in 12 cases and a charge-sheeted accused in the Rizvi murder case.
Nasir and Palash had been sending information to Musa in Dubai for several days ahead of the murder. On the day of incident, Nasir notified Musa about Tipu's location four times.
A text was also sent to Musa after the murder saying, "It is done".
Bangladesh Awami League has expelled Farooq yesterday afternoon.