'Handcuffs, blindfold ... it felt like a grave'
Survivors of enforced disappearance recount horror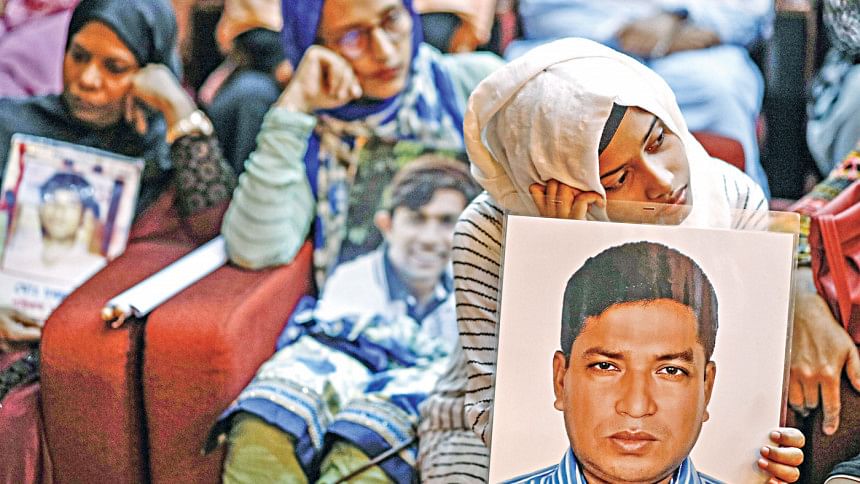 Usually, one sees the families of the victims of enforced disappearances demanding their loved ones be returned. But in a rare occurrence, the survivors came to the fore at a programme yesterday to narrate the ordeals they went through.
"I was kept in a cell like a grave for seven months," said Abdul Baset Marzan, a former vice-chairman of Mithapukur upazila in Rangpur.
"I was blindfolded and handcuffed the entire time."
Marzan was picked up by men in plainclothes  from a friend's home in Dhaka on January 31, 2015. He was then running for the upazila parishad with Amar Bangladesh party ticket.
"They tortured me the whole day and when I cried for mercy, they said that they are using only one method [of torture], and have over a hundred more," said Marzan, breaking down as he described the torture.
At the programme organised by Maayer Daak, a platform of the families of the victims to enforced disappearances, Jahangirnagar University student Shakil Uzzaman, who is involved in Gono Odhikar Parishad, narrated how he was kept in a room for three days and tortured.
Shakil was detained on March 26, 2021. "I was going towards the National Memorial to commemorate the day [Independence Day], and I was ambushed at the gate by men in plainclothes and shoved into a car," he said, adding that there were three cars.
"I was handcuffed and my head covered with a monkey cap. They beat me up so much that I started bleeding from the nose and the mouth. I was then taken to a room where all four walls had hooks. One of my hands was cuffed to a hook and I was then blindfolded," he said.
He was kept in that room for three days before being taken to Rajarbagh Police Lines Hospital for treatment. "I don't know where I had been kept," said the student at the event held at the Institution of Diploma Engineers, Bangladesh.
Moinuddin Mona was picked up, forcibly disappeared for three days, and kneecapped. He now walks with crutches.
He said he was detained by police from his home in Paschim Latifpur of Laxmipur on December 21 last year. He said he was tortured in the Chandraganj Police Station in the district.
"I was blindfolded for three days and they would put me in a car at night, take me around and threaten me with 'crossfire'," he said.
He alleged that on the third day around 2:30am, they shot him.
"One person stood on my chest while another held my leg and another slammed the gun into my knee and pulled the trigger," he described.
He was taken to a hospital in the morning and doctors amputated the leg to save his life.
According to the law, a person picked up by law enforcers has to be handed over to the court within 24 hours.
High Court directives say that the family has to be notified within three hours of detention, in the case of warrantless arrests. Any violation of this amounts to enforced disappearance.
Moinuddin, in that state, was charged in 13 cases and sent to jail.
"I cannot describe the unimaginable pain of imprisonment with a freshly amputated leg," he said.
The former leader of local Swechchhasebak Dal, the pro-BNP voluntary body, now depends on alms for a living.
Yakub Ali, a businessman from Khilgaon, lamented the death of his son, who was picked up, forcibly disappeared, and then allegedly shot dead.
Nuruzzaman Jonny, general secretary of  Khilgaon unit of Jatiyatabadi Chhatra Dal, pro-BNP student body, was killed in a so-called shootout with detectives in the capital on January 20, 2015.
He was picked up the day before, alleged the father. "They shot my son 18 times in the chest. I ran my hands across his body and felt each of the bullet holes. Was it necessary to hurt him so badly? Would one shot not have been enough?" cried the man.
Shafiqul Islam Kajol, who had been forcibly disappeared for 53 days in 2020, said, "Shall we have to continue commemorating this day?"
Humam Quader Chowdhury, who was picked up in 2016 and forcibly disappeared for seven months, spoke of his experience.
"I was kept in solitary ... and I could not talk to anyone for weeks on end. It was such that I started looking forward to the interrogations that I was routinely taken to because it meant I had someone to talk to," said Humam.
Humam is the son of executed war criminal Salahuddin Quader Chowdhury.
Prof CR Abrar, an academic, spoke about his conversation with the father of a victim of enforced disappearance who later turned up dead.
"The father said that when the police were coming for him [his son], he asked him not to run. He told him that he was not a criminal and that he would find him in court. How did that father feel when the son was killed?"
Human Rights Watch issued a statement saying that Bangladesh authorities should accept the UN's offer to support an independent commission of enquiry into the enforced disappearances.
The government has refused to take up the UN offer to help establish a specialised mechanism to investigate allegations of enforced disappearances, the statement said.
"Bangladesh authorities are fooling nobody by continuing to deny the reality of enforced disappearances, and instead are prolonging the suffering of families who are desperate to know the whereabouts of their loved ones," said Julia Bleckner, senior Asia researcher at Human Rights Watch.
"The government should show genuine commitment to addressing abuses…," she said.