Fake persona brings in real money
Man held for embezzling huge sums of money by promising jobs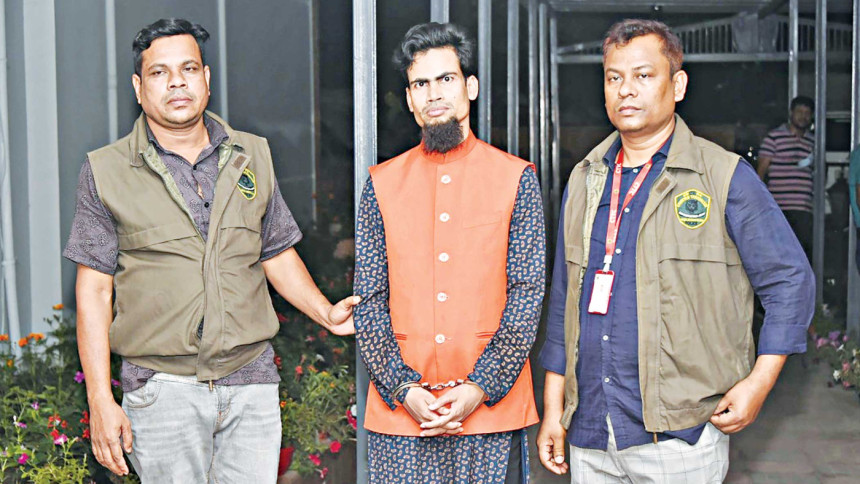 He was once a preacher, giving sermons at different waz-mahfils. At the time, he was merely a Jamaat-Shibir activist in Satkhira's Kalaroa upazila.
But all of a sudden, in 2015, he moved to Dhaka and started identifying himself as an Ulama League leader, even changing his name from Md Liton to Noor Mohammad Siraji.
Using the new identity, Liton started taking pictures with different government officials, police high-ups, public representatives, and ruling party leaders.
And then he started using the pictures to convince people how well-connected and influential he is. Soon enough, Liton started extorting money from people, promising them jobs or appointments as director of different projects.
In the last few years, he has embezzled huge sums of money, according to economic crime division of Counter Terrorism and Transnational Crime (CTTC).
CTTC officials came to know about Liton while investigating a fraud case filed against Nawab Khwaja Ali Hasan Askari, who used to identify himself as the grandson of Nawab Salimullah Khan.
CTTC arrested Hasan on October 28, 2020, and he is now in jail.
Investigators said in different public meetings, Hasan used to claim that he owns a gold factory and has shares in Mount Elizabeth Hospital of Singapore.
With his fake persona, Hasan swindled around Tk 6 crore from different victims by promising them jobs in Singapore, Poland and Bangladesh police. Liton had been his close aide since 2016, claimed CTTC officials.
Fraud cases were filed against Liton with Turag, Motijheel and Mohammadpur police stations, and CTTC is now investigating them.
On information, police arrested Liton from the capital's Moghbazar area on March 27, said Tohidul Islam, additional deputy commissioner of CTTC.
Tohidul said they have come to know that Liton has taken around Tk 12 lakh from a victim in Mymensingh, after promising him a job in the police.
"We traced two other members of the syndicate, and a drive is ongoing to arrest them," he said.
Aminul Islam Laltu, former general secretary of Satkhira's Kalaroa Upazila Awami League, claimed that Liton was a Shibir activist during his days in Satkhira.
"He has never been involved with activities of AL or its affiliated groups," he added.
Shaikh Imran, former president of Satkhira's Kalaroa Upazila Chhatra League, claimed that Liton has taken Tk 12 lakh from a friend of his, after promising to give his wife and sister jobs in a primary school.
"Liton has also taken Tk 4 lakh from one of his uncles, promising him a job in college," he added.