Death in police custody: We'll sue cops first, then receive body
Sumon's family vows; protesters block DIT Road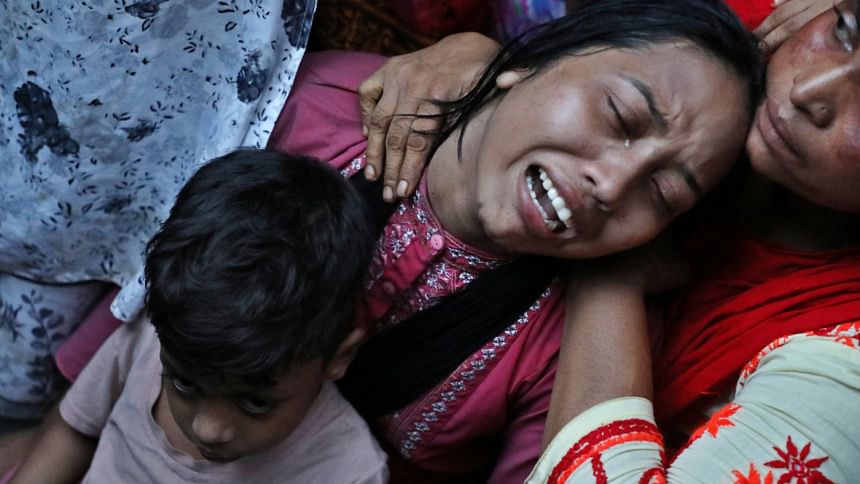 The family of Sumon Sheikh, who died in police custody on Saturday, will not receive his body for burial until it files a murder case with a court today.
"We prepared a murder case but could not submit it as court hours were over. We hope to file a case tomorrow [today]. Then, we will receive the body and bury him in Bhola," Sujan Sheikh, a brother-in-law of the deceased, told The Daily Star yesterday.
He said they would lodge the case against some police personnel, including the officer-in-charge of Hatirjheel Police Station and a staffer of the company where Sumon worked.
Sumon's body was at the mortuary of Suhrawardy Medical College Hospital after autopsy.
Around 7:30pm yesterday, relatives and locals formed a human chain in Rampura Bazar area, demanding justice for Sumon. They blocked the DIT Road.
Around 10:30pm, members of Chhatra League swooped on the protesters, claimed sources and relatives of the deceased.
An official of Rampura Police Station said he saw some people moving the protesters and clearing the road.
Sumon, a 25-year-old deliveryman, died inside the lockup of Hatirjheel Police Station early Saturday, hours after his arrest. Police said he died by suicide.
His family members alleged that police demanded a bribe, and tortured and framed him.
"They killed my husband. We went to the police station to file a murder case, but police didn't record it. We want justice," Sumon's wife Jannat told this newspaper  yesterday.
Police have refuted the allegations and showed CCTV footage of Sumon dying by suicide inside the lockup.
"It is obvious that police were negligent. How can a man in police custody die by suicide?" a relative of the deceased said.
After the autopsy around 4:00pm on Saturday, Sumon's body has been kept in the mortuary of Suhrawardy Medical College morgue.
The family members said police told them not to take the body to Rampura, saying that it may cause new protests and asked them to take the body to their village home for burial.
The death in police custody sparked protests in front of the police station on Saturday and police had to resort to truncheon charge to disperse the agitating crowd.
Sumon was arrested from his Rampura home around 4:30pm on Friday in a case filed for theft. He left behind his wife and six-year-old son.
On Saturday, Tejgaon Division Deputy Commissioner HM Azmiul Haque said the deceased stood accused in a case over theft of Tk 53 lakh from a company on August 15.
Meanwhile, police filed an unnatural death case with Hatirjheel Police Station on Saturday.
Morgue sources said a police team, including some in plainclothes, went to the morgue around 7:30pm yesterday and introduced themselves as "people from the administration". They enquired about the body but left around 45 minutes later sensing the presence of the media.