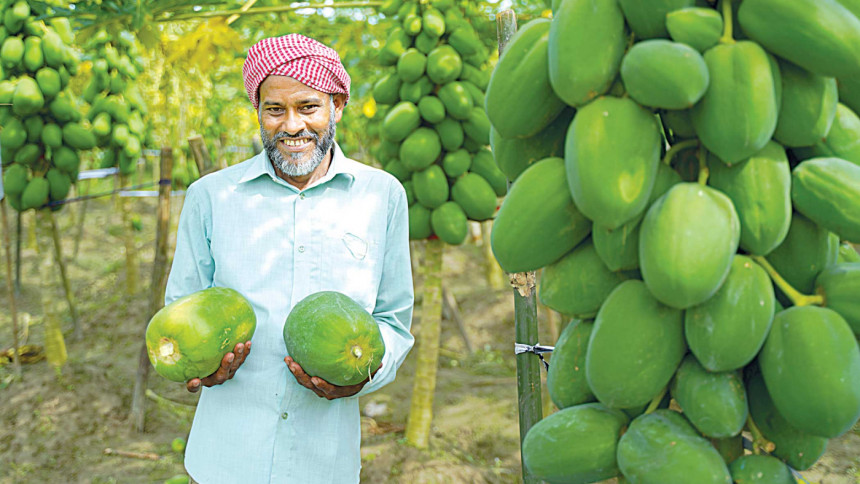 March 26 was Bangladesh's 51st anniversary of independence. On this month in 1971, after years of struggles Bangalees went into the battlefield, for the independence of their motherland. I start today's write-up conveying my deepest respect to the father of the nation, Bangabandhu Sheikh Mujibur Rahman, under whose courageous leadership we achieved our independence. And also to the martyrs, who sacrificed their lives to liberate the country. The country has become successful in many sectors, especially in the farming sector. I would like to highlight on the issue of how farmers are doing after all these years of independence. A few weeks back, I went to Manikganj for filming Hridoye Mati O Manush (Soil & People in Heart) and learned about the farmers' recent state.
Manikganj is a diverse agricultural region. I went to Khalashipara in Singair upazila. I walked along the village road and saw a home, quite well-built and came to know that it's a farmer's home. In the early 80s, all these houses were clay-made and those have turned into buildings with the growing financial sustainability. A farmer named Sirajul Islam, aged around 65 years, approached me and took me to his backyard. I asked Sirajul how he's doing as a farmer and he replied he's quite happy with everything. "I have been living in this place for the past 24 years. I am a very happy man as all my children are educated," Sirajul said. "Besides mainstream farming, I also fatten two cows every year and sell those during the Eid-ul-Azha. It gives me a lot of financial support," he said. Sirajul, however, said many farmers are now giving their land on lease and stepping away from farming. On a few occasions, the real landowners (farmers) are selling off their land and switching into different professions, said Sirajul. He also talked about the investment in farming and the money comes from abroad as remittance. So, if I summarize Sirajul's thought, a large chunk of investment comes from those who are not engaged with farming. Some send money from abroad while some others by working at the RMG sector or at different organizations.
I left Sirajul's home and went to nearby farmland, which was full of diversity. Bean, eggplant, papaya, banana, spinach, coriander, sweet pumpkin, gourd, maize, paddy are being cultivated on a vast land. Farmer Rajab Ali, who was working in his field, does four crops every year. Rajab believes seed is the most significant agricultural input among all. "As a result of short-duration crop varieties, farmers can cultivate up to four times a year on the same land," Rajab said. Public and private research institutes have played an important role in this regard. A little further, I saw a farmer irrigating with a pump while many more irrigation facilities, both electric and diesel-run pumps, spread across the field. The development in the irrigation system has taken Bangladesh far ahead. Even the hilly lands are now being cultivated through varied irrigation methods.
Farmer Delwar Hossain, who has sown three crops in one land, said the cost of farm labour is increasing every day. Not only their wages have gone up, there are also food costs involved.
Another farmer Dulal Mia, who earns thousands of dollars by only doing eggplant in one bigha land, said educated youths are joining the farming sector and that's a very positive sign.
I also talked to an educated young farmer Sujan Mollah. His farming strategy is a bit more experience, internet-based and quite profitable as well. After completing his studies, he took charge of his father's farming venture. Sujan does his farming, blending years of experience of his father and using the internet. The digital revolution under the visionary leadership of Prime Minister Sheikh Hasina has helped many young people like Sujan.
Farmer Chandan Mondol believes if the middlemen (intermediaries) are reduced from the agricultural marketing system, farmers can gain more profit. They would get fair prices for their produce, Chandan said. Ali Ibrahim, another farmer, raised the issue of brickfields grasping the farmlands. Many farmers across the country said they need support for hassle-free agricultural credit from the public and private banks. Some farmers told me that they need more support from the Sub-Assistant Agricultural Officers (SAAO). Atique, a farmer from Natore, spoke of the most terrible thing. He said some farmers are losing farmlands by selling them off to industrialists. Some farmers are becoming farm labourer on their sold land. What an irony that is! A farmer, who did papaya on 40 decimals land this year, has already sold the land and now doesn't know what to do next year.
Those who are initiating large-scale agricultural projects are going to make the best profit for sure. At this point, the traditional farmers might be facing some serious odds. We might also lose the cultural and social heritage of the Bengal, the traditional farming and farmers. We have to concentrate on the traditional farmers, the farming heritage and balance those with the modern farming system and technologies. All the best wishes on the 51st Independence Day of Bangladesh.