Boro Harvest: Labour crisis worries growers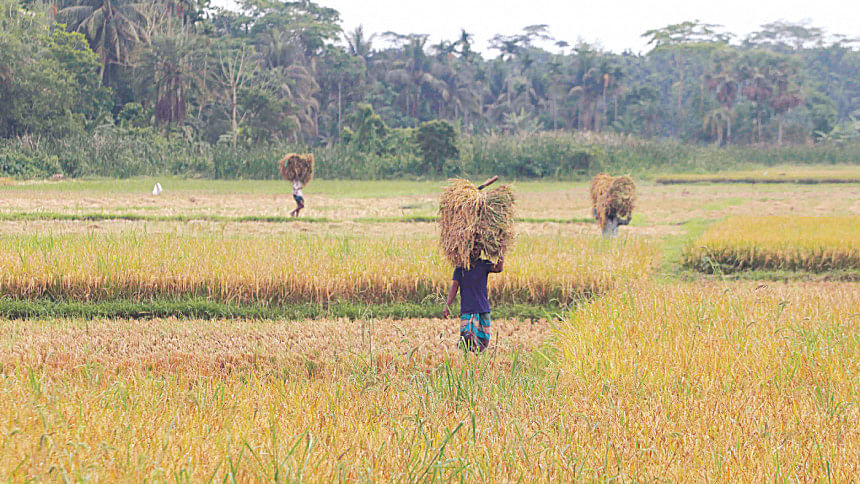 Crisis of hired farm labourers is hampering Boro harvest in many areas of the district.
As a result, farmers in different upazilas of the district are facing huge difficulty in harvesting their ripe paddy for want of adequate number of labourers.
Meanwhile, finding no other alternatives, many growers and their family members are working for harvesting Boro crops from the field.
"Now, one has to pay Tk 800 plus lunch as daily wage to hire a farm labour," said farmer Ali Azam Sheikh of Kadamtala village in Sadar upazila.
Another grower Abdul Hakim from the village said nowadays a man can earn over Tk 1,000 daily by driving a battery-run auto-rickshaw.
So, many day labourers now prefer to drive auto-rickshaw instead of selling their hard labour in the crop fields, he added.
Moreover, due to shortage of labourers those who are available charging higher wages.
Other the hand, many day labourers said they are compelling to charge higher wages due to the price hike of daily essentials.
Day labourer Safayet Hossain said, "At present, we are facing serious difficulty in managing our family with the poor income."
Farmer Mostafa of Jujkhola village said now they have to pay Tk 8,000 to take lease of one bigha of land.
One has to spend Tk 3,000 to plough one bigha land, Tk 1,000 for seeds, Tk 5,000 for sapling plantation, Tk 6,000 as fertiliser and pesticide cost and finally Tk 6,000 for harvesting the paddy, added Mostafa.
Usually, on an average, a farmer gets 40 maunds of paddy from one bigha land.
"This year we are expecting to sell Boro paddy at Tk 1,200 per maund," another grower Abul Kalam said.
According to Pirojpur Department of Agriculture Extension (DAE), this year a total of 32,396 hectares of land have been brought under Boro cultivation, compared to 26,070 hectares last year.
Contacted, Pirojpur DAE Deputy Director Mohammad Nazrul Islam Sikder said the quantity of cultivable land has increased as many barren lands have been brought under Boro farming this year.