Don't let rice hoarders get off scot-free
Price hikes despite the high yield of Boro rice totally unacceptable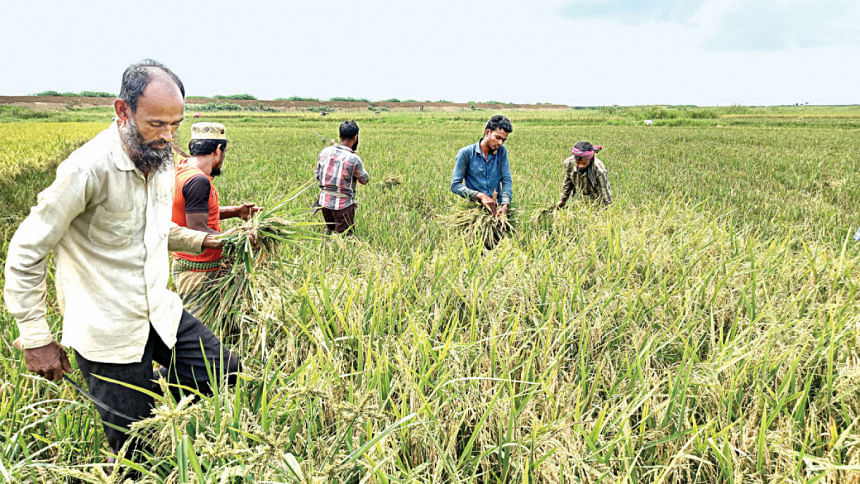 We're alarmed by the total lack of effect of ongoing government measures on the prices of rice, pulse, flour and other basic food items. The market, it appears, is totally out of control, and no amount of pleading, cajoling or warning seems to be enough to tame it. The continued hike in rice prices, even in the middle of the Boro harvest season, is particularly disturbing, not just because of the inexpressible pain it has caused. It also defies conventional logic for price hike being triggered by a domestic crisis or disruptions on the international market, thanks to the activities of unscrupulous traders and hoarders.  
Lack of regulatory control has sparked a free-for-all of hoarding, as a recently launched drive of the government has shown. Reportedly, hoarders ranging from large business groups and small traders to even brick kilns owners and primary school teachers—who are not rice traders—are all taking advantage of the situation. As a result, prices of rice have increased by Tk 8-10 a kg over the last two weeks, despite there being an ample supply of paddy. According to the Trading Corporation of Bangladesh, the prices of coarse and fine rice increased by 5.38 percent and 3.17 percent in just a week.
The food minister on Wednesday named six major industrial groups—Square, Pran, City, Akij, Bashundhara and ACI—who he said were mainly to blame for hoarding and the consequent rise in prices, an allegation that the companies denied. These groups, he said, were found packing rice for sale at Tk 80-85 per kg after buying it at Tk 60-65 a kg in several districts. To punish the "syndicate" and keep the market stable, he added, the government is considering a move to restrict the sale of packaged rice and to boost rice import if necessary. Will that bring down the prices? Frankly, at this point, ordinary citizens aren't interested in the nitty-gritty of government plans anymore. Whatever it does, we urge quick and decisive action that will lead to results.
There is no doubt that controlling fuel and food prices will be the biggest challenge in the 2022-23 fiscal year. Every year, special attention is given to the development of the agricultural sector in the budget, and this year will be no exception. But the simultaneous dependence on import for major food grains, however justified by the current situation, may create a long-term crisis amid the continued volatility of the international market. The upcoming budget should, therefore, increase the benefits for domestic food production so that we're not easily thrown off balance by international pricing trends. The government should also urgently check hoarding practices and punish those found to be involved.