Law alone cannot stop food hoarding
But it's a vital first step, and needs to be implemented regularly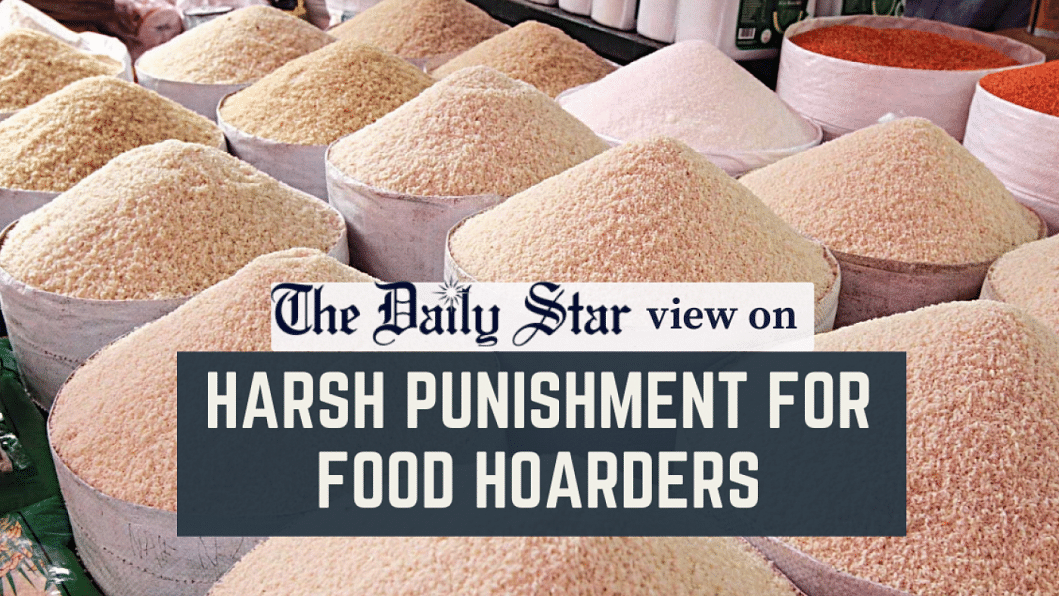 It is heartening to know that the cabinet on Monday finally approved the draft of an act to tackle hoarding of food, among other illegal practices, which has been often responsible for destabilising the market. According to the proposed law, if a person stores more than the amount of food fixed by the government, or breaches any government instruction regarding stocking, it will be considered a criminal offence. The punishment for that will be life imprisonment or a maximum of 14 years' rigorous imprisonment as well as fines. Other crimes related to the production, storage, transfer, transportation, supply, distribution and marketing of food grains such as paddy, rice, wheat, flour and corn have also been brought under the purview of the law, and the punishment for those will vary depending on the magnitude of the crimes.
The development comes a year after the bill was approved in principle by the cabinet on April 19, 2022. We are told that it has been drafted by combining the Food (Special Court) Act-1956 and the Food Grains Supply (Prevention of Prejudicial Activity) Ordinance-1979. Admirably, the government has resisted the urge to introduce capital punishment for hoarding food, which was in the initial draft. This is important because capital punishment, while being something that we cannot condone from an ethical point of view, has also been known to be more of a distraction than a deterrent. In any case, there is already a provision of death penalty for hoarding food in the controversial Special Powers Act, 1974. In case of hoarding, as in case of any other crime, even the strictest punishment doesn't work if the law is not implemented properly.
This is where the challenge will be going forward: enforcement of the bill, when it is passed into law. We have often seen how mobile court drives have been conducted against hoarders, and fines slapped on them, but to life effect eventually. These drives are conducted so sparingly that any effect fizzles out before those could be meaningful. Also, lack of coordination among different government agencies – one of the main reasons why joint public-sector interventions have such poor track records – often gets in the way of those efforts. As well as ensuring regular drives and monitoring in every stage of food supplies, the influence exercised by powerful syndicates and market manipulators also needs to be checked for any law to be effective.
The food sector is going through a critical phase at the moment, with concerns about high prices of production and consumption taking centre stage in national discussion. Although the influence of external factors like the Russia-Ukraine war cannot be denied, poor policy and pre-existing governance issues have also been responsible for the present crisis in the market. We, therefore, urge the government to ensure that the proposed law doesn't meet the same fate as so many other ineffective laws in Bangladesh because of its failure to enforce it properly and evenly.