Boro Harvest: SMILES in HAOR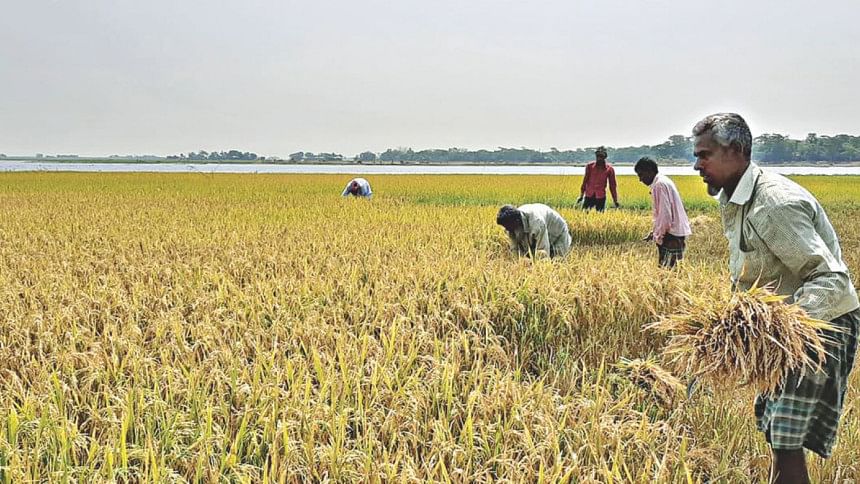 In 2017, the shock was overwhelming for Chan Mia -- he lost all the Boro paddy grown on seven acres of land to flash floods. The next year, the paddy he cultivated on three acres was damaged. This time it was pest attack.
After the two shocks in a row, fortune smiled on him. He expects to bring home all his produce this year, thanks to favourable weather conditions and almost a total absence of pest attack.
"I'm happy," said Chan Mia while harvesting his crop. "I hope to finish the cropping by the end of this month."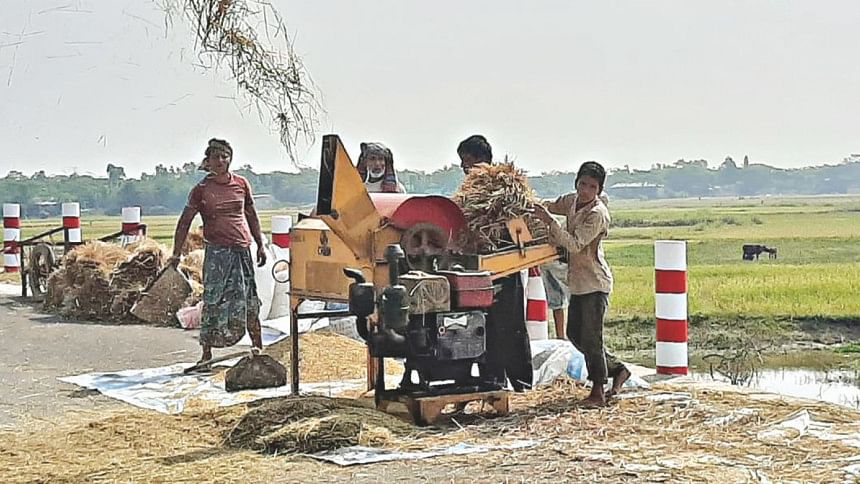 Chan Mia is from Kulaura upazila of Moulvibazar in the haor region where paddy is the main crop. Harvesting started in mid-April and will continue till the end of the month. Chan Mia expects that this year's output would be around 25 tonnes from his seven acres.
This year the overall Boro production has exceeded in Sylhet division, said officials at the Department of Agricultural Extension (DAE).
Initially, the farmers aimed to cultivate 468,577 hectares. But rains in Phalgun (mid-March to mid-April) came as a blessing, allowing farmers to grow paddy on an extra 10,000 hectares.
Anyone visiting the two major haor areas -- Hakaluki (Moulvibazar) and Tanguar (Sunamganj) -- would see vast swathes of fields full of ripe paddy and farmers busy harvesting them. They are trying to bring home their produce at the earliest.
"I'm worried nature may strike anytime," said Mizan Mia, a farmer of Kulaura. "We are doing it fast. If there is a hailstorm, all will be gone."
Azizul Islam, 45, of Tanguar Haor area in Tahirpur upazila, said, "We are having a nice weather. If the weather continues to be like this for a few weeks, we would have a great harvest."
Basir Ahmed Sarker, deputy director of DAE in Sunamganj, said till now 30 percent of the paddy has been harvested in Sunamganj. "If there is no sudden variation in the weather, farmers will be able to complete harvesting by April 30."
For the farmers, there is a big worry though -- shortage of farm labourers.
DAE official Basir Ahmed said, "We are facing a labour crisis. We've asked the sand and stone quarries to suspend their operation during the harvesting season."
Altabur Rahman, former additional director of DAE in Sylhet division, said raining in Phalgun, which is usual, has benefitted farmers. Also, the weather was not much foggy last winter, and it significantly reduced pest attack, he added.
More than 35 percent of paddy has been harvested in the four districts of Sylhet division so far, said the official.
The total Boro production in the region is expected to hit 19 lakh tonnes this year. It was 18.5 tonnes last year, said Shahjahan Chowdhury, additional director of DAE, Sylhet division.