Krishi Market fire: Traders lament losing everything
Several hundred traders at Dhaka's Mohammadpur Krishi Market are lamenting losing goods worth several crores of taka in the massive fire this morning.
Today (Thursday) is the weekly holiday for the market and all traders went to their respective homes closing their shops last night.
After learning about the fire early today, the traders started thronging the market -- only to see their shops and goods burn.
Saiful Islam Sharif, a trader of the market said, "I have two shops in the market. Of these, one is rented while the other is my own. I reached the spot early this morning but I couldn't do anything. My shops have just turned into ashes."
The massive fire broke out at the market at 3:43am and spread soon, said Anwarul Islam, warehouse inspector of Fire Service and Civil Defence Headquarters (Media Cell).
Seventeen firefighting units are working to fully douse the blaze. It was brought under control around 9:25 am.
Smoke is still billowing from the site, making it difficult for the firemen to work.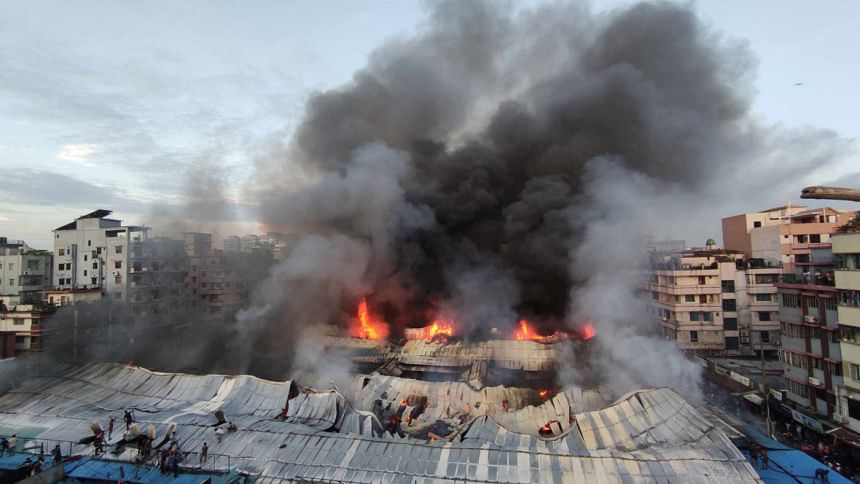 No casualties were reported at the time of filing this report.
Traders at the site said that there were 500 shops in the market.
Senior Station Officer of Fire Service and Civil Defence Headquarters (Media Cell), said that WASA, Bangladesh Air Force, Army, Navy, BGB, and police are all assisting the fire service men.