Abdur Rahman Bhandari was struggling to accept that his son would never come back.
As everybody in his family and relatives gathered in their village home in Brahmanbaria yesterday, he kept looking for his son, Mainuddin Islam Durjoy, who was run over and killed by a recklessly driven bus in the capital's Rampura late Monday night.
"Why my son isn't here? Ask him to come right now," said a frantic Abdur. At one point, he broke down and wept, "Mainuddin left [our] shop with only 10 Taka. Why hasn't he returned yet?"
Mainuddin, who had just finished his SSC exams two days ago, was killed on his birthday. The incident happened around 9:50pm on Monday when the 19-year-old was crossing the DIT Road.
The death sparked a protest. Angry locals vandalised and torched at least 12 buses in the area.
After an autopsy at the Dhaka Medical College morgue around 11:30am yesterday, his family took the body to the Brahmanbaria village for burial.
Talking over the phone from there, Monir Hossain, elder brother of Mainuddin, said, "We only showed my brother's face to my father. He has seen it but I don't think he is in a state to realise anything."
Abdur is a tea seller in Molla Bari area of East Rampura. Mainuddin was his youngest among three children. He had left the stall minutes before the accident.
After Mainuddin was killed, Abdur said while having lunch on Monday, his son told him that his SSC exams went well and that he wanted to study at a good college. "I told my son that I would definitely get him into a good college, even if I have to beg...," said the father.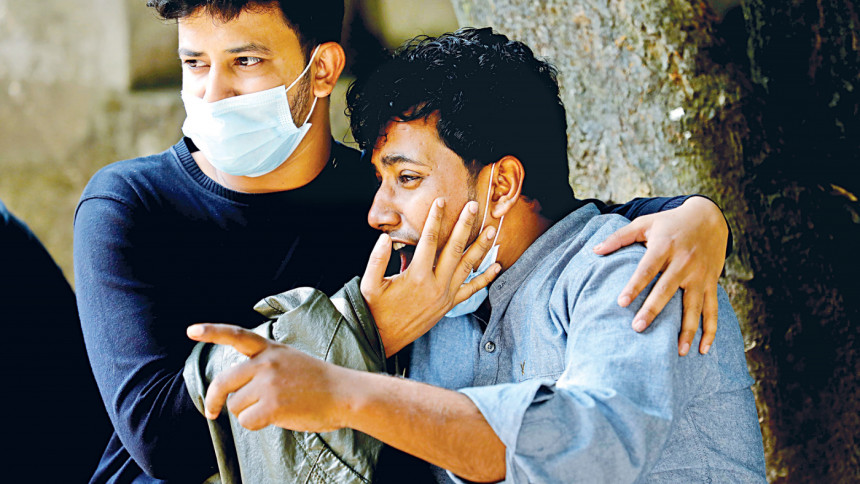 At their home in Rampura earlier yesterday, Mainuddin's mother Rasheda Begum kept sobbing. 
"My son had to sell Halim by the road to support his education. He had been doing it since he was in class 8," she told these correspondents.
"Are bus owners out to kill students in Dhaka?" said an angry Rasheda. "I pray to Allah that no parents have to go through such a tragedy."
Meanwhile, two cases were filed over the incident on Monday night. One of them was by Rasheda against the driver of the bus and the other by police over vandalising and torching 12 buses, said Rafiqul Islam, officer-in-charge of Rampura Police Station.
"Police have arrested the bus driver named Sohel. Locals caught and handed him to us," he said.