Taliban kidnap nearly 200 bus passengers
Reject Afghan ceasefire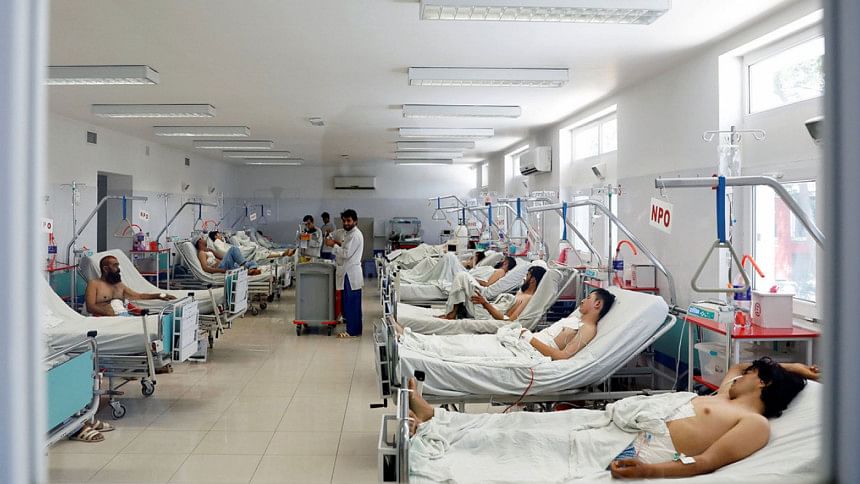 The Taliban rejected today an Afghan government offer of a ceasefire and they would persist with their attacks, two militant commanders said, while insurgents ambushed three buses and nearly 200 passengers travelling for a holiday.
-Taliban say they reject government ceasefire offer

-Nearly 200 taken from buses in Afghanistan's north

-Government announced ceasefire for Eid holiday

-Buses full of people travelling for holiday
The two Taliban commanders said their supreme leader rejected President Ashraf Ghani's Sunday offer of a three-month ceasefire, beginning with this week's Eid al-Adha Muslim holiday.
In June, the Taliban observed a government ceasefire over the three-day Eid-ul-Fitr festival, leading to unprecedented scenes of government soldiers and militants embracing on front lines, and raising hopes for talks.
But one of the Taliban commanders said the June ceasefire had only helped US forces, who the Taliban are trying to drive out of the country, and Taliban leader Sheikh Haibatullah Akhunzada rejected the new offer on the grounds it would only help the US-led mission.
"Our leadership feels that they'll prolong their stay in Afghanistan if we announced a ceasefire now," a senior Taliban commander, who declined to be identified, said by telephone.
An official in Ghani's office said the three-month-long ceasefire declared by the government was conditional, and if the Taliban did not respect it, the government would maintain military operations.
The Taliban have launched a wave of attacks in different parts of the country in recent weeks, including on the city of Ghazni, southwest of Kabul. Hundreds of people have been killed in the fighting.
The rejection of Ghani's ceasefire came as government officials were trying to secure the release of at least 170 civilians and 20 members of the security forces who were taken hostage by Taliban from three buses in the northern province of Kunduz.
Esmatullah Muradi, a spokesman for the governor of Kunduz, said the kidnapping happened when three buses were travelling through Kunduz from Takhar province, on their way to the capital, Kabul.
"The buses were stopped by the Taliban fighters, passengers were forced to step down and they have been taken to an undisclosed location," Muradi said.
'Travelling for holiday'
The Taliban confirmed they had captured "three buses packed with passengers".
"We decided to seize the buses after our intelligence inputs revealed that many men working with Afghan security forces were travelling to Kabul," Zabihullah Mujahid, a spokesman for the Taliban, said by telephone.
"We have taken the buses to a safe area to prevent any clashes and we are now identifying members of the security forces," he said, adding that civilians would be released.
Kunduz provincial council member Sayed Assadullah Sadat said people on the buses were travelling to be with family in Kabul for the holiday.
A senior interior ministry official in Kabul said officials in the area were talking to Taliban leaders in Kunduz to get the estimated 190 hostages released.
"We're are trying our level best to secure freedom for all passengers," the official said.
Separately, Mujahid said the Taliban would release at least 500 prisoners, including members of the security forces on Monday, a day before Eid celebrations begin.
"We will release some prisoners captured during clashes in three provinces," he said.
But he did not say if any soldiers or policemen taken from the three buses would be released.
Sporadic clashes between Taliban fighters and Afghan forces erupted on the outskirts of Ghazni today as aid workers tried to get help in to the city, aid agency officials said.
The government has said its forces had secured the city after the Taliban laid siege to it for five days this month.
At least 150 soldiers and 95 civilians were killed and hundreds were injured.
Aid agencies officials said their teams had entered the city but clashes in the outskirts prevented them from launching large-scale operations.