BCL leader murdered
Man's body found on city road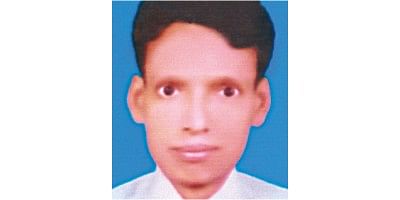 A Bangladesh Chhatra League (BCL) leader and another man were found dead early yesterday in capital's Tejgaon Industrial Area, three days after they went missing.
The deceased are Mizanur Rahman, 32, Tejgaon unit joint convener of BCL and Akbar Ali, 50, a boutique worker at Mirpur.
Police found the bodies lying on the roadside with their hands tied up with ropes at Tejgaon Truck Stand at around 3:00am.
Family members of Mizan claimed he was a presidential candidate of the same unit in BCL's upcoming committee. He was also a contractor of WASA and traded fruits and scrap garment at Tejgaon Railway Market.
However, neither police nor the family members of the deceased could ascertain the relationship between Mizan and Akbar.
Mizan called his wife, Orni around 1:30pm on Wednesday and told her that he was in grave danger, said Tajul Islam, Mizan's brother.
Later his cell phone was found unreachable and Orni filed a General Diary (GD) that night with Tejgaon Industrial Police Station in this connection, said Tajul.
Family members suspect he was killed over a business feud.
"He had a feud with some people at a garment factory at Tejturi Bazar over his scrap garment business a year ago, who had injured him seriously," Yasin Hossain, a nephew of Mizan told The Daily Star.
Mizan was admitted to the hospital with a bullet injury and stab wounds after the attack, Yasin added.
Formation of a new committee might also be another reason behind his killing, he said.
Meanwhile, deceased Akbar's son Mostafa said his father also went missing since Wednesday and his phone was found switched off since 1:30pm.
They found his phone switched on yesterday morning after an unidentified woman answered their call and said she found the phone on two bodies by the truck stand, said Mostafa.
Dhaka Medical College morgue sources confirmed the cause of death of both the deceased to be strangulation and broken ribs.
Officer in Charge of Tejgaon Industrial Police Station Omar Farukh said the victims were killed elsewhere and later dumped at the truck stand.