Syed Mujtaba Ali as a Rebel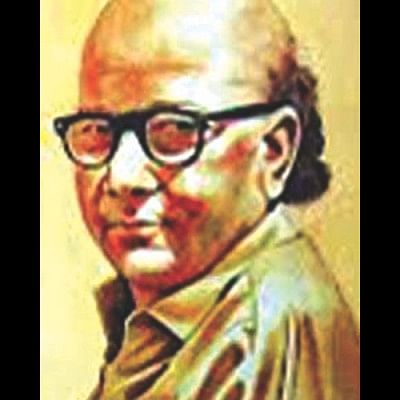 Most people, including his close associates, don't see Syed Mujtaba Ali as a rebel. He had all the traits of a regular guy: a family, love for his siblings, dedication to parents, and commitment to one's roots. But, from the stories I've heard from his brothers and sisters, it seems he was a rebel child from his elementary school days. A modern day psychologist might detect in his lineage and family composition an environment that nurtured and propelled him to become a rebel: youngest of three boys, good looking, with doting younger sisters.  In his biography of Mujtaba Ali, his elder brother Syed Murtaza Ali writes that when Mujtaba, or Situ as they called him, was a student of Class IX, some Hindu students, to celebrate puja, stole flowers from the garden in the Sylhet Deputy Commissioner's residence. Soon, the offending students were brought to task, and to protest the treatment meted out to the students, he refused to go back to school.  This act of defiance was an extraordinary show of courage since his father Syed Sikander Ali was Sub-Registrar, a government servant, and he was worried about the consequences of his son's act.
His subsequent self-imposed exile to Bolepur at the age of 17 and journeys he undertook thereon show many other signs of his empathies for the underdog and rebel causes. According to his elder brother, Mujtaba Ali wrote to Tagore when he was only 14 years old and he did so without consulting any other member of the family. Tagore had visited Sylhet in 1919 and met with high school students of Sylhet Government High School, where Mujtaba Ali was a student of Class VII. Tagore's speech on goals and aspirations inspired Mujtaba Ali. He wrote to Tagore, "What does one need to do to set higher personal goals in life?" Tagore wrote back, "You need to set your aspirations high—the meaning of this notion is—one should not be driven by self-interest alone. A spirit of spontaneous endeavor whose goal is to improve the welfare of the nation and public good will take us on the path of collective emancipation.  I cannot offer a dictum for you from so far away. However, the good intentions in your heart will lead you towards the common good."
Since then Mujtaba Ali had set his sights on going to Biswa Bharati, and the student rebellion gave him the opportunity to get away and find his own moorings in a world where change was in the air – in India, Afghanistan, Turkey and Europe. When the incident surrounding the Hindu students of Sylhet Government School was over and things started to settle down, his father entreated Mujtaba to go back to school. Instead, Mujtaba expressed his desire to go to ShantiNiketan.   
After he finished his studies at ShantiNiketan, Mujtaba Ali did a short stint at Aligarh Muslim University. Then he went to Afghanistan where Amanullah Khan had become the Malik (King) of Afghanistan in 1926 after working as an Emir (Governor) of a province for seven years.  The King announced his plans to modernize Afghanistan, and invited Syed Mujtaba Ali to work as a professor and on educational reforms. Syed Mujtaba Ali took up residence in Kabul and worked in the education department during 1927-1929. As Mujtaba Ali described so eloquently in Shabnam and Deshe Bideshe, King Amanullah met resistance from the conservative and the fractious warlords of different Afghan tribes. 
The changes that Amanullah and his wife, Queen Soraya, were advocating were truly revolutionary for those days: abolition of polygamy, secular education, and reform of the hijab tradition. Mujtaba Ali, who by this time had some experience with the abhorrent nature of British rule, given his brushes with British civil administration authority in Sylhet, aligned himself with the efforts of Amanullah to sever ties with Britain which until then dictated Afghan foreign policy. During his stay in Kabul, Mujtaba Ali also became aware of anti-British sentiments in the region, and further west, Germany's attempts to push back demands made by Britain for WWI reparations and other conditions imposed by the victorious powers. 
Amanaullah Khan was captivated by Germany's attempts and struggles to recover from the destruction of WWI and the efforts by Germany to overcome the harsh financial penalty imposed by the Allied Powers. As mentioned above, he sought to gain autonomy from UK, and decided to travel to Europe and particularly to Germany to forge better relations with President Paul von Hindenburg. King Amanullah and Queen Soraya arrived in Berlin in February, 1928. After Amanullah returned from his trip to Germany, Mujtaba Ali had several meetings with him and became aware of the intellectual climate in the universities of Bonn and Berlin. As a rebel in the making, he had probably by that time decided to get his higher education in Germany rather than UK, even though it would necessitate learning a new language. 
We also see the effect of his rebellious soul in his writing and life journey. For example, he came up with words that were a fusion of strands from different languages. As one biographer mentions, "A master of many languages and animated by his exceptionally intimate association with the heterogeneous strands of life, Mujtaba had rather a fascination for making all sorts of queer, even awkward combination of words: mingling the Sanskrit with the Persi-Arabic, the undignified slang with most sophisticated tatsama." (Note:  Tatsama = words borrowed from Sanskrit). Mujtaba Ali alludes to various unorthodox life styles in his travelogue, his novels, and particularly in his essays which gave rise to a new genre of writing in India, romyo rochona or humorous writing.  But to me, his most bold statement as a rebel was articulated in his book PonchoTantra where he asks himself "What do you do? Well, I write books for a living. I am a writer, both a consumer and a producer of written words." To announce so boldly, that I am a professional writer while he acknowledges that he is not sitting on a stack of cash or was not privileged to have been born to a royal family, is the ultimate act of rebellion.    
As I reread Mujtaba Ali's account in PonchoTantra, I was struck by the similarity between Syed Mujtaba Ali and another great writer, the Colombian Nobel-prize winning novelist Gabriel Garcia Marquez. In his autobiography, "Living to Tell the Tale", Garcia Marquez describes in detail how he had disappointed his father when he quit his studies to become a writer. Once, his mother came to see him and questioned him persistently about his plans for the future. Finally, before she returned, she tried one last time: 
"So, what shall I tell your papa?"
"Tell him I love him very much and that thanks to him I'm going to be a writer.  Nothing but a writer." 
Abdullah Shibli is an economist and IT professional working in Boston, USA.