Stories from Life and Literature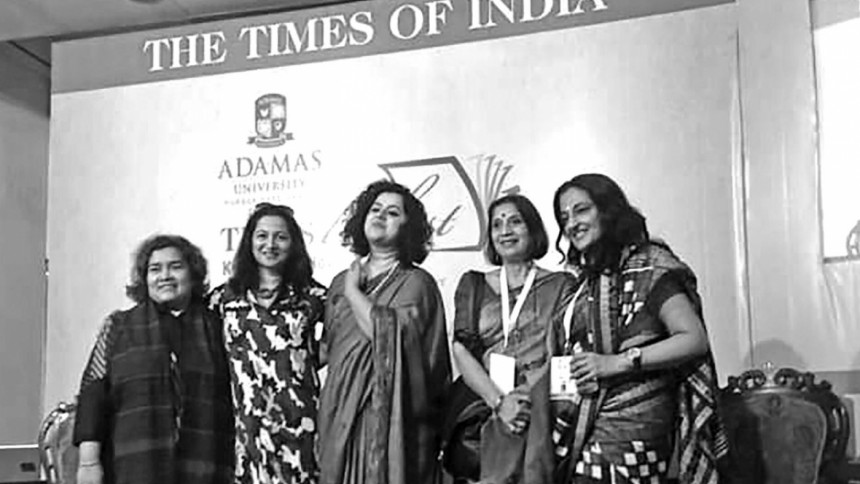 Glancing nervously at the dogs that lay basking in the winter sunshine, I tried to move ahead with confidence, telling myself that the venerable Tollygunge Club would never allow their clientele anywhere near animals that hadn't had their rabies shots. But I needn't have worried, not one of the canines raised its head as I walked past.
The dogs were the only ones looking lethargic in a place that was buzzing with activity, almost electric with anticipation. The Times of India (TOI) Literature Festival, well established in its annual Delhi incarnation, had finally come to Kolkata!
For its inaugural version in November 2018, the festival was planned as a one-day event. And it had what the Festival Director, Vinita Nangia, described as a singular focus on literature, unadulterated by the bells and whistles that characterise some other litfests. To make the most of that one day, TOI had planned "40 sessions and up to 45 hours of literary talk, discussions and workshops by Indian and international authors." And the event certainly lived up to its billing.
Along with Bangladeshi writers Selina Hussain and Anisul Hoque, I was attending the extravaganza. But as a participant on two panels, there was little time for me to take advantage of the discussions simultaneously underway at four locations set amidst the lush greenery of the venue.
At one session I attended, Bengali film director Srijit Mukherji discussed the challenges of bringing to celluloid the modern-day adaptation of Sankar's iconic novel Chowringhee, re-titled Shah Jahan Regency. Mukherji's other offerings have included the recent Ek Je Chhilo Raja based on the mysterious story of the Bhawal Raja, which features Bangladesh's own Jaya Ahsan (who was also attending the TOI festival).
On a related note, I had been amazed to find household names like Sankar and Shirshendu on the Festival programme. The fame of these writers is such that most readers of Bangla novels refer to them by a single name, no further identification being deemed necessary. And although Sankar himself was unable to join the discussion with Srijit Mukherji, I witnessed his appearance at the inaugural session of the TOI Festival, where another household name in India, Ruskin Bond, was receiving a special award for his contributions to literature.
Bond regaled the audience with amusing vignettes, sharing the trade secret of how he used thinly-disguised members of his extended family as inspiration whenever he ran out of characters. He took care to press into service only those whom he rarely encountered, he said — so there was no danger of being held to account for taking such liberties! That gave me a few ideas...
The Bangladesh panel, moderated by Indian poet Prabal Basu, discussed the continuing cultural and emotional ties between Bengalis on both sides of the India-Bangladesh border. Selina Hossain encouraged Indian Bengalis to fight for their linguistic identity, discussing how, and at what cost, the Bangla language had taken its rightful place in the erstwhile East Bengal. Anisul Hoque provided a more updated picture of Bangladesh as it is today, peppering his literary anecdotes with statistics. He touched on sanitary latrine coverage (now close to 100%), and the higher per capita incomes that Bangladeshi citizens have achieved, along with what is currently one of the highest economic growth rates in the world — developments that Indian audiences are often unaware of.
In a serendipitous coincidence, I also encountered Vivek Shanbhag, whose debut short story collection, intriguingly titled Ghachar Ghochar, has received rave reviews, and got him to sign a copy of the book. I was struck by his modest, soft-spoken manner. It is always a pleasure to meet a writer who remains so down-to-earth despite achieving success.
My other panel, about the many facets of a woman, comprised a lively set of participants: India's first female crime journalist (Rashmi Saksena), an expert in the ancient Eastern erotic literatures (Seema Anand), a popular blogger and novelist (Kiran Manral), and myself. The session was moderated by Nazia Erum, whose book on the challenges of parenting a Muslim child in India today addresses important issues of discrimination and bullying.
Swapping stories about how we came to be the writers, women and misfits that we are, resulted in considerable hilarity — as well as some passionate discussions, which I suspect the panelists enjoyed just as much as the audience seemed to.
Notwithstanding her research on the Kama Sutra as a text on women's issues, Seema's happy marriage of three decades presented an interesting contrast to her mother's choice of three marriages over her lifetime! And unusually, Seema's grandmother and all her grandmother's sisters were educated working women, all of whom (bar one) married for love. Her grandmother's youngest sister was a gynaecologist who divorced her wealthy husband because he was repeatedly unfaithful, an unusual choice for an Indian woman of that era.
Rashmi discussed some of the challenges she had faced as the first woman covering the crime beat for a major newspaper in 1971. It was clear that she took pride in being a pioneer, and that too, very much on her own terms: "I didn't wear jeans, I didn't smoke, and I didn't try to be 'one of the guys'. And when my editor asked me, 'How can you cover a riot in a sari and heels?' I showed him, by doing just that…"
Coming from a conservative family, Nazia explained how a simple practice introduced by her mother had made it easier for her to consider herself an equal to the men in her family. "Amma always ensured that my brother and I shared the responsibility for laying the table during meal times. If one of us set down the plates and glasses, the other had to put out the cutlery." It was a small thing, but one that clearly made a big difference in terms of shaping Nazia into the person that she is today.
Kiran had us all in stitches, confessing that she was far from the traditional Indian domestic goddess. As she said, more often than not, of the two tiffin boxes (for snack break and lunch break) that her son takes to school every day, the first invariably contains a jam sandwich. Given the casual cruelty that children are capable of, one day her offspring was targeted with an attempted insult along the lines of "How come your mother sends you out with only a jam sandwich every single day?"
The boy taunting Kiran's son then proceeded to list all the delicacies that his mother put into his snack-box every day. The response was not quite what the bully had expected. His eight-year-old "victim" coolly responded by saying, with equal provocation and considerable pride, "Well, my mother writes books. What does yours do?" And that was, not surprisingly, the end of the discussion!
From the discussion of family anecdotes to the wider issues of women's roles in society, the conversation flowed fast and sometimes furious. Given the final word in our discussion, I shared my realisation that when I write stories, it is the outliers who interest me most.
For example, if we look at ten people, men or women, who are facing a similar situation — whether dealing with a violent spouse, or being unable to live up to society's expectations due to fertility issues — eight of them will react in ways that may be considered fairly typical. Most often, that involves being broken down by circumstances, and understandably so.
But there is always that one person (or sometimes two) who finds another way of coping with the situation, however painful it is. Someone who is able to rise above the challenges he or she faces. And I suspect it is the day when those one or two exceptions that so fascinate me become at least half of the total number, that we will see meaningful social change underway.
After that enjoyable discussion, it seemed a fitting postscript to our session when a young audience member told me later how the discussion had led her to the realization that "a woman must discover herself, and not be invented by others." In the end, I believe that her statement holds true for each and every one of us — whether man, woman or child.
Farah Ghuznavi is a writer, translator and development worker.