The Turban Traveller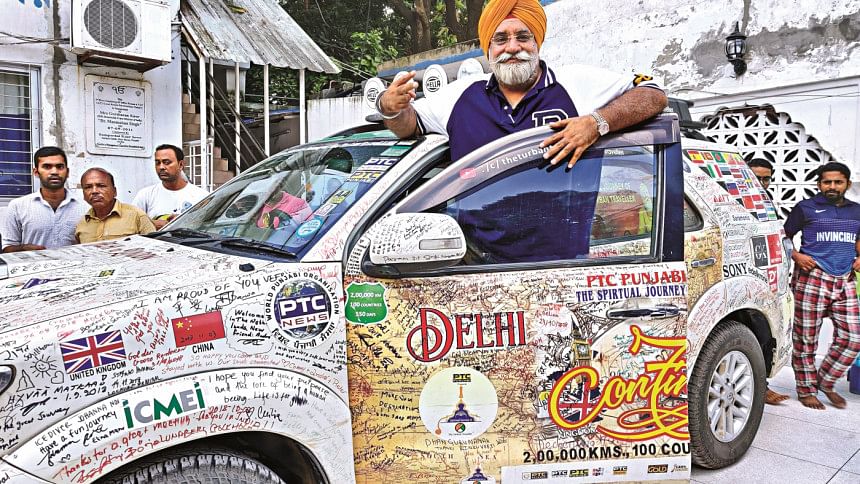 Sixty-year-old Amarjeet Singh Chawla (a.k.a. the Turban Traveller), is on a mission to travel across the globe by car — an epic road trip dedicated to Guru Nanak, founder of Sikhism. His SUV, covered with messages and good wishes written by the numerous people he befriended during his travels, came to Bangladesh, the 35th country in his ongoing journey of about 100 countries, about a month ago.
Star Lifestyle caught hold of this globetrotter at Gurdwara Nanak Shahi, the Sikh place of worship in Dhaka University campus. Very warm and friendly, he talked of life and adventure, and his tribute to the Sikh Guru.
"I never let anyone else drive my car!" he giggled. His love for the road was apparent. And without such zest, how would you explain a Delhi-to-London road trip!
Amarjeet Singh Chawla (the Turban Traveller) waited many years before he could get out and pursue his dream of travelling.
"When I was young, I told my father I wanted to travel the world. He said, shut up!" the Turban Traveller narrated, laughing. "He told me to finish my education and focus on business."
And businessman he became, working as a garment exporter in India, putting his dream on hold.
But after his retirement, there was no stopping him.
Decades ago, he was inspired when he met a Dutch girl in India who was travelling with her boyfriend. Years and years later, when he set out to fulfil his dream of travelling, he tracked her down and actually met her in Holland!  
After all that, after reaching London — a long road trip — he asked himself, is this the end?
"This is the beginning," the devotee of Guru Nanak decided. "I have always been inspired by Guru Nanak Devji. When I learned that this year will mark his 550th birth anniversary, I set out on a spiritual journey dedicated to him. He travelled for many long years and visited numerous places."
The Turban Traveller's journey has also taken the form of a travel documentary series through the PTC Network of India.
Driving hundreds of thousands of miles, including muddy roads and tough terrains, makes him wonder and appreciate how Guru Nanak did it ages ago, when communication and transportation was not modern.
"Through my journey, I can feel how tough it must have been at that time, to go far and wide in order to spread the message of peace," he continued. "The human mind and body are magical, if you know how to stretch your limits."   
And hence, the Turban Traveller travels from one country to another, visiting gurdwaras, or even if there isn't one, spreading the Guru's message of love and universal brotherhood.
Follow The Turban Traveller on Facebook, YouTube, Instagram, and Twitter.
Photo: Intisab Shahriyar