restaurant review
A La Greek
Mediterranean taste at home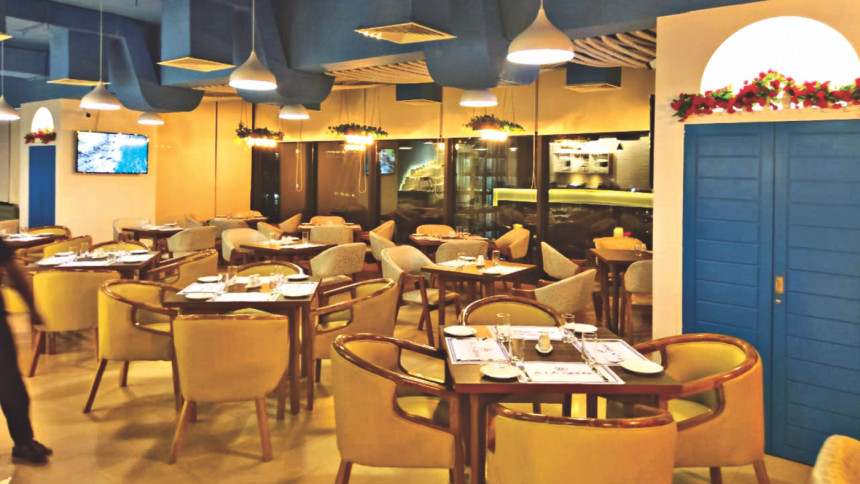 All of us have, at least once, come across a beautiful scenery of white houses with little blue roofs and a majestic blue backdrop of the water and the sky merging into one. Santorini is one of the most popular travel destinations today, boasting the exact scenery described, and their special cuisine is one of the most sought after for its mouth-watering taste.
Santorini itself cannot be pulled down to the city, A La Greek attempts to bring the cuisine to Dhaka, with their newly launched Mediterranean restaurant.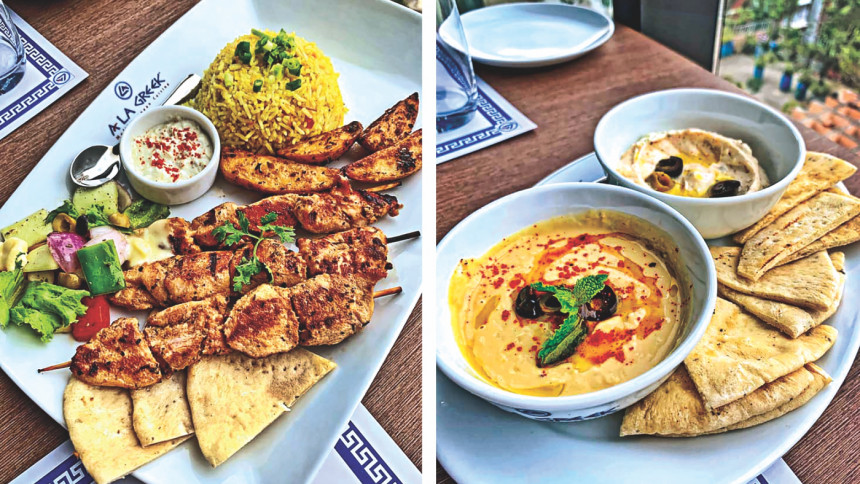 The very first thing one will notice while stepping in is the interior, which resembles the serene looks of Santorini itself. Inspired by the Greek architecture of the place, and its colour palettes of cool blues and whites, and even the signature Santorini blue door adorned with a floral arch making it a perfect spot for pictures.
With a sort of Hellenic marvel, the names on the menu make you take a second look with the Greek names. Such as the Gyros (Greek wraps) which are perfect for those who want a light bite, or the Greek Pide (Greek Pizza) giving you a different taste than the average pizza, or the Souvlaki, which comes with marinated grilled meat, oozing with flavours, and a combination of sides for a full meal. Other than these, the menu also holds loads of other options to choose from, like the meze, saganaki, moussaka, keftedes, and lots more.
Special mention must be made to the tangy tzatziki sauce, along with all the different Mediterranean sauces and dips. Every dish is freshly made and packs a tonne of flavours in every bite. Infusion of  olive oil, the finishing touch to the food, gives the dishes their healthy properties.
Most ingredients here are sourced from different parts of Europe, Australia, and Asia, and are then incorporated with the seasonal local produce to create an extraordinary gastronomic experience.
UNIQUE GREENS
The grilled octopus and orange salad is one of the must-try items from the menu. The salad is prepared with a lot of care, not to mention a large variety of greens, where each provide a different crunch to the other.
The generous proportion of octopus is grilled just right, so as to not come off as chewy, making it a unique and mouth-watering combination. With the greens, blacks, reds, and oranges dancing together in a pool of dressing that is neither too sweet nor sour, this dish makes you believe that even salad can be flavourful and divine.
It also comes with a side of balsamic dressing and olive oil if you want to further enhance the impact of the flavours (not that it is required).
To finish off with something sweet, the baklava with pistachio ice-cream is a great option if you want to remain within Mediterranean borders, along with their famous orange and walnut cakes. While they do have a wide variety of beverages, for that full-on Mediterranean meal experience, opt for the Aryan, which is a richer take on the laban.
Besides these, the other chef recommended dishes from the menu include, the duo of dips, Horiatiki salad, souvlaki platters, chargrilled lamb chops, Baked Lemon Sea bass, and refreshing herbs infused Iced Lemon Tea.
The entrepreneur behind A La Greek is Anwar Mohammed Iqbal, a person deeply passionate about food.  Alongside him is Mun-E-Mul Huq Chowdhury, the Chef de Cuisine of A La Greek. With their time and experience at five-star hotels in the country and abroad, plus their vast knowledge about food and the industry as a whole, they aim to serve authentic Mediterranean cuisine that is flavourful and healthy.
Photo courtesy: A La Greek
Essentials — A La Greek is located at Rangs Fortune Square, Level 6A, Plot #32, Road #02, Dhanmondi, Dhaka.
Follow them in social media: https://www.facebook.com/alagreekbd
For reservations, call: +88-0187-7776-880