penny wise
Managing within the monthly income
Bangladesh is one of the world's fastest growing economies. It sounds great, but then, do the lower or middle class income groups truly benefit from this change? With a strong economy come price hikes. The biggest impact is the increase in price of essentials like groceries, household amenities, rents, eating out and so many other things.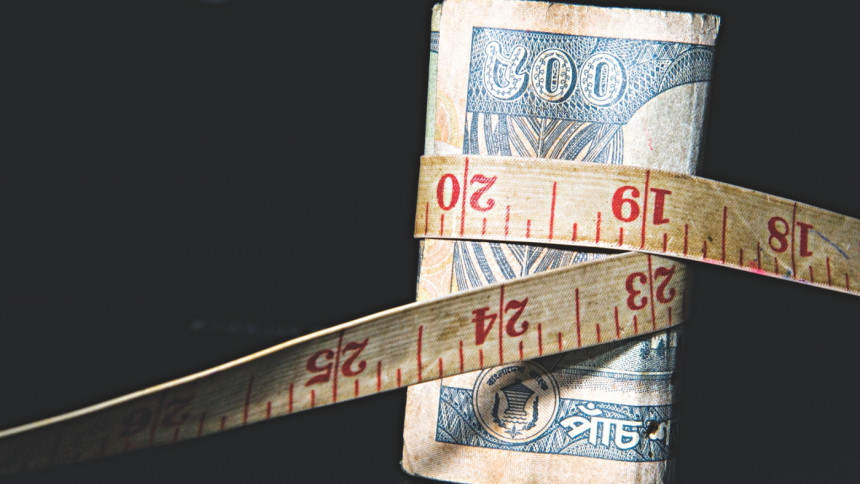 How do we manage?
The first and foremost is to make a budget plan. When it comes to a budget, take home income is the only income that matters. Forget about pre-tax earnings. Your take home pay is what you can spend or save!
The first step you need to do is to take a notebook and draw a line down the middle of the page. Income is on the left, expenses on the right. You need to make a plan that balances the two and hopefully, leave an amount which can go towards an emergency fund. This is not easy, but can be done.  
List your monthly expenses such as house rent (unless you own your place), household amenities, groceries, eating out, credit card bills etc.
Once you have identified all your expenses, at least a rough idea of it, add them all up. If it is more than your income, you need to strike off some of the expenses that you can live without.    
Here are a few budgeting tips:
1. Shop around to get the best bargain. This is especially important when it comes to buying groceries or other household amenities. You will be amazed at the price difference between buying at the posh supermarkets and the local 'kacha bazaar'. Once your finances improve, you can always choose to go wherever you want to!  
2. Don't confuse luxuries with necessities. Eating is necessary; eating out at a four/five-star restaurant is a luxury. If you have to trim down your expenses, cut down on the luxuries. 
3. Watch the small stuff – going out for a cup of coffee every day adds up; have your coffee at home. Refrain from buying unnecessary items when you go shopping with a friend. I myself am guilty of that. I have ended up buying stuff that is still lying unused! Being addicted to shopping is a crime and many of us are addicted shoppers.             
4. Try and use cash instead of a credit card, especially when doing your monthly shopping. Credit/debit cards are extremely convenient, but also easy to overuse. If you are a disciplined person when it comes to finances, you can use whichever means is easy.  I am not saying stop using 'cards,' but I am cautioning you to use them wisely.
A time will come in your life when you can look back and see the benefits of budgeting. However much your take home has increased, it is the best way to stay disciplined and aware of your finances. You can save more, you can spend on a much-wanted holiday, and you can invest in a place of your own. Most importantly, you can feel secure and happy.  Remember the adage—  'Too many people spend money they haven't earned, to buy things they don't want, to impress people that they don't like.'
Photo: LS Archive/Sazzad Ibne Sayed