Microwave to the rescue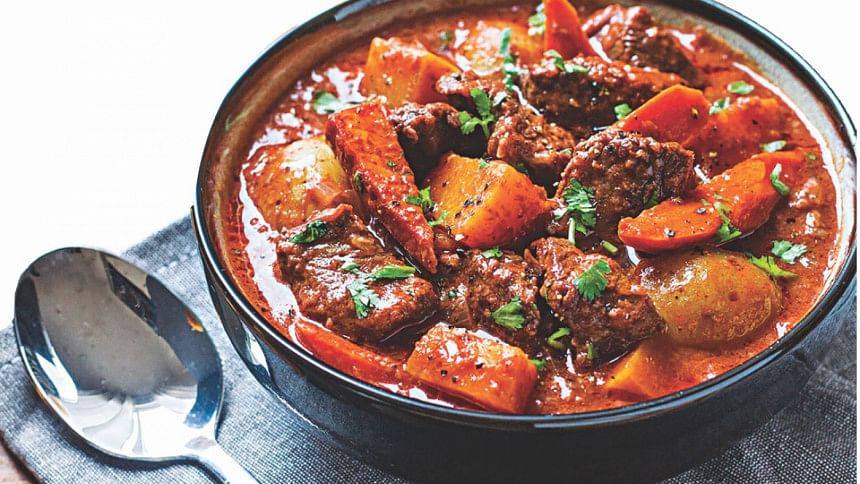 BEEF STEW
Ingredients
600g stewing steak meat
1 tbsp oil
25g plain flour
250g tomatoes
60ml beef stock
60ml cold coffee
1 medium potato, peeled and cubed
1 medium carrot, scraped and sliced
1 medium onion, sliced
1 celery stalk sliced
1 tbsp tomato puree
¼ tsp thyme leaves
¼ tsp salt, 1 tsp pepper
Method
Combine meat and oil in a glass casserole. Cover, and microwave at (power level 10) for 4 to 5 minutes. Stir the flour into meat, add remaining ingredients and cover, microwave at (power level 4) for 40 minutes. Stir once after 20 minutes cooking time. If meat is not fork-tender, microwave at (power level 4) for additional 10 minutes.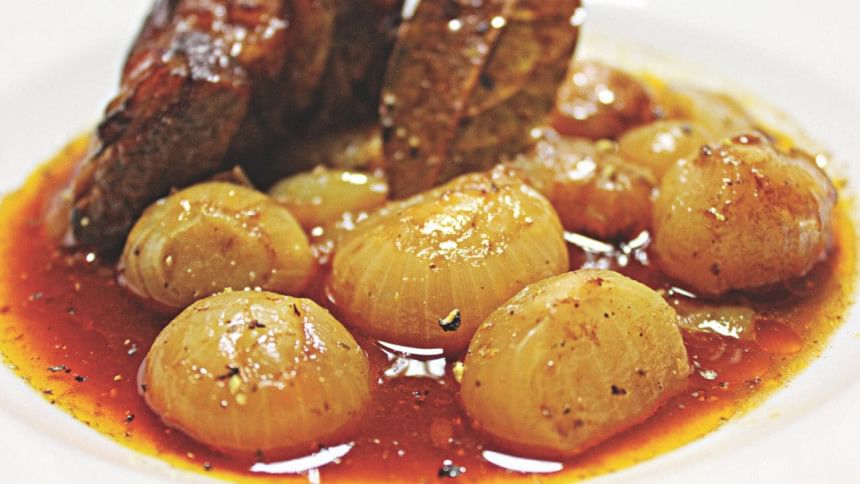 ONION SOUP
Ingredients
3 onions, thinly sliced
100g butter melted
3 cups beef broth
1 cup shredded swiss cheese
1 cup grated parmesan cheese
Method
Mix onions and butter in a casserole. Cover and cook for 10 minutes until onions are transparent. Add beef broth, cover and cook at power 10 until boiling. Reduce microwave power to 5 and simmer 30 minutes. Ladle soup into 4 individual bowls. Sprinkle with two cheeses. Cook uncovered for 8 minutes or until cheese melts and bubbles.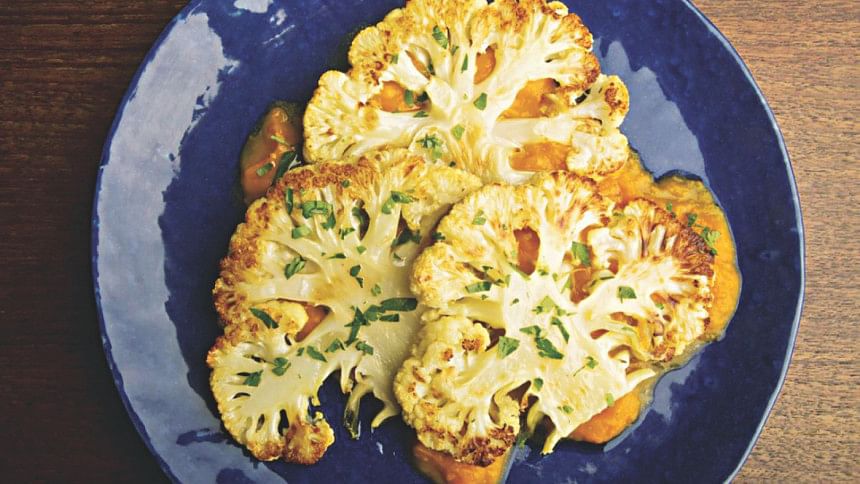 MUSTARD CAULIFLOWER
Ingredients
1 medium head cauliflower
80ml water
120ml mayonnaise
1 tbsp finely chopped onion
2 tsp mustard, ¼ tsp salt
200g grated cheddar or swiss cheese
¼ tsp paprika
Method
Place cauliflower in deep casserole dish and add water. Cover. Microwave at (power level 10) for 10 to 15 minutes or until cauliflower is tender and drain. Combine all the remaining ingredients, except cheese and paprika. Spoon the mixture over the cauliflower, sprinkle cheese and paprika on top. Microwave uncovered (power level 8) for 1 to 3 minutes or until cheese is melted.
OVEN ROASTED KINGFISH (SURMAI FISH)
Ingredients
1 kg whole kingfish fillet
4 tbsp olive oil
2 lemon juice
2 tbsp of vinegar
4 cloves of whole garlic
3 slices of onion rings for garnish
Salt and crushed black pepper to taste
Method
Marinate fish fillet with olive oil, lemon juice, garlic, sherry wine vinegar, salt and pepper and place in an oven pan. Leave a little to be poured over the fish and cover. Set aside at room temperature for two hours. Oven roast on a medium heat the marinated fish fillet until cooked. Let it cool, and cut crosswise and set on a serving plate and pour over the juice from the fish and top with garnish of onion rings. Serve with tossed green salad.
CHICKEN PUFF
Ingredients
2 cups flour
400g butter
Salt
Warm water
Ingredients for filling
250g chicken or beef mince
4 onions minced
25g butter or oil, 2 eggs yolk
2 green chilly chopped
1 tbsp ginger-garlic chopped
1 tsp red chilli powder
1 tsp coriander powder
1 tsp turmeric powder
1 tsp cumin powder
1 tsp garam masala powder
1 tsp salt and freshly ground black pepper to taste
Method
Mix flour, salt and 2 tablespoons butter and enough water to make soft dough and refrigerate for 30 minutes. Take it out and roll it into a square shape and place the butter block in the middle and cover from all sides and refrigerate again for 30 minutes. Repeat the same process 3 times. Cut it into four parts.
For the filling, marinate meat with salt and all powder spices and keep aside for 10 minutes. Heat oil in a pan, sauté onion until golden brown and add ginger, crushed garlic and chopped green chillies.Add egg yolks and marinated meat, and sauté until all water is evaporated. Now roll the dough into pastry sheets and cut squares. Add filling, cover it. Or make a sheet of pastry out of a dough piece and lay it on table, leaving it to dry for few minutes. Brush pastry with melted butter, put one fourth of filling on one side of the sheet and roll it until you get a long roll. Get an oven dish and lay the roll, starting from middle of the dish. Then bake for 30 minutes. Give an egg brush to get a beautiful golden colour on top while baking. Bake at 180°in a pre-heated oven for 30 minutes. Take out from oven and oil brush on top of the pastry.
Photo: Collected