Sour green-mango delights to beat summer blast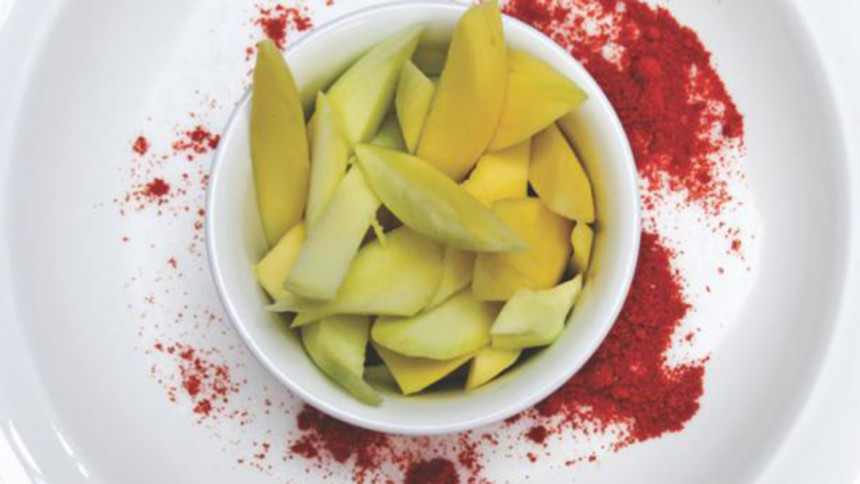 As the sky gets darker and darker, the clouds brew with the promise of a nor'wester, the trees sway in the gust of cold wind that threatens to envelop everything in its path. The wind picks up pace and the green mangoes fall 'thud-thud' on the now wet earth and everyone rushes to pick up the sour dark-green treasures to be quickly devoured.
The tangy scent or even the sound of the delightfully sour mangoes 'kacha aam' is all it takes to make the mouth water. This is one heavenly fruit, you would want to eat to the point of stomach ache. To us Bengalis, Kacha aam is the gift-of-gods!
Kacha aam with dal:
Which Bangali can say they enjoy their meal without Dal? Add to that sour mangoes and you have a sweet-sour concoction perfect for those hot summer days. Coupled with fluffy white rice, the aam-dal is pure comfort-food. The mangoes become soft and gooey and add a slight tang to the rounded dal.
Dried sour mangoes with fish:
Kacha-aam season not only means mango pickles, it also means your roof lined with row upon row of sliced, salted mangoes left out to dry and completely shrivel up- this is called aamshotto or aamshi. It can be made with both sour and sweet mangoes. The sour ones can then be used in dals or in curries. Simply cook the fish curry and drop some dried mangoes aka aamshotto into the curry and voila! The curry is now turned salty, sweet and sour tingling all your senses with each mouthful.
Kacha aam bhorta:
Every mango loving person is familiar with this dish. Some prefer to eat it the classic way-by dipping the shards of sliced up green pieces in a mixture of salt and chili powder. While others (such as myself), prefer it being prepared with a few more ingredients. This requires the chopped up slices to be hand mixed with salt, chili flakes, sugar with sesame puree (kashonto) until mushy and gooey. Bon a petit!
Kacha aam pickle:
The best part about pickled mango is you no longer have to suffer from mango season withdrawal. This can be eaten alone or with rice. Pickles can be any level of spice you want, it can be sweet, spicy or sour and mango, being the wonder fruit that it is, accommodates all the flavour portfolios.
A simple recipe of chunks of mango drowned in vinegar and sugar is a great palette cleanser. While, more intricate dishes include the addition of numerous spices to be mixed and cooked, filled into glass jars and left out in the sun. Sour, sweet or spicy mango pickle or aachar can never go wrong.
Kacha aam juice
Green mango with its rich zesty flavour and tarty texture is truly a seductive for the taste buds. It provides the blissful cool drink to tackle the summer heat. A blend of chillis, rock salt, sugar, kacha-aam and coriander leaves will give you a drink that will launch you into mango-coma.