A menu for puja festivities
As a new page of the calendar flips, autumn approaches and the gentle breeze, and the cotton-candy clouds in the clear blue sky set the perfect mood for the most anticipated festival of the Hindu community. The beat of the 'dhak' (drum), the blow of the 'shankh' (conch-shell) and the fragrance of the 'dhoop' (incense) announces the arrival of Ma Durga, for whom, millions have been waiting for a whole year.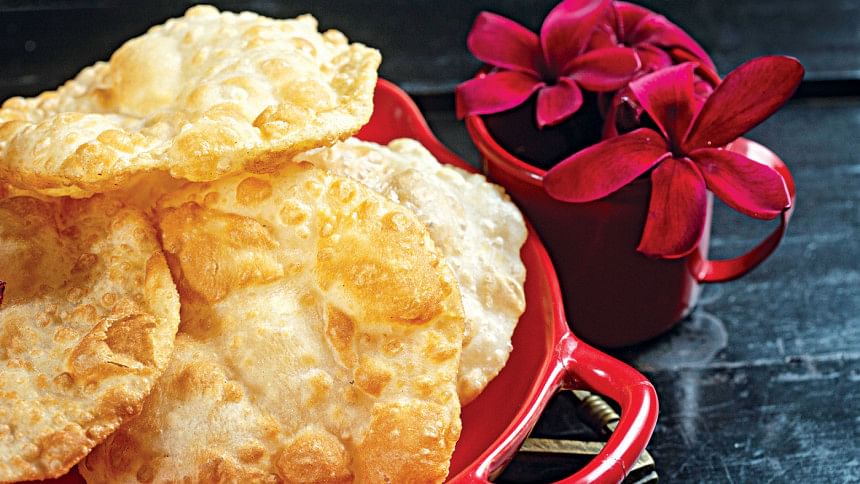 Durga, whose victory over Mahishasur symbolises victory of good over evil, will come and cleanse the earth of all sins; wipe out the tears of the less-fortunate and bring joy and happiness in the lives of all. What it also brings is a variety of mouth-watering dishes — sweet and sour, veg and non-veg, prepared throughout the ten days leading to Bijayadashami.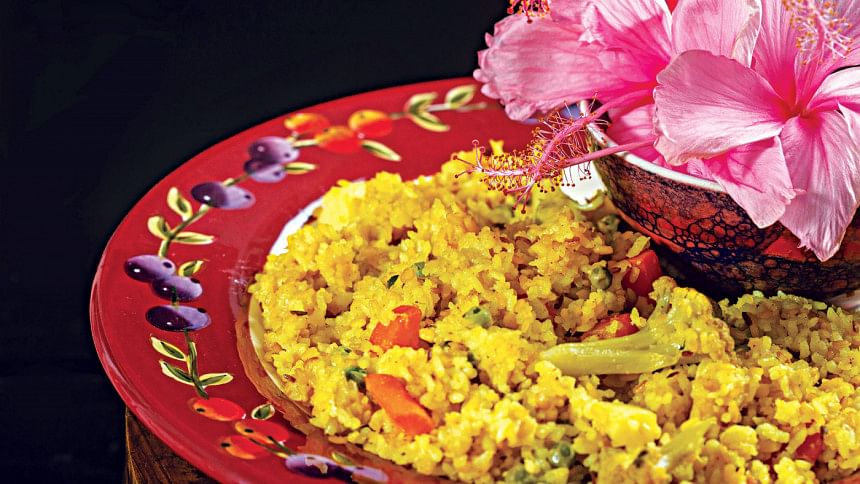 BHOGER KHICHURI
'Bhoger khichuri' is a traditional Bengali recipe that is prepared for the goddess Durga. After worshipping Durga, this dish is distributed as 'proshad.' This vegetarian bhog has no onions or garlic, but a lot of special spices and vegetables.
Ingredients
2 cup aromatic rice
2 cup moong dal
4 tbsp ghee
1-inch cinnamon
2 green cardamom
4 cloves
2 bay leaves
½ tsp cumin seeds
1-inch grated ginger
½ tsp turmeric powder
12 tsp red chilli powder
1 pinch asafoetida
2 small tomatoes, chopped
2 green chillies, chopped
2 cups of chopped mix vegetables like cauliflower, peas, potatoes and carrots
½ tsp sugar
Salt to taste
Water, as required
Method
Rinse and soak rice in water for 30 minutes. In a pan, slow roast the moong dal till the lentils turn light golden and aromatic. Keep on stirring to get uniform roasting and browning. When the lentils cool, rinse them in water. Sprinkle some water and keep aside.
Heat ghee in a pan. Fry the whole spices till they become aromatic. Add grated ginger and sauté for 5-6 seconds. Add turmeric, red chilli powder and asafoetida and sauté for 2-3 seconds. Then add the tomatoes and green chillies and cook until soft.
Add the mixed vegetables. Stir and sauté for a minute. Add the roasted moong dal, strained rice, and stir well. Pour water, salt and sugar. Stir and cook for 10 minutes with the lid on. Add green chillies. Stir again and cook on very low heat for another 10 minutes. When it is done, remove from heat. Sprinkle some ghee on top. Serve hot with begun bhaja or aloo bhaja.
LABRA
Labra is a mixed vegetable dish prepared throughout the year, mainly for consumption during breakfast, with rooti, paratha or luchi. Sometimes it is eaten with plain rice. All sorts of vegetables are used in labra, but the essential ones are pumpkin and aubergines. No onions or garlic are used as this is a puja dish.
Ingredients
1 slice of pumpkin
2 aubergines
1 green papaya
3-4 pointed gourds
2 ridge gourds
1 radish
1 small cauliflower
1 carrot
½ tsp turmeric powder
½ tsp cumin paste
½ tsp coriander paste
2 bay leaves
3 whole red chillies
1 tsp paanch phoron (five spice)
2 tbsp ghee
Salt and sugar to taste
Method
Cut all the vegetables into cubes. Heat 2 tablespoons of ghee in a pan. Put bay leaves and red chilli in it. As it starts releasing flavour, add all vegetables and spices except the paanch phoron. Mix thoroughly and cook on low heat with the lid on.
When the gravy is reduced and the vegetables are done, remove pan from the oven and keep aside for next stage. Now heat the remaining ghee in another pan and add paanch phoron and whole red chilli to it. When the spices start to sizzle, put all the precooked 'labra' in it. Mix well and cook for another 2 minutes.
Labra is ready to serve.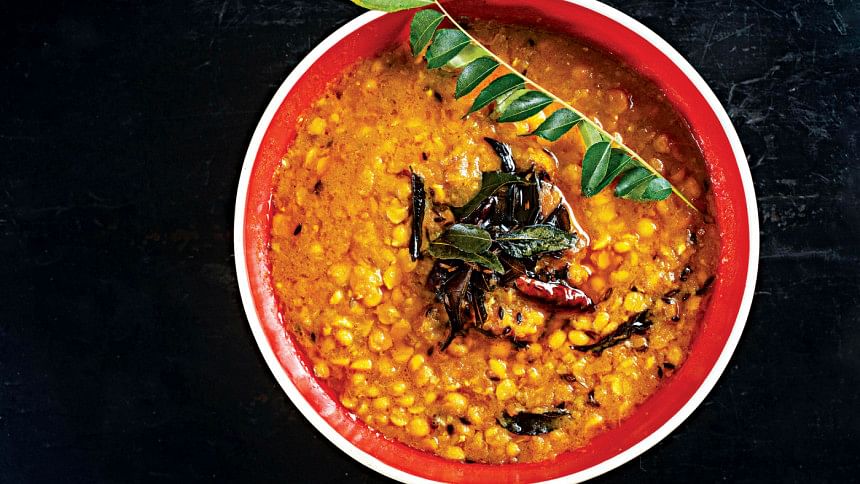 CHOLAR DAL BHUNA
Ingredients
1 cup split Bengal gram, soaked
½ tsp turmeric powder
¼ cup fresh coconut, cut into ½ inch thick slices
3-4 cloves
1-inch cinnamon stick
2 black cardamoms
½ tsp cumin seeds
3 dried red chillies, broken
2-3 green chillies, roughly chopped
1 tsp ginger paste
1 tbsp ghee
Salt and sugar to taste
Method
Heat 4 cups of water in a deep non-stick pan. Add Bengal gram, turmeric powder and salt, cover and cook till the dal is cooked. Keep aside.
Heat ghee in another pan, add coconut slices and fry till golden. Drain on absorbent paper. Add cinnamon, black cardamom, green chillies to the ghee remaining in the pan. Sauté and add ginger paste. Mix it properly and fry for one minute. Add cooked dal, cover and cook for 10-12 minutes or till the dal thickens. Add half of the fried coconut slices and mix well. Transfer into a serving bowl, garnish with remaining coconut slices and serve hot.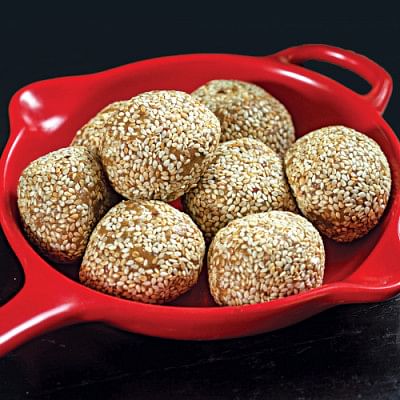 PURI
Ingredients
2 cups wheat flour
1 tbsp ghee
½ cup water
Salt to taste
Method
In a bowl, add flour, salt and ghee. Mix together and add water. Prepare dough by kneading properly. Make small balls out of the dough and sprinkle with wheat flour. Roll out the puris from these balls. Heat sufficient quantity of oil in a pan. Deep fry the puris till they become light brown. Puris are ready to serve.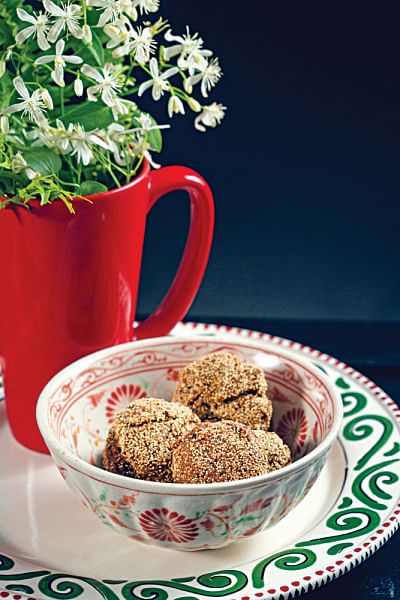 POSTOR BORA (POPPY SEEDS PAKORA)
Ingredients
½ cup poppy seeds
2 tbsp poppy seeds, for coating
2 tbsp chopped onions
3-4 green chillies, finely chopped
3 tbsp grated coconut
2-3 tbsp rice flour
½ tsp ginger garlic paste
Salt to taste
Mustard oil for frying
½ cup warm water to soak poppy seeds
Method
Soak poppy seeds in water for half an hour. Drain the excess water with the help of a strainer and transfer it into the jar of a grinder. Grind the poppy seeds to a smooth paste. Add very little water, if required. Transfer the paste into a bowl. Add chopped onions, green chillies, coconut, salt ginger-garlic paste and rice flour one by one. Mix all the ingredients.
 Take a small portion of the mixture in your hand and make a flat patty. Put the patty on the poppy seeds to make a coat. Repeat the same process. Heat oil in a pan. Fry the patty on medium flame till golden brown. Serve hot.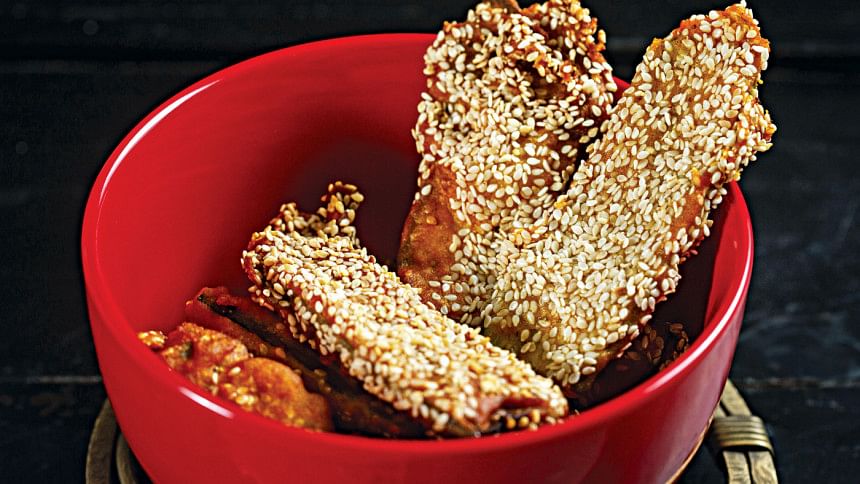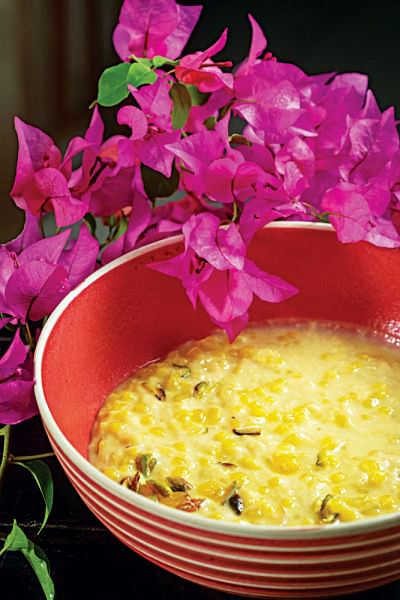 ALU-CHHANAR DALNA
Ingredients
1 litre milk
2 tbsp vinegar
250g potatoes
1 tsp ginger paste
½ tsp turmeric powder
1 tsp red chilli powder
½ tsp cumin powder
½ tsp coriander powder
2 bay leaves
2 cardamoms
2 pcs cinnamon
4-5 green chillies
Salt and sugar to taste
3 tbsp ghee
Method
Bring milk to a boil and add vinegar to curdle it. When the curd starts to separate from the water, use a clean piece of cloth to filter out the water. Tie the cloth with the curd inside it and hang so that the water drains out easily. After sometime, the curd will form a solid block inside the cloth, making chhana. Cut the chhana into cubes, fry them until golden brown. Keep aside for next stage. Peel and cut the potatoes into cubes. Fry the potatoes until brown and keep aside.
Heat ghee in a pan and add bay leaves to it. Add all the spices and little water. Fry the spices until ghee comes out. Add the fried potatoes, salt and sugar. Mix well and add 1 cup water. Cook for 5 minutes in medium heat. Add the fried chhana and green chillies. Cook on low heat for 5 minutes more. Remove from heat and serve.
TIL BEGUNI (EGGPLANT SESAME SEEDS)
Ingredients
2 long slender eggplant, thinly sliced
½ cup gram flour
2 tbsp rice flour
1 tsp red chilli powder
½ tsp turmeric powder
2 tbsp sesame seeds
Salt to taste
Oil for deep fry
Method
In a bowl, mix gram flour, rice flour, red chilli powder, turmeric powder and salt. Add a little water to make a thick batter. Heat oil in a pan. Dip eggplant slices into the batter to coat, sprinkle with sesame seeds on each side. Deep fry in very hot oil until crisp and golden brown. Drain on a kitchen towel. Serve hot.
TIL MAWA LADDOO
Ingredients
1 cup sesame seed 
1 cup mawa
1 cup powdered sugar
¼ cup chopped mixed nuts
2 tbsp ghee
Method
In a pan, dry roast the sesame seeds until slightly brown. Remove them on a plate and let them cool. Grind in a blender to make a coarse powder. Heat ghee in a pan, add mawa, and cook for 4-5 minutes. Remove from heat and allow it to cool.
A menu  for puja festivities
Add sugar, powdered sesame seeds, chopped nuts in it and mix well. Grease your palms with ghee and take a small portion of the mixture and shape them into round laddoos. Store in airtight container for up to 10 days.
BUNDIYAR PAYESH
Ingredients
250g bundiya
1 litre milk
¼ cup powder milk
2 tbsp sugar
1 tbsp chopped almond
Method
Boil milk on low flame. Keep stirring for 20 minutes. Add powder milk and mix properly. Add sugar and mix well until sugar dissolves completely. Add the bundiya and boil for 2-3 minutes. Remove from heat. Garnish with the nuts. Serve hot or chilled.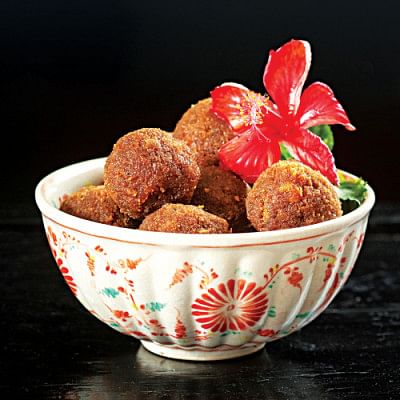 NARIKEL ER NARU (COCONUT LADDOO)
Ingredients
4 cups fresh grated coconut
2 cups grated jaggery
1 tsp ghee for greasing palms
Method
In a heavy pan, add fresh grated coconut. Cook on low flame. Stirring often, roast the coconut for few minutes. The roasting is just to get rid of some moisture from the coconut.
Add jaggery and mix it very well with the coconut. Stirring non-stop, cook the jaggery mixture about 5-6 minutes. The jaggery will melt and mixture will slightly thicken.
To test, take a small portion and let it cool down a bit. Then try to form a tiny laddoo with it. If the mixture can be easily shaped into a tiny ball, the laddoo mixture is ready.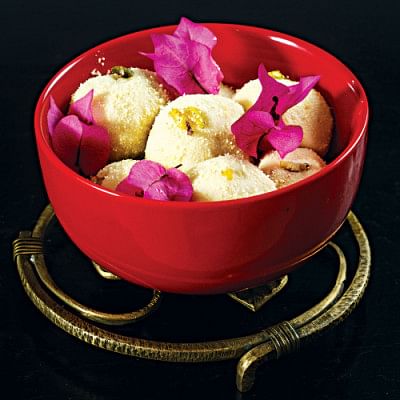 A menu  for puja festivities
Swich off the flame and let this mixture cool down completely. Spread a bit of ghee in your palms and make the laddoos. Store them in an airtight container or serve.
PRANHARA SHONDESH
Ingredients
3 litres full cream milk
1 tbsp lemon juice
¼ cup malai/doodher shor (fresh cream)
250g mawa
300g sugar
Method
Boil milk in a deep bottom vessel until reduced to half. Mix lemon juice with 1 cup of water and add it to the milk. Cover the vessel with a lid and switch off the flame. The milk will curdle by then and water will separate.
Strain the water and put the curdle milk over cheesecloth and tie all the ends of the cloth. Place the chhana with cheesecloth over a flat surface and put some weight over it to remove as much moisture as possible.
Now take cream over a pan and cook it over low heat to reduce this. Knead the chhana using your fingers. Take half portion of the chhana with sugar and cook it over low heat. Get the mixture completely cooled. Now knead the cooked chhana along with uncooked chhana and reduced cream to make a smooth dough. Make small balls out of the dough. Coat them with grated mawa and serve.
Photo: Shahrear Kabir Heemel
Food: Selina Parvin
Food Styling: RBR