Kebabs mouth-watering grilled delicacies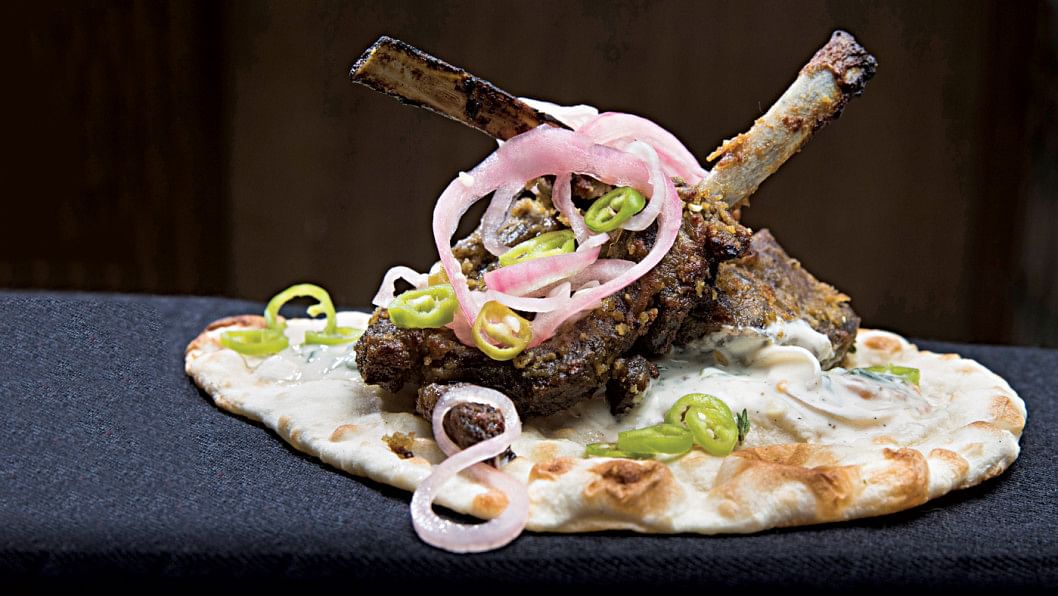 The smoky, char-grilled aroma and melt-in mouth texture of kebabs can easily get you hooked. Kebabs usually served as an appetiser with chutneys and dips, kebabs are made with minced meat and mild spices. Though lamb is the original meat used in kebabs, this dish has been localised to include beef, goat, chicken, and meat varieties.
The history of the kebab traces back to both Asian and African cuisines. Kebabs are considered to have originated in Turkey when soldiers used to grill chunks of freshly hunted animals skewed on swords on open field fires. The name was firstly discovered in a Turkish script, which is the oldest known source where kebab started as a food item.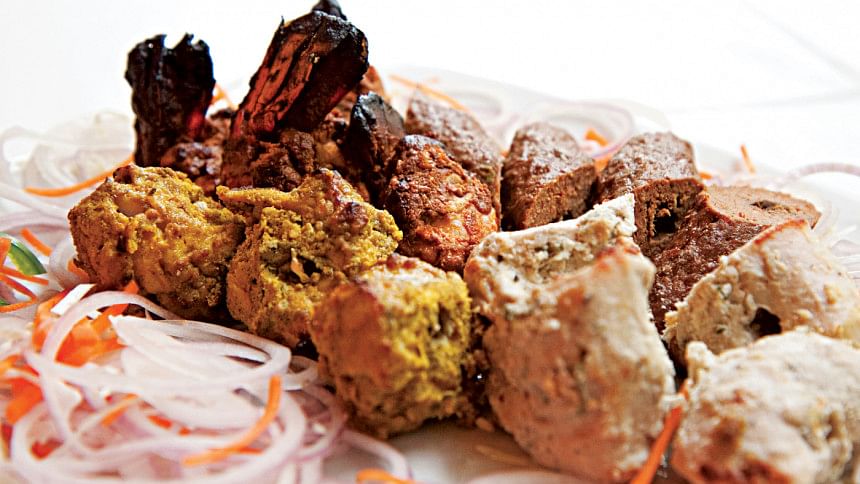 Kebabs are usually cooked on a grill or barbecue or baked in a pan in an oven. Some of the kebabs are deep fried or shallow fried on a pan and served with various accompaniments according to each recipe.
SHAMI KEBAB
The history of shami kebab is quite interesting. They were first made by a highly skilled chef for the toothless and aging Nawab of Lucknow, Wajid Ali Shah. The Nawab had lost all his teeth. However, his desire for meat continued. Hence, this melt-in-the-mouth kebab was prepared in his royal kitchen to satisfy the Nawab's love for meat. The kebab was made so fine that it required no teeth to eat. Shami is an Urdu word, which refers to "sham", meaning evening. Although this kebab is made for evening snack with tea, we enjoy it on all occasions.
Ingredients
500g boneless mutton, cut into small cubes
½ cup chickpeas (soaked in water)
4 green cardamoms
4 cinnamon sticks
2 tsp red chilli powder
1 tsp turmeric powder
2 tbsp ginger-garlic paste
½ tsp caraway seeds (shahi jeera)
3 tbsp deep fried onion
1 tbsp chopped green coriander
½ tsp chopped green chilli
2 eggs
Salt to taste
Oil for frying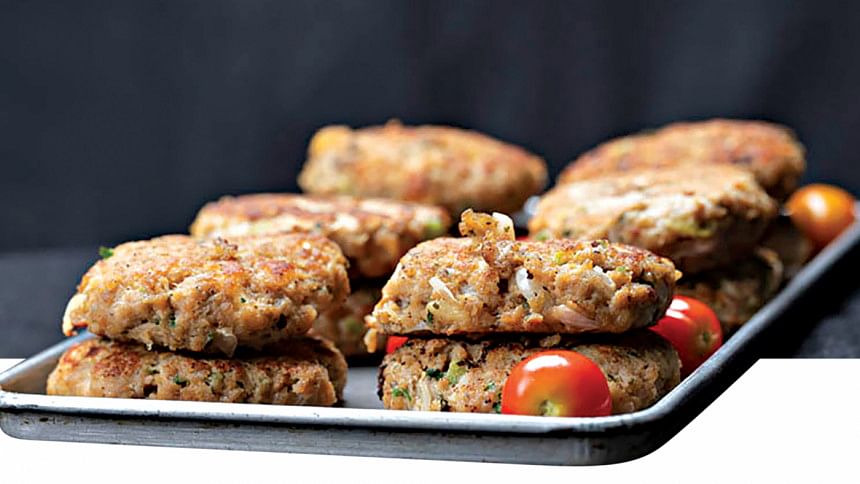 Method
Soak chickpeas in water for about 2 hours and let the water drain out. In a pan, add the meat, water, chickpeas, cardamoms, cinnamon sticks, red chilli powder, turmeric powder salt, and ginger-garlic paste. Bring the mixture to a boil. Reduce the heat and continue to cook it until all the water has evaporated and the meat is tender. Remove the pan from the heat and keep aside to cool. Remove the whole spices.
Grind the meat in a food processor alone with the green chilli, caraway seeds, and green coriander. Now add eggs and fried onion, mix well. Divide the mixture into equally portions and shape each of them into a flat kebab. Heat oil in a pan and shallow fry the patties until golden brown. Remove and drain the excess oil on kitchen towels. Serve hot.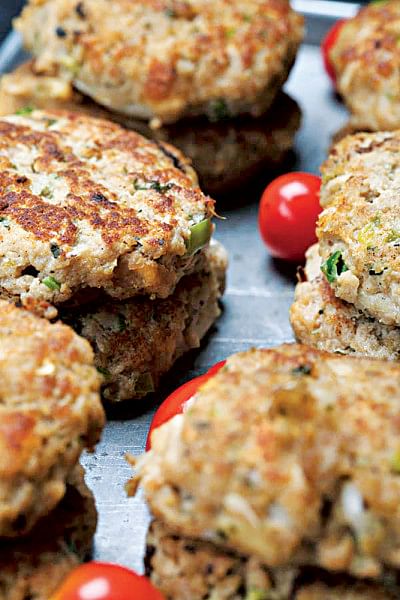 SEEKH KEBAB
Seekh kebabs are spicy and extremely flavourful, a sure success at any occasion. They can be either grilled over a BBQ or baked in the oven or pan-fried on the stove-top, and are commonly served with a salad, naan, paratha and a variety of dips.
Ingredients
½ kg bone less beef (thinly sliced)
1 tsp red chilli powder or according to your taste
1 tsp cumin powder
1 tsp coriander powder
1 tsp garam masala powder
2 tsp ginger paste
2 tbsp chickpea powder
2 tbsp plain yoghurt
2 tbsp lemon juice
1 tbsp seekh kebab masala
6 tbsp oil
Salt to taste
Skewers
Method
Clean and wash meat and drain water. Put all the ingredients into a large mixing bowl and mix well. Cover the bowl and put it in a refrigerator. Let it marinate overnight. Skew marinated meat to the skewers. Preheat grill for high heat. Brush grate liberally with oil, and arrange kebabs on grill, cook until well done, turning as needed to brown evenly.
Tip: Aluminium foil can be used to keep food moist, cook it evenly, and make the cleaning process easier.
JALI KEBAB
Ingredients
500g beef keema
3 pcs bread
1 tbsp ginger paste
1 tbsp garlic paste
1 tbsp mint leaves paste
1 tsp green chilli paste
Garam masala paste (4 cardamoms, 2 cinnamon sticks, ½ nutmeg, and a pinch of mace)
1 tsp cumin powder
1 tsp coriander powder
1 tsp black paper
½ cup fried onions
2 beaten eggs
1 tsp red chilli powder
2 tbsp tomato sauce
1 tbsp soy sauce
1 tbsp chilli sauce
¼ cup bread crumbs
¼ cup chopped coriander leaves
¼ cup chopped mint leaves
Salt to taste
For coating —
4 beaten eggs
1 cup breadcrumbs
Method
Soak bread in water. Squeeze water out and keep aside. In a large bowl, add all the kebab ingredients and mix well. Using your hands make round flat kebab. Coat them with bread crumbs and leave them into refrigerator for about 30 minutes.
Heat enough oil in a big pan. Dip kebab into the beaten eggs, and then drop into the hot oil. Using fingers, sprinkle some egg over the kebab to make tiny nets. Fry them into medium flame. When one side of kebab becomes golden brown flip them and sprinkle some more egg over the kebab. Fry till both sides of the kebab until brown. Serve with biriyani, naan or paratha.
MUTHI KEBAB
For all those who love to undertake different but extraordinary side dishes, I present you another effortless and easy side dish, muthi kebab. Just endeavour once and you will find it irresistible to make it again and again. Everyone will love these juicy kebabs. Serve hot with different kinds of dip.
Ingredients
500g meat mince
2 onions, chopped
1 tbsp chopped coriander leaves
3 chopped green chilli
1 tsp ginger paste
2 medium tomatoes, chopped
1 tbsp chopped mint leaves
1 tsp chat masala
2 red pepper, crushed
½ tsp pomegranate seeds powder
1 egg
3 tbsp gram flour (pan roasted)
½ tsp cumin seeds powder
Oil for fry
Method
In a bowl, put minced meat and add all the ingredients except for oil. Mix with your hands until well combined and let stand for half-an-hour to blend flavours. Now take a handful of the mixture and give them oval-like shape. Then heat oil in a pan. Deep fry the kebab till golden brown. Remove on a platter and serve hot.
GALOUTI KEBAB
Ingredients
500g mutton mince
1 tbsp ginger paste
1 tsp garlic paste
25g papayas
1 tsp red chilli powder
2 tbsp butter
½ tsp ground mace
½ tsp garam masala powder
2 tbsp roasted chickpeas flour
Ghee as required
Salt as required
Method
Wash and drain the mince and refrigerate for 15 minutes. Peel and deseed the papaya, put in a blender and make a fine paste. Mix all the ingredients, except the ghee with the refrigerated meat. Refrigerate for another 30 minutes. Divide into equal portions, apply a little melted ghee on the palms and flatten the mince-meat mixture into patties. Heat ghee in a pan and shallow fry over low heat until both sides brown evenly.
BOTI KEBAB
Ingredients
500g boneless mutton (cut into 1-inch cube)
2 tsp raw papaya
1 tbsp ginger paste
1 tsp garlic paste
½ tsp red chilli paste
¼ tsp garam masala powder
1 tsp Kabab Chini Powder
1 tbsp hung curd
¼ cup melted butter
Salt to taste
Onion rings, as required
Method
Mix together papaya, ginger, garlic, hung curd and green chilli pastes with chilli powder, garam masala powder, Kabab Chini Powder and salt, apply this on the cubes of mutton. Set aside in the refrigerator for 3-4 hours to marinate. Now cook the marinated mutton cubes with one cup of water till the mutton is half done and all the water evaporates. Remove from heat and set aside. Put the mutton cubes on a skewer. Heat a grill and grill the mutton cubes till completely cooked. Baste with melted butter from time to time so that mutton does not dry out. Once done, transfer to a plate and serve with the onion rings and chutney.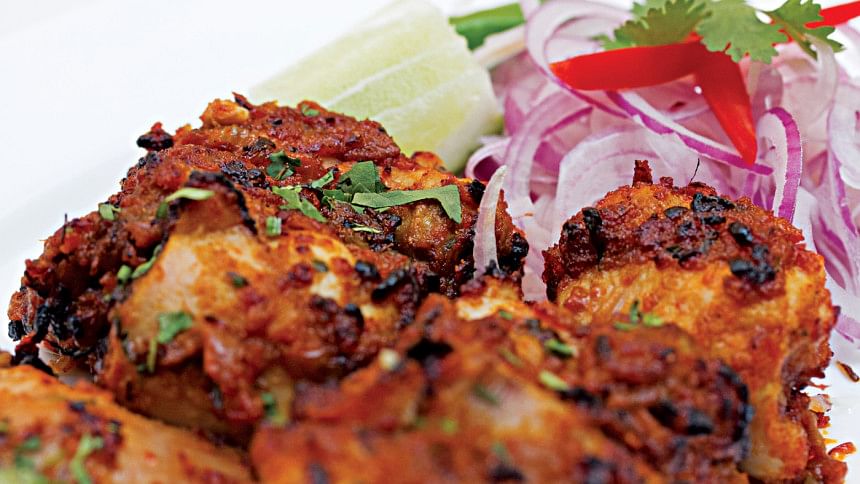 Photo: LS Archive/ Sazzad Ibne Sayed