Vegetables all the way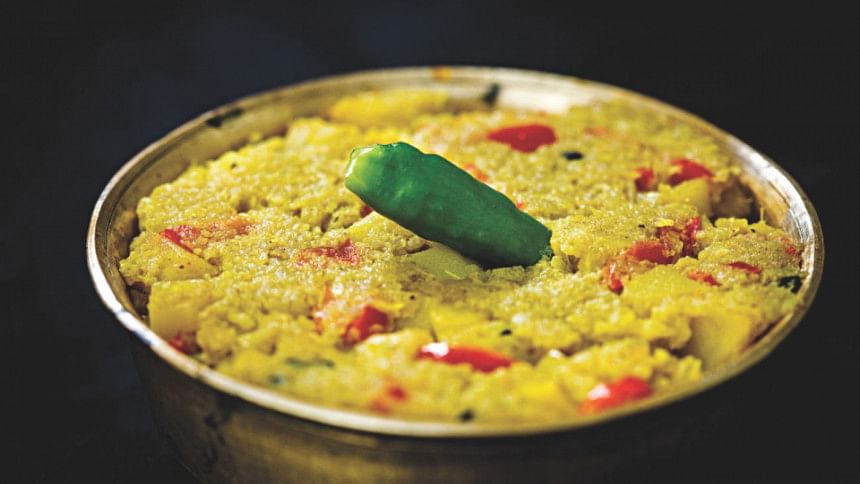 MIXED VEGETABLE YOGHURT CURRY
For the mixed vegetable yoghurt curry (korma) we have employed Sylheti/Assamese wild kakrol, Sylheti/Assamese squash and farmed Kakrol from the flat land, which are much smaller in size, nevertheless taste just the same.

Ingredients:
1 kg assorted vegetables, cut into bite size pieces
500g onions, sliced
2 tbsp onion paste
1 tbsp garlic paste
½ tbsp ginger paste
500g yoghurt
20 dry red chillies, soaked overnight and ground to a paste
4 tsp salt
½ cup ghee
1 cup soya oil
2-3 tbsp milk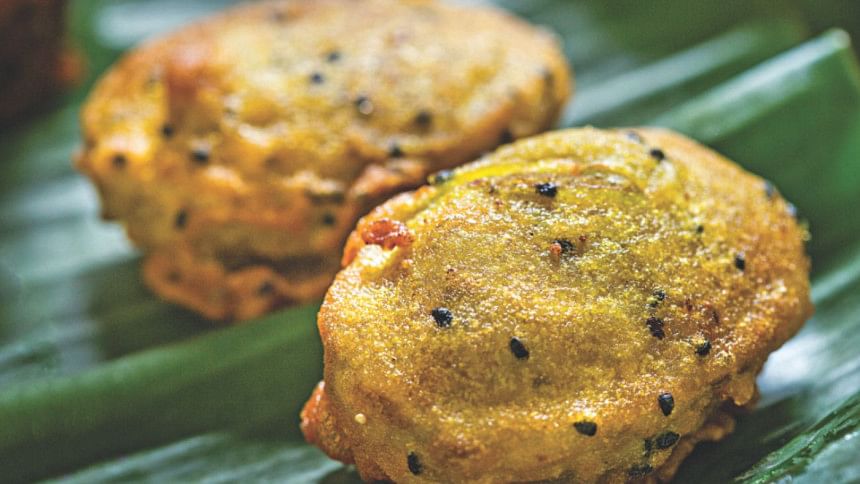 Method: 
In a mixing bowl, combine the following: onion paste, garlic paste, yoghurt, and red chilli paste. Whisk to merge them properly. Drop the vegetable pieces into the mixing bowl and coat the pieces evenly with the spices (mosla). Marinate for 10 minutes. Heat oil and ghee in a wok (korai). Lob in the sliced onion. Sauté until they are golden (baresta).
Using a slotted spoon, strain out 3/4 of the fried onions (baresta) from the oil and grind them with 2 tbsp of water, to facilitate the grinding. Keep baresta paste aside. To the remaining baresta in the wok (korai), add the spiced vegetable pieces along with marinade. Over high heat bring to a boil. Reduce the flame and simmer until the vegetable pieces until tender. Stir often and add 2 tbsp milk if necessary to avoid scorching. Stir in the ground baresta paste (#4) + salt. Mix up. Cook for a further 2-minutes. After the fat separates from the gravy - take wok (koral) off flame.
SWEET POTATO WITH GRAVY  
Ingredients:
1 kg sweet potato
2 tbsp ghee
4 red onions, sliced
1 tsp cumin seeds
1 tsp red mustard (rai) seeds
2 tsp garlic paste
2 tsp red chilli powder
1 tsp turmeric powder
4 cups Vegetable stock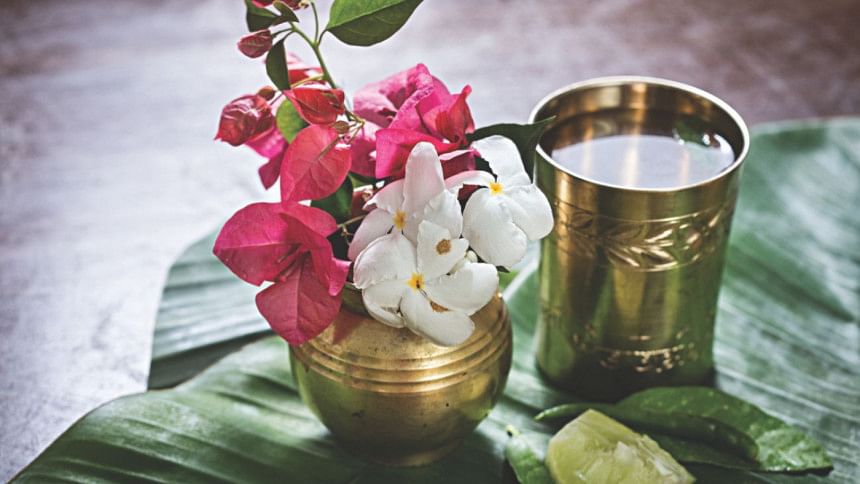 Method:
Peel and cut the sweet potatoes into 5cm squares, set aside. Heat ghee in a wok, toss in: cumin, mustard seeds. Cook undisturbed until they stop sizzling. Lob in the onions and sauté until they are a pale gold. Stir in the garlic, sauté stirring for a minute. Chuck in the potatoes and sauté stirring until they are coated with the spice. Cook for a minute. Dilute the red chilli powder and turmeric powder in the stock, and pour it in. Lead the contents to a gentle boil. Lower the flame and simmer until potatoes are tender. Add more stock if required to get runny gravy.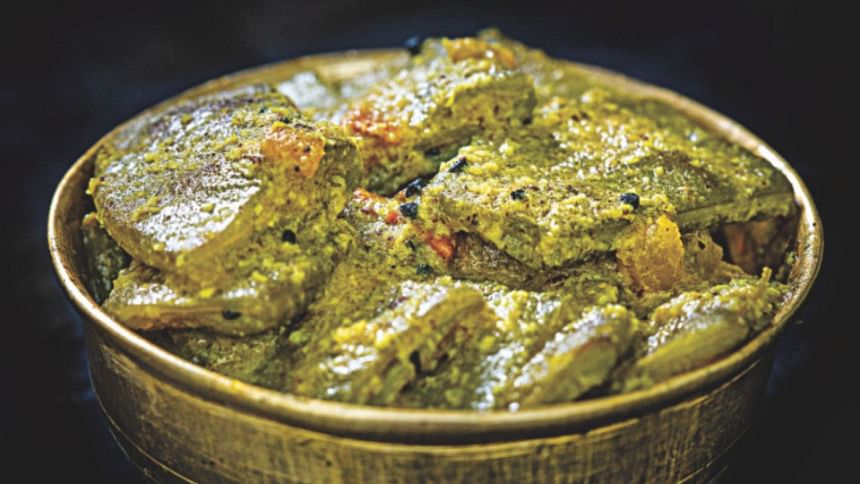 GREEN BANANA CHOP
The most popular 'chop' is of course the potato (aalu) chop. Bengalis make chops from all kinds of vegetables and dals, with or without stuffing. Is it to show 'deference' to its Anglo-Indian origin? Or is it because we cannot consign its designated rank in the sequence of the structured meal that some of us love to nibble. The name chop, and its recipe to mock 'Mutton Chops' (whence the pointed end) came from the Bengali and Garo cooks employed by the British Clubs and families in metropolitan British Bengal. In this recipe the green bananas fulfil the role of the potato which was once scarce in the tropical countryside. This item was introduced as a snack.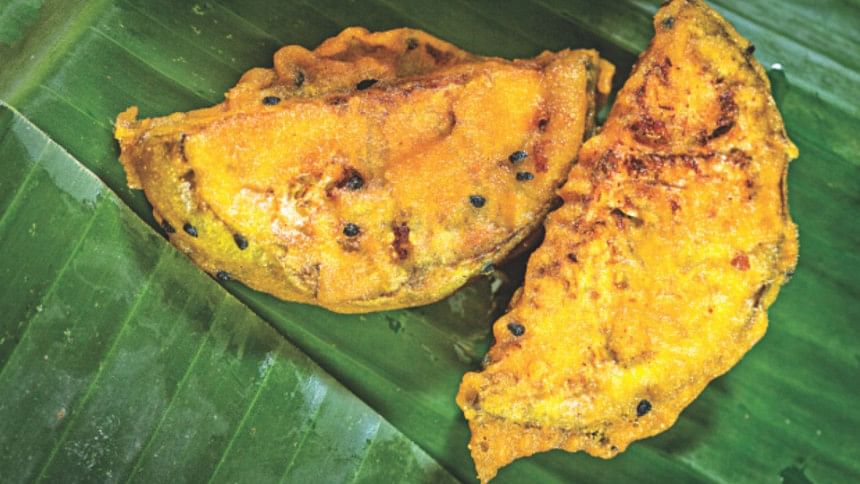 Ingredients:
4 green bananas
1 tbsp onion, chopped
½ tsp black pepper
1 tsp cumin power
5 green chillies, chopped
2 tsp salt
½ cup chopped lettuce
½ cup chopped cabbage
2 tbsp mustard oil
1 tbsp soya oil
Method:
Boil, peel off the skin and then mash the green banana's fleshy tissue. Add the following to the banana mash: chopped onion, pepper, cumin powder, green chilli (chopped), salt, chopped lettuce, chopped cabbage, and mustard oil. Mix well to merge all the ingredients, and then knead with your knuckles to form soft dough. Take 3 tbsp of banana dough and form into a flat patty, shape one end of the patties to protrude into a jutting point. Brush ¼ tsp oil on a non-stick pan and shallow-fry the patties (now chops) in batches, 3-minutes on the first side and 2-mins on the other side.
GREEN BANANA KOFTA
Kofta, a word adapted from the Persian word 'köftan' (to pound), is presently used to specify those meat dishes where the meat is pounded and formed into spheres of discs. The term is also adopted to name such vegetable or fish dishes which use pounded vegetables or fish formed into patties.
(40 Servings)
Ingredients:
3 kg green banana, boiled and mashed
½ kg mung dal, soaked and ground
8 tsp ginger paste
8 tsp cumin seeds powder
4 tsp red chilli powder
4 tsp gorom mosla powder
8 tsp sugar
4 tsp salt
1 cup mustard oil
1 cup ghee
Soya oil (for deep-frying)

Method:
In a mixing bowl, combine the following: banana mash, dal, ginger, cumin, red chilli powder, gorom mosla powder, sugar and salt. Mix every ingredient thoroughly, drizzle with the mustard oil, and knead the ingredients. When well kneaded, add ghee, and knead again. The dough will be soft and pliable. Take a tablespoon full of the mixture on your wetted palms, and roll it into a small ball. Flatten the ball between the palms to shape them into discs. Deep-fry the discs in hot soybean oil, until light brown. Serve hot as a side dish or as a snack.
Photo: Shahrear Kabir Heemel
Food prepared by Shaibal Saha, Crafts and fashion designer
Food styling: Aparna Paul