7,573 Bangladeshi Hajj pilgrims reach Saudi Arabia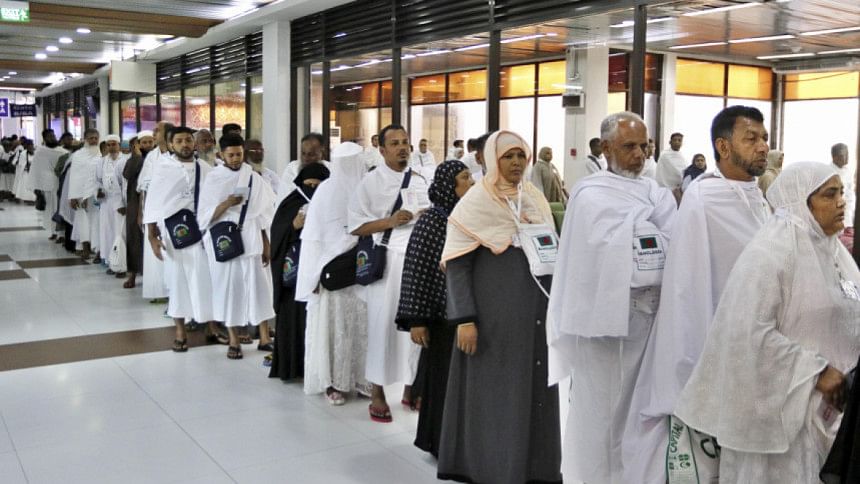 Since June 5, a total of 7,573 Bangladeshi Hajj pilgrims have reached Saudi Arabia through 19 flights.
Of the total flights, Biman Bangladesh Airlines operated 11 flights, Saudia operated five and flynas three, sources at the three airlines said.
Hajj flights carrying Bangladeshi pilgrims started operating from June 5.
According to the bilateral agreement between Bangladesh and Saudi Arabia, a total of 57,585 Bangladeshis will be able to perform Hajj this year which is likely to be held on July 8 depending on sighting of the moon.
Of the total pilgrims, 4000 will perform Hajj under government Hajj management while the rest will perform Hajj under private agencies, he added.
According to Biman, the national airliner will carry 29,000 pilgrims by three Boeing 777 aircraft under its 130 dedicated flights with 65 round trips.
Saudia and Flynas will carry the rest of the pilgrims.
Hajj is a ritual for able-bodied Muslims at least once in their lifetime.
In 2019, around 1.27 lakh Bangladeshis were allowed to perform hajj. However, due to the global Covid pandemic, the largest annual Muslim congregation was held on a limited scale in the last two years.