Mixed reactions as BR starts implementing new ticketing system
A huge number of passengers thronged the "help desk" set up at the Kamalapur Railway Station to get registered and to buy tickets.
There were mixed reactions on the first day of Bangladesh Railway implementing its move to make preregistration with NID card or birth registration mandatory for intercity rail travel.
While many passengers welcomed the initiative, taken by BR to prevent black marketing of tickets, others, especially those of lower income groups, found the process very complicated.
A huge number of passengers thronged the single "help desk" set up at the Kamalapur Railway Station to get registered and to buy tickets.
Railways Minister Nurul Islam Sujan, who visited the station to see the rollout of the new system, said there may be problems at the beginning but the authorities will evaluate it and take corrective measures.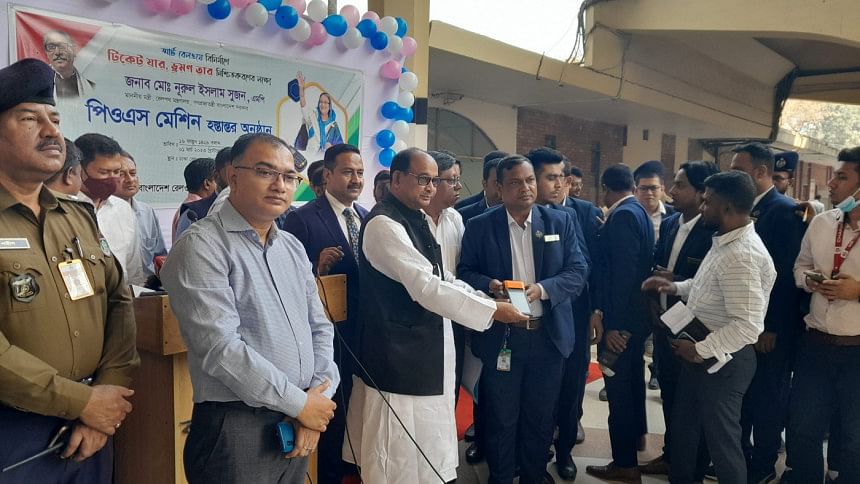 The minister on February 15 announced that they would make preregistration mandatory from March 1.
As part of an upgraded ticketing system, all passengers have to register with BR's ticketing system through online, app or mobile SMS using their NID cards or birth certificates. Foreigners can register using their passports.
It will be compulsory for passengers to have originals or copies of NID, birth certificate or passport while travelling on intercity trains.
Each registered individual can purchase up to four tickets, but will have to travel along with the three others for whom he or she bought the tickets.
As BR opens advance tickets five days before the journey date, the new system went live five days ago.
But manywere not aware about the system and so, while visiting the station in the morning, this correspondent found a big crowd before the single help desk there.
Rais Uddin Sarkar, a factory worker in Narayanganj's Pagla area who came to the station to go to his Tangail home, was not aware of the preregistration and found himself in trouble.
"I came to know about the new system coming at the station. Luckily, I have a copy of my NID with me. But I am not sure when will I be able to get registered and buy tickets," Rais told our correspondent standing in a long line.
Al Amin, another passenger, said the authorities have made the system more complicated now. The previous system was easier, he added.
When this correspondent told him that BR introduced the system to prevent black marketing, he said, "What are the law enforcers and rail staffers doing in this regard?"
Both of them said the authorities should have set up more help desks.
But many other passengers welcomed the move.
Kamruzzaman Miah, a passenger of Rangpur Express, said he got registered yesterday and bought tickets without any hassle.
"The system is good. It was rare to get tickets one day before the journey date. But yesterday tickets were available, I think, due to the new system," he told this correspondent.
Two more passengers of the same trains said they appreciated the initiative.
Meanwhile, railway staffers, for the first time, started using POS (point of sales) machines from today to check whether passengers were travelling with valid documents and to issue tickets on board for those travelling without tickets.
The railways minister today handed over 100 POS machines to railway staffers at a brief ceremony at the station today.
Moreover, from today, BR has started process to refund tickets through online. Earlier, it was done manually.