Dhaka Lit Fest 2023 — A day's experience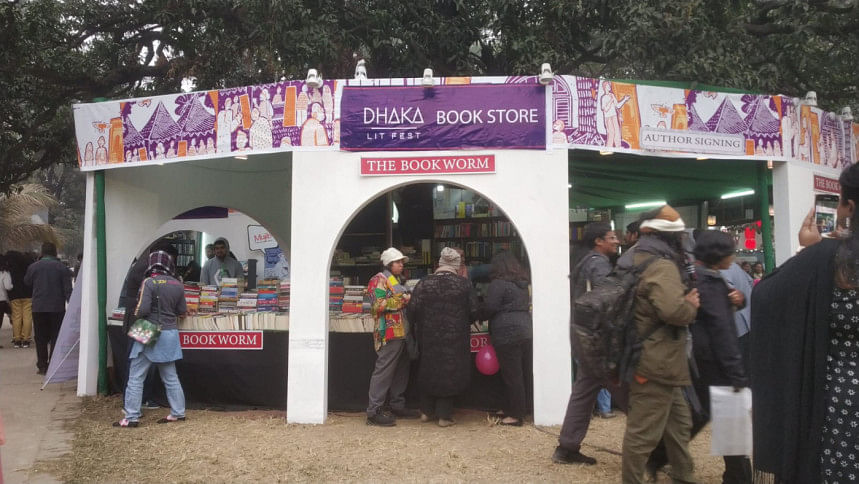 Ever since its start in 2011, the Dhaka Lit Fest (DLF) has been working to promote Bangladeshi culture and literature to the world. The founders and associates have relentlessly tried to bring literary persons of importance, and provide them a platform to impart their knowledge to the literature lovers of Bangladesh.
This year, after a COVID-induced gap of three years, The Dhaka Lit Fest is back and how. I noticed that despite the introduction of an entry fee this year, not much had changed in terms of popularity or crowd. Still celebrating literature in all its forms — poetry, storytelling, fiction, non-fiction, theatre, etc. — the festival featured a variety of events such as book readings, panel discussions, and writing workshops.
Spanning five days, the popular event had authors and creatives from a variety of genres and backgrounds, from Bangladesh, Australia, England, Switzerland, to India. Notable among them were names such as Amit Ashraf, Amitabh Reza, Amitav Ghosh, Animes Roy, Armeen Musa, Asaduzzaman Noor, Azmeri Haque Badhon, Kazi Amdadul Hoque, Kishwar Chowdhury, Muhammed Zafar Iqbal, Nuhash Humayun, Runa Khan, and Munize Manzur.
Upon reaching the crowded gates of the Bengal Academy, I was equally enthusiastic and gripped in nostalgia. The crisp winter morning, the familiar grounds peppered with book stalls, the delicious smells of warm pithas and hot tea, and the known sight of literature lovers wrapped in shawls and jackets enthralled by the goings-on all reminded me of the past years. Nothing had changed, but in the literary world, there was an abundance of new things to talk about. Needless to say, the atmosphere was buzzing with palpable energy.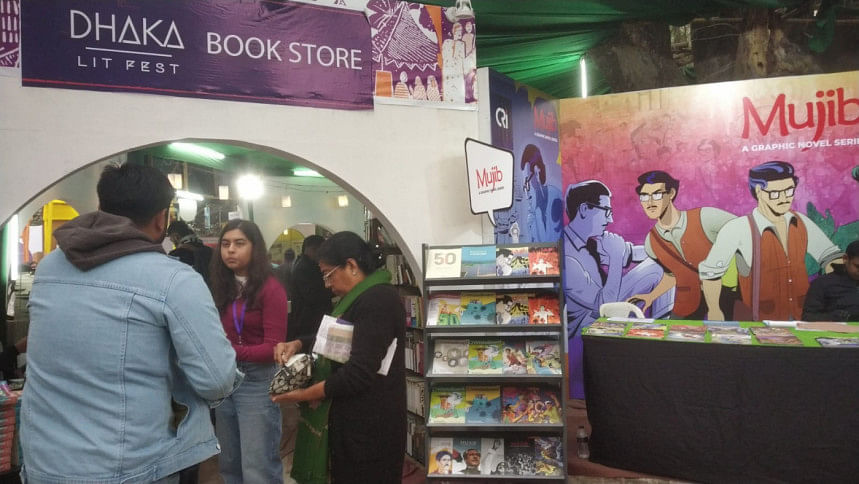 I was just in time to grab a cup of hot chocolate and reach the electric performance by Coke Studio. Buno, Abeer Rajbeen, Gousul, and Warda Ashraf did not disappoint, doing much to charge me up for the rest of the day.
The next session I knew I wanted to get to was A World without a Centre, with distinguished speakers like Amitav Ghosh, Abdulrazak Gurnah, Pankaj Mishra, and Nilanjana S Roy. It spoke about the love of reading and writing, a topic that personally resonated with me as an avid reader and enthusiastic writer. I left the captivating session in time to catch the endearing "Lal pori, Neel Pori" puppet show for children. After all, are we not all children at heart?
I allowed myself one long, joyous afternoon to take in the true spirit of the festival, window shopping for books, stall hopping, and sampling some truly delicious food — kebabs, wraps and hotdogs, juices, teas and coffees.
Right after, I went to attend the last session on environment featuring AJ Ghani, Khondker Neaz Rahman, and Sumaiyah Mamun, moderated by Naushad Ali Hussein. This was a hard choice because I also wanted to listen to Tilda Swinton's talk which was running parallelly, but then, with such inspiring speakers at the fest, the DLF has always been about hard choices.
I majorly missed the session on Food Stories and the Rickshaw Girl film screening but then responsibilities called and I had to pick up.
To me, this year's DLF was a resounding success and I walked out with a mind buzzing with names of the books I could not buy, and a heart full to the brim with the love of literature and the diverse perspectives that I gathered from it.