'I saved up and went to Dhaka Lit Fest'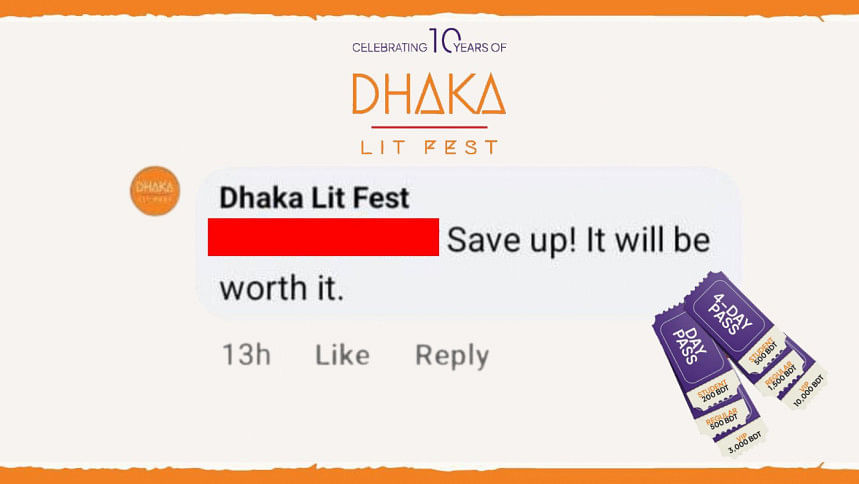 Amidst the biting cold air and after tackling the infamous Shahbag jam, I finally made my way to Dhaka Lit Fest (DLF), on its third day. The festival just completed its 10th anniversary and, like always, was taking place on the premises of Bangla Academy. 
When the ticket prices of the event were first announced, I was one of the first to question the DLF authorities on the decision to put an entry price on a festival that was free in years prior. In reply, they asked me in the Facebook comments section to save up and go to the programme, and so I did.
The daily programmes usually begin around 10 am, continuing till 8pm. I reached Bangla Academy around 6 pm and was fortunate enough to catch the musical performance by Beatmosphere—a ragtag group of beatboxers and musicians.  The performance was a super hit, thanks to their amazing musical prowess, stage presence and performance art. The cherry on top was getting to witness the amazing vocal control and mesmerising performance of Emi/Sparx. 
Following the performance, I roamed around the venue, in a sea of a thousand patch-work jackets and clinking silver jewelleries, all the while something was churning in my head. After closing the performance, one of the crew members and MC Beatbaksho (Moktadir Dewan) urged the audience to make space for recognition and encouragement of hip hop, and for grassroot artistes who are trying their individual best to pursue what they love.
My question is, then, —standing here in a festival that introduces its audience to international artists and art, but restricts it for the grassroot via monetisation— are we truly encouraging art?
The 10th edition of DLF featured a star-studded itinerary, consisting of talks from nobel laureates and academy award winners, discussing everything from folklore to the Bangladeshi schooling system. However, for the first time in 10 years, the DLF introduced a ticketing system, where the general public had to pay an entry fee of BDT 500 to enter the festival. 
In a press release from DLF, the organisers raised the point that in an effort to be independent, the VIP pass was—which is essentially a form of sponsorship—was introduced. The VIP passes were priced at BDT 3,000 for one day and BDT 10,000 for all four days, in what DLF mentioned as an attempt to regulate the fees for general entrants and students—keeping it attainable. 
DLF also argued how the Hay festival and Jaipur Literary Festivals also charge fees, thereby justifying their choice to do so. However,  I would argue that the Hay Festival, which started around the 80's in Wales—where GDP per capita (as of 2021) is USD 42,098.75, compared to Bangladesh's USD 2,457.92 (2021)—cannot be compared. 
The appeal of previous iterations of DLF is what originally made me attend the event multiple years in a row. The space they created for individuals, mainly literature lovers to be able to mingle and get to know more about the world of books is what was so magical. 
 Sadly, this year's demographic of Lit Fest attendants can be summed up in the complaints of the coffee seller who sits inside the premises, speaking of the lack of sales because who here would drink coffee from a roadside machine? With two individual beverage stalls placed in one of the biggest sections, the festival goers opted for something more 'suited' to their taste.
 In my opinion, all the glamorous and intellectual conversations DLF had to offer this year, would have been more enjoyed by the demographic that don't have the opportunity to indulge in fancy and over the top events that cater to the elite. 
This year's festival, with its monetisation issues, deprives the grassroot and middle-class community—the background they subtly claimed is not their niche. The beauty of any art, be it film or literature, is in its inclusion. Like Beatbakso said, include every artist. What if there was someone of a lower economic inclination, who would have been inspired by their performance and created space for Bangla hip-hop in their community? 
 In 2023, I entered DLF with a lot of hope and knowledge and missed the feeling of inclusion—getting the opportunity to witness people peering into windows of international literature—something that I believe was a key highlight of Dhaka Lit Fest. 
In essence, festivals have always stood for inclusion. They create intellectual spaces, ones that cannot ever be segregated. Thus, it falls on us, the ones with the opportunity, to provide and open doors for people to create a more accepting space and culture.