Don't want people saying women-led projects don't sell: Badhan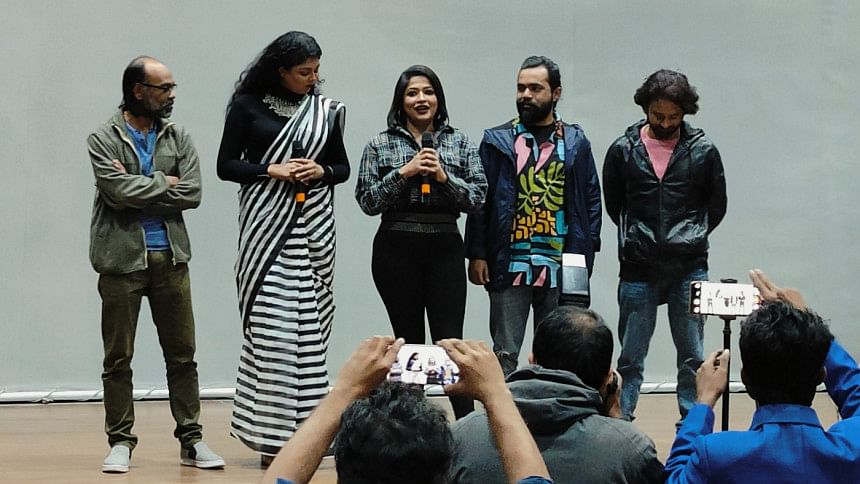 The Azmeri Haque Badhan starrer web-series, "Guti" is all set for release today. Directed by Shankha Dasgupta, the seven-episode series will be available on Chorki later tonight. Chorki organised a special press show at Bangladesh Film Archive, where they invited the media and also premiered first two episodes of "Guti" at the event. 
Shahriar Nazim Joy, Sharif Siraj, Moushumi Hamid, Nasir Uddin Khan, Arya Aritra, Tuntuni Sobhan, Arfan Mridha Shiblu, and Mahmudul Alam, among many others, have also been cast in the series.
In the series, Badhan plays the role of a drug smuggler. Sultana, played by Badhan, has been associated with a local drug-smuggling network for many years. During this time, she accumulated a large level of wealth, in the process losing many near and dear ones. While Sultana dreams of giving her daughter a beautiful life, there is no escape from this line of work.
Speaking about the web-series, Azmeri Haque Badhan said, "The story of 'Guti' has been well-arranged by the director, Shankha. He wanted to do something completely different with the plot, than audiences are used to. Shankha explored different character and different styles of storytelling to bring his vision to fruition. In 'Guti', I play the role of a drug dealer named Sultana. Many say that women-led projects in Bangladesh don't sell. But I don't want to hear this rhetoric anymore. I believe that this perception around female stars will change in the next one or two years."