5 best swimming tips for beginners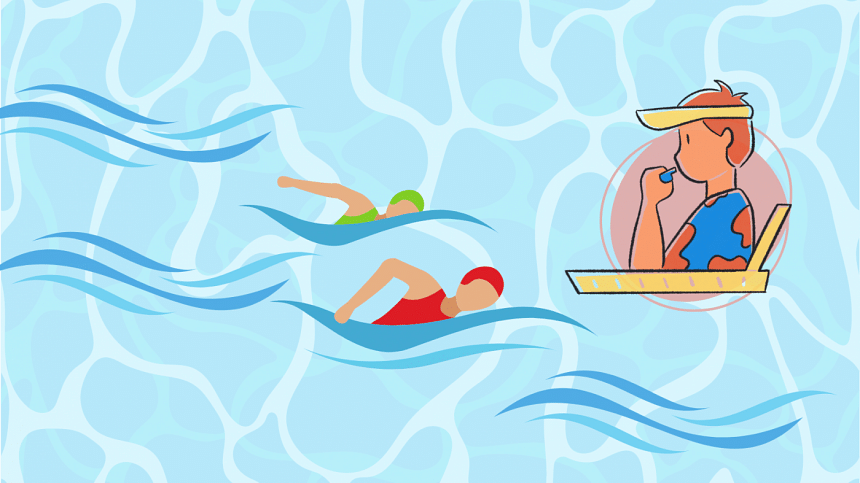 Swimming is a valuable life skill that is also known for all the exceptional physical benefits it comes with. As a survival technique or an excellent exercise, if you are planning to overcome your fear of water, we've got you covered with the 5 best swimming tips for beginners. So, let's put on some goggles and dive in as we explore a few tips and tricks to elevate your swimming skills.
Respect the water
With all the fun that we usually get from a pool session, it is easy to overlook the fact that water, as a force of nature, demands the utmost respect and caution. Similar to the unpredictable nature of other elemental forces, water can turn a delightful day into a perilous event pretty soon. To prevent any such tragic incident, all the practice sessions must be done under the supervision of an adult with substantial expertise in swimming.
It might also be tempting to take a dip in the fresh monsoon tide of a river. However, swimming in an open river during the rainy season is one of the worst ideas that any amateur swimmer may get. So, be mindful of your physical limitations and show nature the respect it deserves.
Wear your gear
Take it from us, learning to swim in the 'old ways' without proper gears is not a fun experience.
You should always wear protective gears for your eyes, hair and face. Aside from protecting you against the chlorine rich water of many community pools, such gears make the learning process a lot more accessible and safer.
Organise your sessions
Before you start your training session, you should already have a goal for the day in mind. Make a mental note of what you wish to achieve on any given day and structure that particular session accordingly. Our recommendation is to master the basics like floating, kicking and some arm movements first, with separate time allotted to each of these sections, and gradually increase the distance you can swim.
Whatever achievement you fix as your daily goal, however, do not start working at it without some warm up exercises as intense physical training like swimming may lead to sudden injury and muscle cramps.
Practise your breathing
Learning to breathe in a controlled and rhythmic way is one of the most crucial parts of learning to swim. It might be tempting for beginners to raise their heads high for an easy breath but doing so is counterproductive as such actions will tire you out pretty soon. In addition, it will also put an immense amount of strain on your neck and shoulder, which may lead to some unforeseen sprains or injuries. For a better grasp on your breathing during a swimming session, inhale when you turn your head to your side and exhale in the water.
Make your kicks efficient
It is a common mistake to kick too much while swimming during the early stages of the learning curve. Remember that your legs contain two of the largest bones, making them one of the heaviest limbs in your body. Undoubtedly, kicking too much will exhaust your energy reserves quicker.
As a beginner, you should concentrate more on various types of arm strokes and the proper way to position your head with gentle kicks. Another common issue with kicking is doing it with your knees bent, which is inefficient and will reduce your speed significantly. Keep your legs straight, loosen your feet for acting like a fin and let the kicks come from your hips for better performance.