Zerocal: Indulge in sweetness, not sugar!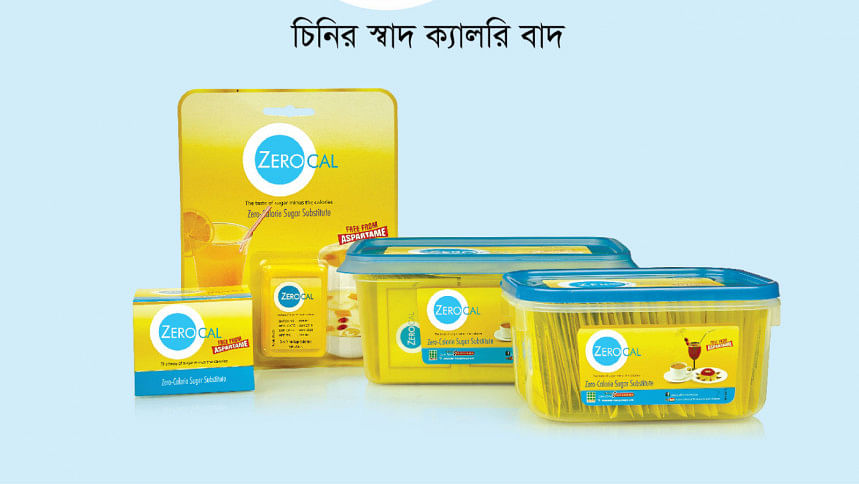 Iftar is a special family event we all cherish. And so, it is no surprise that it is an elaborate affair, complete with our favourite delicacies. However, many of our favourite dishes often are very sweet and require high amounts of sugar.
Worry no more, though, as Zerocal offers you an alternative. Whether you crave that cold glass of shorbot to rejuvenate after a day of fasting, or want to indulge in the myriad desserts, you can do so without being concerned about high sugar intake.
If you are aiming to cut down sugar consumption, be it for weight issues, diabetes, etc., Zerocal can be your answer. Why compromise on delightful sweet delights when you have a sugar alternative?
Following are some examples of iftar recipes one can try out using Zerocal.         
COCONUT BLEND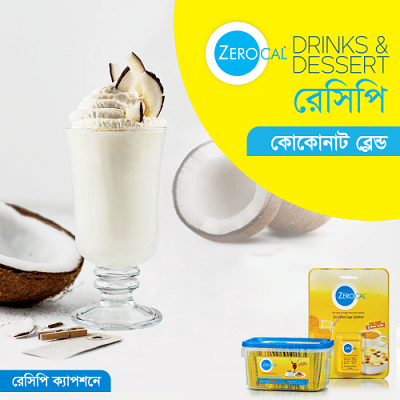 Ingredients
Green coconut water
Coconut malai or the soft coconut meat
A slice of coconut kernel
Zerocal
Method
In a blender pour the coconut water, the soft coconut meat, and a sachet of Zerocal. Blend and serve in a tall glass with ice and kernels on the side.
LEMON-CUMIN DRINK
Ingredients
Toasted and grounded cumin powder
Mint leaves
Lemon juice
Salt
Water
Ice
Zerocal
Method
First, toast the whole cumin seeds and grind them.
In a mixer, put 2 teaspoons of cumin powder, 8 g mint leaves, 3 tsp lemon juice, a pinch of salt, and a sachet of Zerocal. Blend the mix and pour it in a glass. Garnish with ice and mint leaves.
MAHALABIA
Ingredients
Cornflower
Crushed almonds
Milk
Cream cheese
Vanilla essence
Zerocal
Method
Mix half-cup of corn flour with milk. Heat 1 litre of milk in a pot on the stove until it reaches a thick consistency. Now mix 2-3 sachets of Zerocal. Now slowly mix the corn flour, stirring for 3-4 minutes. Remove from heat and let it cool. Mix 200g of cream cheese. Pour in into small glasses. Sprinkle crushed almonds and serve cold.      
DIMER HALUA (EGG HALUA)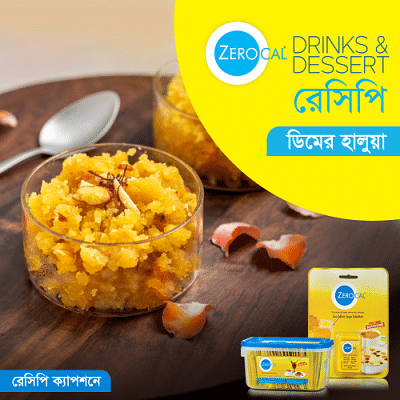 Ingredients
Eggs
Milk
Mixed nuts
Dry Fruits
Ghee
Cardamoms
Cinnamon
Bay leaves
Vanilla essence
Zerocal
Method
First, beat 4 eggs in a bowl. Mix 1 cup of liquid milk, 2-3 drops of vanilla essence, and 2-3 sachets of Zerocal. Then take 3-4 spoons of ghee in a bowl and lightly fry cardamoms, cinnamon and bay leaves in it. Slowly pour the milk-egg mixture into the bowl and whisk until thickened. Mix in the ground nuts. Garnish with dry fruits and serve.
BREAD PUDDING
Ingredients
Eggs
Milk Bread
Vanilla Essence
Zerocal
Method
First, heat 1/4 cup zerocal and make caramel. Once browned, pour the caramel into the pudding pan while it's still hot. Let it cool. Then in a bowl, blend 2 cups of liquid milk, 3 pieces of bread cut into small pieces, 1/4 cup of powdered milk, 4-5 sachets of Zerocal, 4 eggs, and 2-3 drops of vanilla essence.
Once blended, pour the mixture over the set caramel and close the lid. Then put the pudding pot in a large vessel on the stove with 1.5 cups of water; and cover the vessel too. Steam on medium low flame for 40 minutes. Remove from heat.
When the pudding pot has cooled, open the lid, and pour the contents upside down on a plate. Serve chilled.
Translation: LS Desk
Photo Courtesy: Zerocal