Delicious desserts from around the world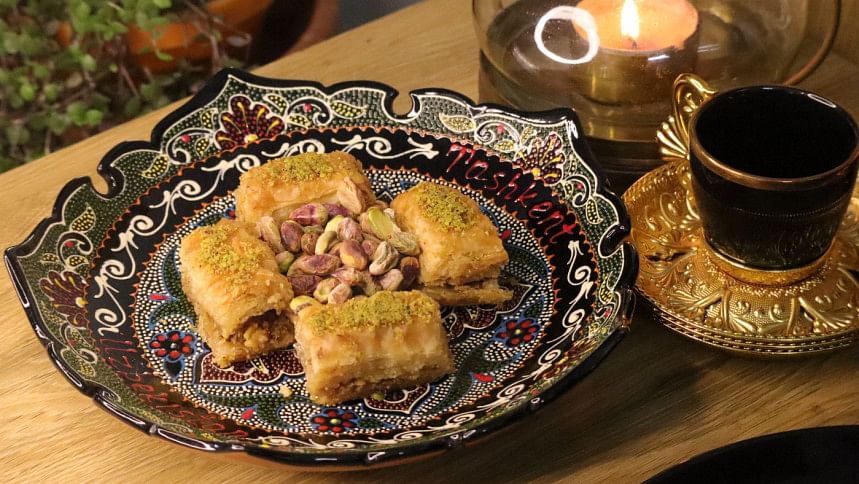 Sweets were offered to the gods in ancient Mesopotamia, ancient India and other ancient civilizations. Dried fruit and honey were probably the first sweeteners used in most of the world, but the spread of sugarcane around the world was essential to the development of dessert.
The word "dessert" originated from the French word desservir, meaning "to clear the table" and defined as a usually sweeter course that concludes a meal.
Dessert consists of variations of tastes, textures, and appearances. There are a wide variety such as cakes, cookies, biscuits, gelatins, pastries, ice-creams, pies, puddings and candies. Fruit is also commonly found in dessert courses as of its natural sweetness. Many different cultures have their own variations of similar desserts around the world as in modern times, the variations of desserts have usually been passed down or come from geographical regions.
Here's a list of some lip-smacking desserts recipes from around the world that everyone must try once in their lifetime.
Baklava (Turkey)
Ingredients
40-50 Phyllo pastry sheets
200-250g unsalted melted butter/clarified butter or ghee
1 cup finely ground pistachios
½ cup finely ground almonds
1 tbsp ground cinnamon
½ tsp ground nutmeg
1½ cup water
2 cups sugar
1 tsp lemon juice
Salt, a big pinch
Method
Take a baking pan and brush the inside of the pan with clarified or melted butter and place the first phyllo sheet in the pan. If the sheet is too big to fit the pan, trim it to fit. Now, using a wide pastry brush, lightly brush the top of that first sheet. Continue layering and buttering until half portion, 20-25 of total 40-50 sheets.
In a mixing bowl, mix all ground spices and nuts and put the nut filling on top of it and spread evenly.
Cover the filling with another layer of remaining sheets, brush each sheet with clarified butter and continue repeating all the remaining sheets as instructed before.
Coat the top and edges with clarified butter again, then with a sharp knife that has been previously dipped into hot water, cut all the way through the layers. You can cut it into a simple little square or cut it into a diamond.
Bake the baklava into a preheated oven into 180° C for 25-30 minutes, until the top gets golden brown.
Meanwhile, prepare the syrup. In a small saucepan, combine the sugar, water, lemon juice, salt and bring to a boil over medium heat, reduce the temperature to low, and simmer, uncovered, for 5 minutes. Let the syrup cool until you are ready to use it.
Let the baklava cool for 5 minutes; then use a spoon to drizzle the syrup into all of the cuts. Allow the baklava to cool completely before enjoying, a few hours or overnight. Garnish with chopped nuts.
PAVLOVA (Australia)
Ingredients
For the meringue —
4 egg whites (140g), room temperature
1 cup caster sugar
Salt, a pinch
2 tsp corn starch
2 tsp vinegar
1 tsp vanilla extract
For the cream —
1½ cups of heavy cream, cold
3 tbsp powder sugar
1 tsp vanilla extract
Strawberries, blueberries, kiwi, mint leaves for decoration
Method
In a large bowl whisk egg whites until soft peaks form, gradually add sugar, until stiff peaks form and the meringue looks glossy. Add vinegar, corn starch, vanilla extract and beat on low speed until incorporated.
Lay a sheet of parchment paper on a baking tray and mark a 20 cm (8-inch) circle. Turn it upside down. Spread the meringue inside the circle, creating a crater by making the sides a little higher than the middle.
Place the pavlova in the pre-heated oven, reduce the heat to 120° C (250° F). Bake for 75 minutes, then turn off the heat and let the Pavlova cool completely (at least 4 hours) inside the oven.
Make the cream: Place heavy cream, sugar and vanilla extract in a large bowl. Beat to stiff peaks.
Spread whipped cream on top of the pavlova and decorate with fresh strawberries, blueberries or any fruits as per taste and choice.
BASTANI-E-AKBAR MASHTI (Iran)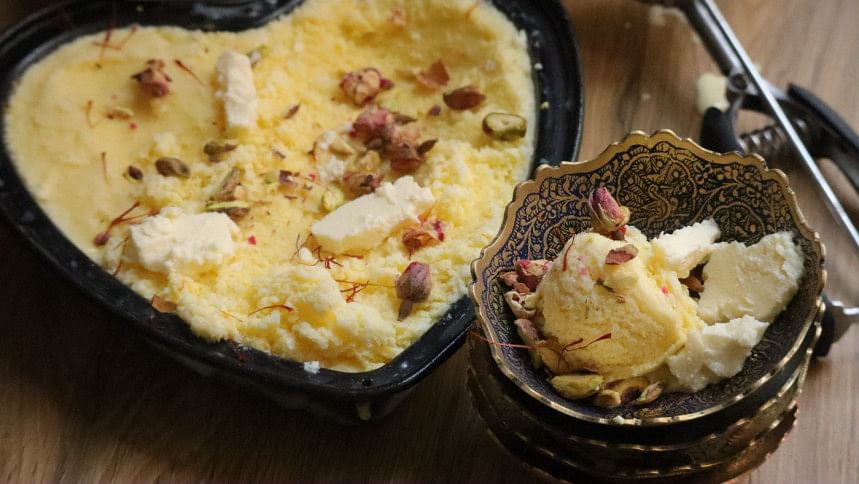 Ingredients
½ cup heavy cream + 3 tsp extra (for decoration)
500ml milk
100g caster sugar
2 egg yolks or 1 tsp salep powder
¼ tsp ground saffron, dissolved and a pinch of whole strands (for decoration)
60ml rose-water
60g pistachios, toasted, roughly chopped
Rose petals (to decorate)
Gold leaf (optional, to decorate)
Method
Spread the extra 3 teaspoon cream thinly over a sheet of greaseproof paper laid out on a baking tray; transfer to the freezer and freeze until solid. Bring the milk to a gentle boil in a heavy-based saucepan; add half the sugar and let it dissolve in the milk. Add ½ cup of heavy cream.
Beat the egg yolks together with the rest of the sugar until light and fluffy.
Mix a little of the hot milk through the egg yolks, then pour all of the egg mixture into the hot milk. Put it back over very low heat and, stirring constantly, let it thicken until it coats the spoon.
Take the pan off the heat, add the dissolved saffron, saffron strands and rosewater, and mix everything together well. Transfer to an ice-cream box, and keep the box in the freezer for at least 8 hours or until it gets set. Serve decorated with extra pistachios, frozen cream barks, rose petals and gold leaf.
SICILIAN CANNOLI (Italy)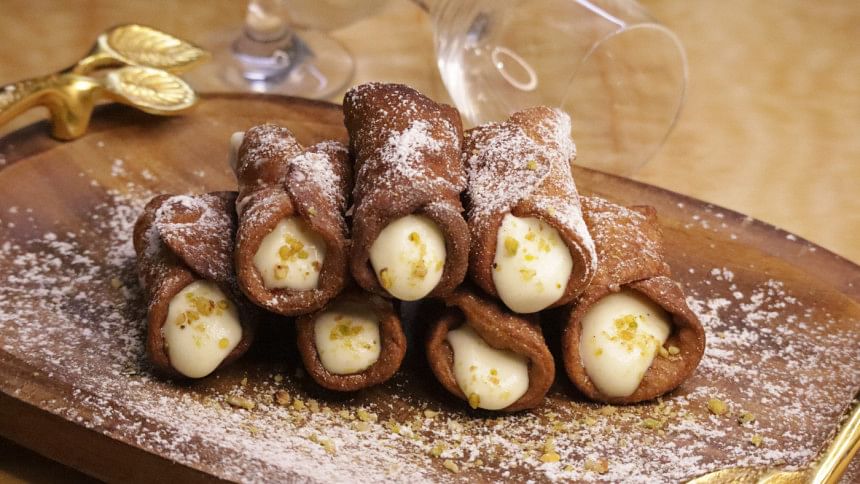 Ingredients
For the dough —
260g flour
20g sugar
30g lard or vegetable shortening (fridge cold)
5g unsweetened cocoa powder
1 tsp salt
1 egg
10g white wine vinegar or vinegar
60ml grape juice
Eggs (for egg wash)
Oil (for frying)
Icing sugar (for decoration)
For filling —
1 cup ricotta cheese (cold)
120g powder sugar
80g dark chocolate chips
Method
In a mixing bowl, put cold ricotta cheese and add powder sugar and whisk, taste and add sugar according to taste. Add chocolate chips and give a good mix. Refrigerate, while making the cannoli shells.
Place flour, cocoa, salt and sugar in a large mixing bowl, make a well in the centre and add the egg, lard, vinegar and juice. Use a fork to beat the wet ingredients and gradually incorporate the flour in order to form a dough. Knead on a lightly floured surface until smooth, about 5 minutes. Cover with a kitchen towel and let rest for 30 minutes.
Divide the dough into two pieces. Work with one piece of dough at a time and keep the remaining piece covered.
Roll the dough, make sure not to make it too thin. Cut shells using a circle shaped cookie cutter. Wrap one shell around the cannoli moulds. You can make moulds by using aluminium foil pepper and beaten egg to seal the ends.
Deep fry all shells and take out moulds. Fill with ricotta filling using a piping bag once they are completely cool.  Dust with powdered sugar before serving. Fill up to 2 hours before serving and refrigerate filled cannoli.
MOCHI (Japan)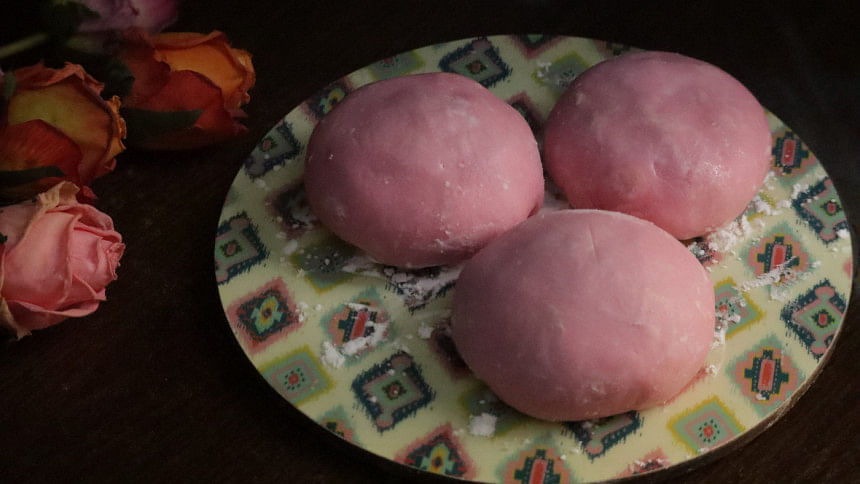 Ingredients
¾ cup sweet or glutinous rice flour
¾ cup water
¼ cup sugar
½ cup potato or corn starch
For filling —
Red bean paste or fruits chunks or chocolate or ice-cream
Method
In a large mixing bowl, combine rice flour, sugar and whisk it altogether. Add the water, mix well until well combined.
If you are using a steamer, wrap the steamer lid with a towel so the condensation does not drop into the mochi mixture. Put the bowl into the steamer basket and cover to cook for 15 minutes. Halfway through cooking, stir it with a wet rubber spatula, then cover to finish cooking. The colour of the mochi will change from white to almost translucent.
Cover your work surface with parchment paper and dust it generously with potato starch. Then transfer the hot mochi on top.
To prevent it from sticking, sprinkle more potato starch on top of the mochi. Once it cools a bit, spread the mochi into a thin layer, about 3/16 inch (4-5 mm), with your hands or with a rolling pin. Make sure to apply potato starch to your hands and the rolling pin as needed. I recommend using a rolling pin because it's easier to evenly spread out the mochi.
Transfer the mochi with parchment paper onto a large baking sheet. Refrigerate for 15 minutes (no more than that) until the mochi is set.
Take out the mochi from the refrigerator and cut 7-8 mochi wrapper circles with a 3½-inch (9 cm) cookie cutter.
Dust off the excess potato starch from these wrappers with a pastry brush. If you find any sticky spots, cover the area with potato starch, then dust it off. Next, stack the wrappers: Place a piece of plastic wrap on a plate and put a mochi circle on top. Then, layer another piece of plastic wrap on top, and add another wrapper. Repeat for all the wrappers. Roll the leftover mochi dough into a ball, roll it out into a thin layer, and cut out more wrapper circles (I could make about 12 mochi wrappers total).
Now, we are ready to put fillings. On the work surface, place one sheet of plastic wrap with a mochi wrapper on top. Using a medium sized scoop, place a scoop of filling: ice-cream or cream or fruit chunks on top of the mochi wrapper. Pinch the four opposite points of the mochi circle together to enclose the filling. Then pinch the remaining edges together. Put some potato starch on the sealed area and set aside, seam side down. Continue making the rest of the mocha balls.
KHAJOOR BARFI (India)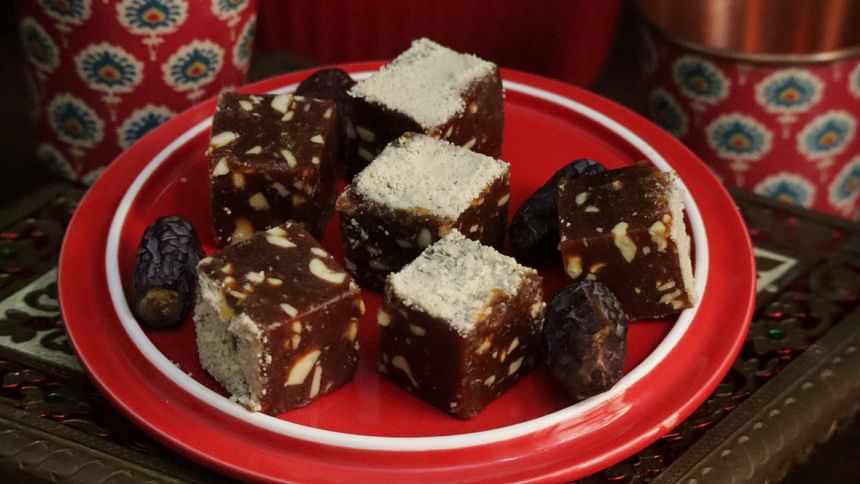 Ingredients
1 cup soft khajoor or dates, deseeded
¼ cup almonds, dry roasted and chopped
¼ cup cashew nuts, dry roasted and chopped
¼ cup pistachio, dry roasted and chopped
1 tsp cardamom powder
2 tsp ghee or clarified butter
4 tbsp coconut powder
Method
In a mixer grinder, take a very soft variety of dates after deseeding them and blend into a thick smooth paste.
In a mixing bowl, add cardamom powder and all nuts to the dates paste and ghee. Mix everything really well.
On a flat plate or tray, spread parchment paper or aluminium foil and flatten the mixture using hands or rolling pin and make a rectangular shape of about 5 mm thickness.
Let it cool in a refrigerator for about 2-4 hours and then use a sharp knife cut into square-shaped barfis. Garnish with sliced nuts and coconut powder.
SOUTHERN COCONUT CAKE (United States)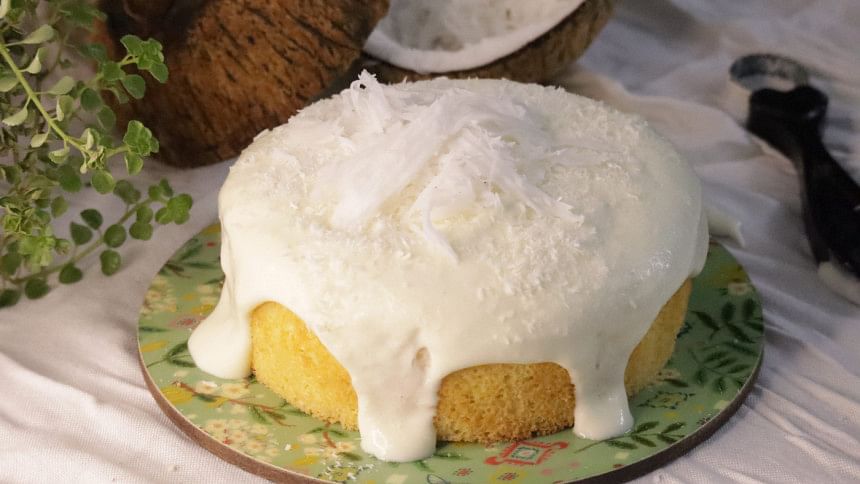 Ingredients
For cake —
¼ cup softened butter
¼ cup vegetable oil
1 cup sugar
2 tsp coconut extract
4 eggs
1 cup warm coconut milk
1½ cup flour
1½ cup tsp baking powder
½ tsp salt
For frosting —
1 cup butter, softened
1 cup powder sugar
¼ cup cold coconut milk
1 tbsp coconut extract
1 cup of fresh or dried coconut flake
Method
In a large mixing bowl, use a hand mixer to cream the butter, oil and sugar together until smooth. Beat in coconut extract and eggs 5-8 minutes until fluffy.
In a separate bowl, combine flour, baking powder and salt. Add a little amount of flour mixer and a little amount of warm coconut milk at a time into the egg mixer and mix gently. Repeat the process with remaining flour and milk.
Transfer into a greased cake tin and bake in a preheated oven at 175° C for 25-30 minutes.
Make the frosting by using a hand beater to beat butter until fluffy. Add little by little powder sugar and mix together. Add cold coconut cream and extract and beat until everything is well-combined.
Frost the cake and garnish with coconut flakes.