'Tis the season of pithas
Every country has a host of traditional sweets that they proudly plate as a representation of their food and culture; for Bangladesh, this is undoubtedly pitha. For us, pitha is not just any other ordinary food but is also a treasure trove of great memories.
Growing up, winter would mean seeing your mum making pithas of various sizes and shapes and listening to the stories of the origin of these sweets. Or, it would mean having steaming hot, warm chitoi pitha for breakfast with mangsher jhol.
In winter, several carts and vans pop up all around the city, selling chitoi pitha with an array of bhortas for you to pick from at unbelievably low prices! Shrimp, tangy tomato, herby coriander, spicy chilli, pungent mustard – the options are endless. For a sweet tooth, there is always the option of steaming bhapa pitha which is stuffed with jaggery, malai, and coconut.
Whether we stand by the roadside and delve into this display of bhortas or buy bhapa pitha for our family on our way back home, swapping these for street food for a short time holds unparalleled excitement. Apart from these, there are endless variations of pithas available in our country.
Chitoi Pitha
Every year, the traditional soot-blackened earthenware makes a reappearance in our kitchens during winter. This artifact is a prized possession in every Bangladeshi household and is solely used to make chitoi pitha. It can be enjoyed plain with bhortas, have savoury stuffing, or be drenched in milk. Dudh chitoi is soaked in reduced milk, contains a generous amount of jaggery and topped with earthy grated coconut.     
Patishapta Pitha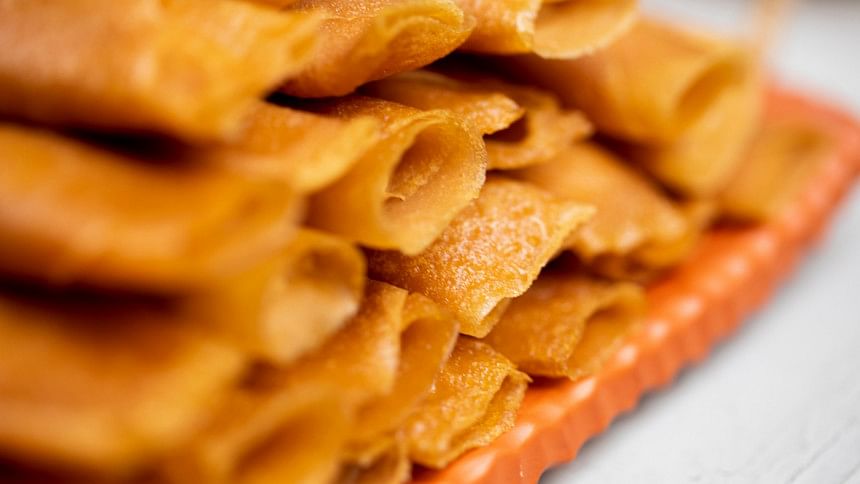 Patishapta is another crowd-pleaser when it comes to pitha — this Bengali stuffed crepe can be a tough contender for the more widely known French crepe! Made with a runny mixture of powdered rice and date palm molasses, they are then filled with a thick, creamy concoction of reduced milk. Every household has their variation of patishapta and all are uniquely delicious.
Bhapa Pitha
Bhapa pitha is quintessentially the ultimate pitha of Bangladesh with its own fanbase. These sweet rice cakes are made with roughly pounded rice, stuffed with date palm jaggery, fresh coconut shavings, and a drizzle of malai. Although the final output is the same, there are several renditions of bhapa pitha in households, stores, and street carts. There is hardly any Bangladeshi who misses out on enjoying this classic winter delicacy in winter!
Nakshi Pitha
Bangladesh is a country rich with culture and heritage that we often see glimpses of in various forms of art, and nakshi art is one such example. Nakshi art weaved its way into our food and behold, the nakshi pitha was invented! These crispy rice cakes are made with kneaded rice flour dough and then creatively given intricate designs before being soaked in a mixture of date palm molasses. Traditionally, these designs were made using the thorn of date palm trees.
Puli Pitha
Puli pitha is another versatile one that can be prepared and consumed in various ways. Traditionally, it is like steamed dumplings with a sweet filling of coconut and jaggery. Dudh puli is a delicious variation that is boiled in milk and flavoured with condiments and sweetened with date palm molasses and a generous amount of coconut shavings. These pockets of coconut filled rice cakes are also enjoyed fried. 
In Bangladesh, pitha is reminiscent of joy and celebration, of cosy winter mornings and evening soirees. With the festive wedding season occupying us during winter, pitha tends to be a big part of wedding celebrations. Pitha utshob, or pitha fairs are also arranged in different parts of the city where people can see and try out these sweet delicacies from various regions all throughout Bangladesh.
To us, pitha is not just a food but a true amalgamation of culinary excellence, heritage, and jollity.