10 ways to maximise the strawberry season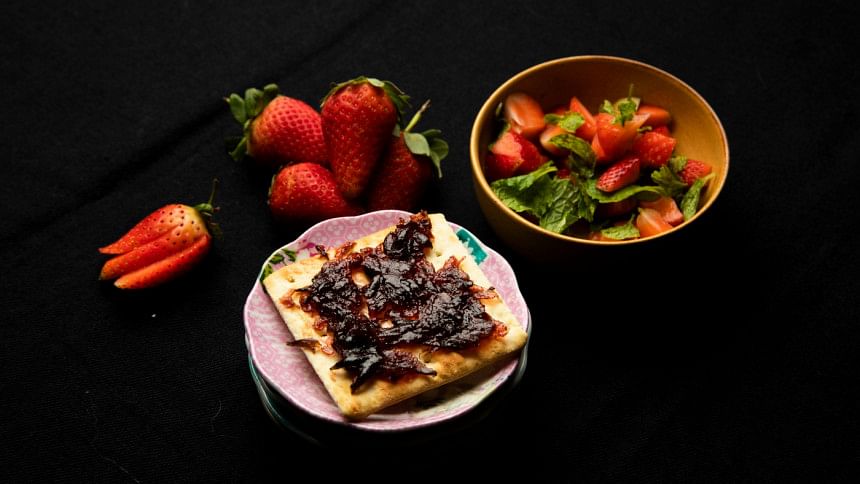 Bold red, juicy and tantalizingly sweet - strawberries are beloved by many. Unfortunately, the strawberry season in Bangladesh is too short – but there are always ways to maximise your enjoyment of strawberries even as the season wanes.
Charcuterie Boards
Charcuterie boards typically contain a variety of cheeses, fruits, crackers and other preserved foods and are becoming increasingly popular. Serve some strawberries on a charcuterie board as an appetiser in the next picnic you host and you'll easily impress all your guests!
Strawberry Salad
Whether you're trying to diet for the umpteenth time or are just in the mood for something healthy and delicious, a strawberry salad is ideal for a quick and easy lunch. Simply try adding some chopped strawberries to your next spinach and feta salad and watch your mind be blown!
Salad Dressing
If you're not fully sold on the idea yet of adding strawberries to your salads, try to ease in with some delicious strawberry salad dressing or vinaigrette to add some freshness to any garden greens you already enjoy to make the perfect summer salad!
Salsa
Salsa is the perfect side for the chips and tortilla snack days and the inclusion of strawberries with the spicy jalapenos and tangy lemons will create an excellent balance of sweet-spicy-sour taste that will have you coming back for more.
Crumb cake
Strawberry crumb cakes are the perfect summer desserts - light, airy and moist with the perfect crunchy top. This is the perfect cake for any spring-summer tea parties or even simply to end a meal with!
Chocolate covered Strawberries
Everything is better with chocolates - the same could definitely be said about chocolate-covered strawberries! This is one of the easiest and yummiest desserts to make and will always be polished clean seconds after serving!
Strawberry and Mint Lassi
Lassi is, without fail, a quintessential summer drink and the best way to cool yourself down from this sweltering heat. Nothing will beat a cold glass of strawberry, mint and yoghurt combination!
Iced Tea
Sweet iced teas are another fan favourite summer drink - why not go above and beyond and make a strawberry iced tea!
Ice-cream or popsicles
If you're feeling particularly brave, you can try your hand at making homemade strawberry ice creams and popsicles. With summer approaching, frozen cold ice creams and popsicles are the best desserts to serve your children, guests or let's be honest, yourself.
Jams and jellies
However much we try to use the strawberry season to the fullest, we often crave the tart sweetness way after the season ends. To combat this as well as to extend the season, turning overripe or excess strawberries into jams and jellies is the perfect solution. Not only will they last for months after the last strawberry harvest, but they will also complement every milkshake, sandwich or pastry you may want to make.
With the strawberry season already on the way out, this is the perfect time to experiment and incorporate strawberries into every meal, drink and dessert - the proper way to say goodbye to the gorgeous, delicious fruit until next year!