SKAI: New South Korean restaurant in Dhaka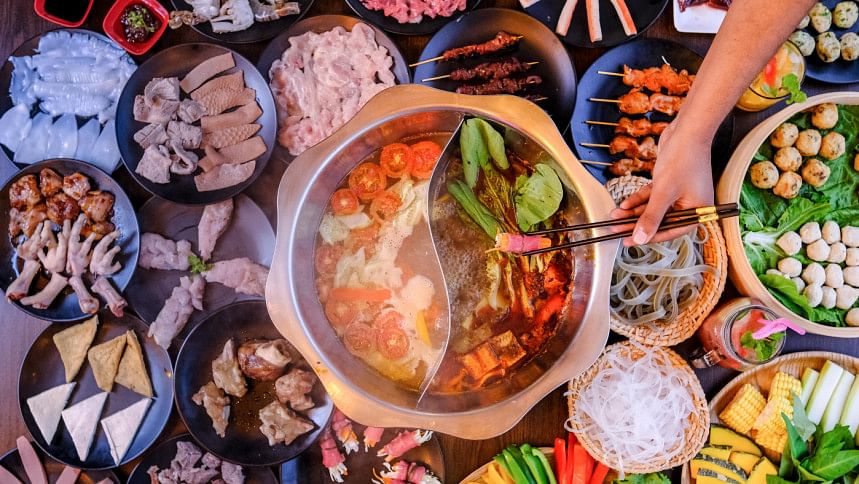 Thanks to the online streaming services, the cultures of the east, mostly South Korean, have been seeping into our own daily lives. From playing backyard games, and using Korean cosmetics to eating bibimbap, we as the "Netflix" generation have left no stones unturned.
Having said that, Hot Pot has been the hot topic of the town this season. With numerous variants across several East and Southeast Asian cuisines, the concept of Hot Pot originated in China. For the uninitiated, it is essentially a pot of simmering soup cooking your foods of choice for the entire meal.
If you are a fan of South Korea, you already know it, you love it, and you want more of it. In all honestly, this might be one of the experiences that co-align with our culture, because hot pot is all about the communal cooking, the coming together of friends and family, and everything in between.
If such communal activities excite you, then SKAI is the "Hot Pot" place for you! Situated in the tristate area of Dhaka city, SKAI accomplished what very few could in a small amount of time which is building a loyal base of patrons.
Mariha Khalid and Huma Khair, the proprietors of SKAI, spearheaded their venture with the hope of introducing a South Korean dine-in experience to the bistro scene of Dhaka. However, both Huma and Mariha stressed that their venture would not have come to fruition without the help, support and advice of Mariha's husband Md Wasim Rahman, a veteran restaurateur in his own right.
When asked whether the connoisseurs of Dhaka were ready for Hot Pot, Huma said, "We were pleasantly surprised with how much our patrons are willing to go out of their comfort zone to try new experiences!" She further added that the socio-economic growth has led patrons, of all ages, to be more aware and keener towards other cultures.
Even the ex-pat community of Dhaka are drawn to SKAI due to the authenticity of the flavours their dishes provide. Mariha adds, "One of the loyal customers, a Chinese patron, has lunch here almost every day. He even told me that our food reminds him of home. Due to such overwhelming response so far, we're planning to expand the restaurant and incorporate special private rooms for our patrons. We want to do better and plan bigger things for SKAI."
Hot Pot was traditionally more popular during colder seasons, though enticed customers are filling up the seats of SKAI even on the rainy summer nights. The importance of a hot pot is in part due to its consistent warmth, as it's kept simmering throughout the entire meal. Which is maintained by the staff and crew of the restaurant throughout your experience.
Additionally, the head honchos of SKAI pride in believing that eating hot pot is not only lunch or dinner; it often also serves as a social event. Because hot pot is served in the centre of the table, people congregate around it. It's a great opportunity for catching up with family and friends as everyone is gathered together.
Perhaps most importantly, hot pot caters to everyone's preferences. SKAI will let customers choose their choice of broths to serve as the soup base, and it also allows one pot to have multiple flavours.
Lastly, SKAI's customers can put whatever they want into the hot pot. Patrons are welcome to order what proteins (fish, beef, chicken), vegetables, or other foods they like, and they can cook their food to their liking.
Besides the fresh ingredients for Hot Pot, SKAI offers a plethora of delicious mocktails made from fresh nectar of imported fruits and other organic ingredients along with other South Korean succulent dishes which will leave you craving more. It is a place one must pay a visit with a group of friends and family to have a swell time in the tristate of Dhaka.
Things to know about Hot Pot
Some restaurants specialise in their broths, so it may be recommended to drink a bowl (or bowls) of soup before putting ingredients in. This depends on the place and is completely up to you.
Use chopsticks when handling food. It's more hygienic as the pot is shared by everyone!
Be sure to quickly swish the chopsticks in the pot when the water is boiling after you handle raw meat — you want to make sure they're hygienic.
Essentials:
Address: House 6/A, Road 113, 5th Floor, Gulshan Avenue