Recipes for an Eid ul Azha feast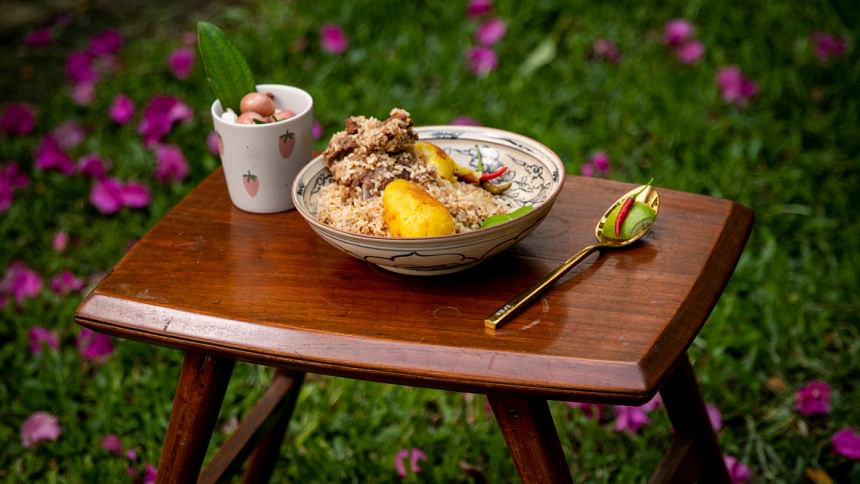 Eid day feasts are special, more so on Eid ul Azha. There was a time, not long ago, when grinding and preparing the spices for the meat dishes were tasks that took a long time. Today, thanks to ready-mix spices, easily available in the market, things are a little less hectic.
Some of the following recipes may have been difficult to master in the past, but not anymore. Try them, you will be surprised with the results.
KACHCHI BIRYANI
Ingredients
2 kg mutton (large pieces)
1 packet of Radhuni Kachchi Biryani Masala
1 kg Chashi Chinigura rice
1½ cup oil
½ kg potatoes, same size
2 cups chopped onions
1½ cups plain yoghurt
10 alu bokhara
10-12 almonds
¼ cup raisins
3-4 tbsp kewra essence
Salt as needed
1 cup saffron-infused milk
½ cup mawa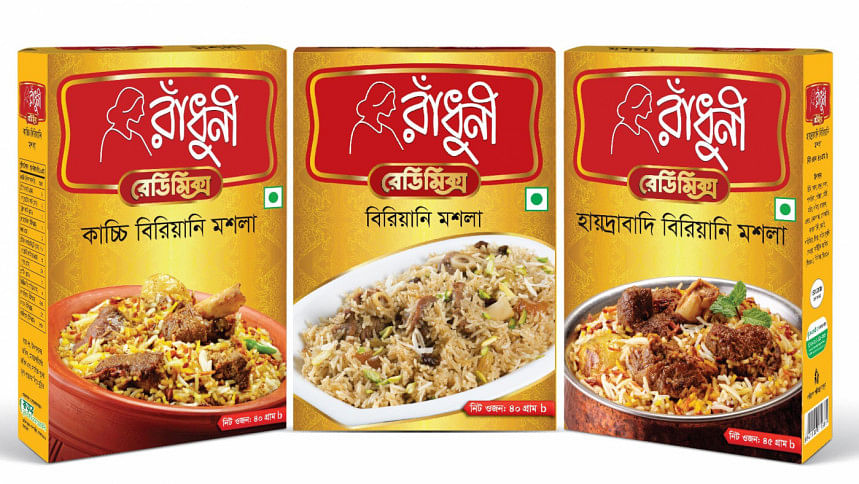 Method
Clean and rinse the mutton. Marinate with 1 tablespoon of salt for half an hour. Clean the mutton again and completely rinse out all the water. Set aside.
Fry the onions until golden brown and crisp. Crush the onions lightly into smaller pieces and set aside.
Sprinkle a bit of turmeric on the potatoes and fry them in the same sunflower oil. Keep these aside. Now marinate the mutton with one packet of Radhuni Kachchi Biryani Masala and then set aside.
In a separate pan, start boiling 6 cups of water with salt. Add rice to the water. As soon as the rice starts to get cooked, turn off the heat and let the water drain. Keep the rice water aside for later use. Add 1 cup of rice water and ½ cup of sunflower oil into the saucepan containing the mutton. Cover the pan and let it rest for half an hour.
Now layer the fried potatoes, alu bokhara, almonds, and raisins on top of the mutton. Cover mutton with rice, and add the remaining rice water and oil. Sprinkle mawa and saffron milk. Make sure the water level just touches the top of the rice.
Seal the cover shut by wrapping an aluminium foil all around. Make sure the cover is airtight and the vapour does not escape. Alternatively, the cover can also be sealed using wet flour dough. Finally, turn on the stove and start cooking over medium heat. After 15 minutes, lower the heat and cook for about an hour. Keep low heat until both the rice and meat appear soft and cooked. Remove the cover once the very distinct biryani aroma starts to come out. Mix rice and mutton gently before serving.
Serve with the usual chutney or the traditional borhani.
Food & Décor: RBR