Chef de Cuisine Faisal Aziz at Raffinato Ristorante Italiano
The term Italian Cuisine has been around the blocks of Dhaka streets for the better part of the last decade. Staple dishes of such gastronomy gained immense popularity to such an extent that pasta and pizza of every kind and standard began to sprout countrywide.
During this culture of access and excess, it is only inevitable that the authenticity of such culinary culture dwindles to the far corner of history. At this phase of the socioeconomic process, the culture of finesse and verismo comes into effect. Patrons and connoisseurs in search to quench their everlasting thirst to taste real culture in any form or shape embolden veteran chefs like Faisal Aziz.
Hoisting the apron of the Chef de Cuisine of Raffinato Ristorante Italiano, Aziz is one such individual who has donned many hats in his three-decade-long career. Honing his skills in industry sub-sectors such as Dairy, Cheese and Ice Cream… both Artisanal and Industrial, Military Hospitality, Hospitality Marketing and Culinary Education and Research,  Aziz says, "Within these vast areas of opportunities, I drove my hardest working, top skills developing and competitive miles."
If one has not raised their eyebrows by now, besides those experiences, Aziz accomplished CEC (Certified Executive Chef) from The American Culinary Federation along with his Advanced Studies in the Mediterranean and Southern Italian Culinary Culture from the "Academia Italiana della Cucina" (Italian Culinary Academy).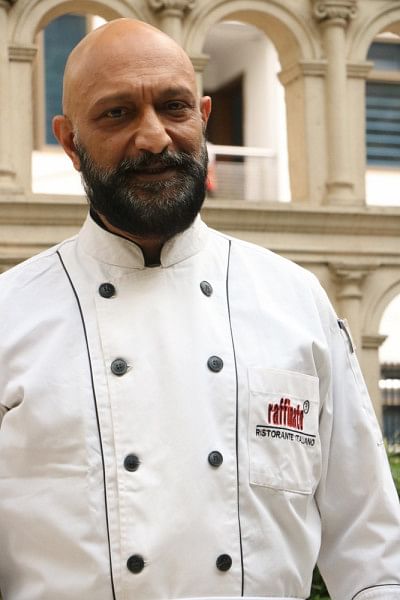 As he likes to put it, his journey began in the 80s by pure luck, "I started my internship at a property preparing to host the U S Governor's Convention. And that was more than an experience of a lifetime," adds the extraordinary chef. During that endeavour of his, he came across Chef Drew Brandenburg and was spellbound by Chef Drew's tenacity towards his craft.
He says he's always been blessed with a ton of mentors over his 30+ years of career who have inspired Aziz to follow his passion like a fanatic, including Charles Ginsberg, owner, of Beefmaster's, from whom he learned the art of carving up a proper cut of aged steak. "Chef Clemente Piccioni was another expert who guided me through my first study tour. He made sure all of my kitchen experiences from Marseilles to Genoa and from Greek Peloponnese to the Islands of Sardinia and Sicily were as tough as they could dish out. He was the Executive Chef to President Ronald Regan," Aziz states. And then there is Chef Brandenburg, a well-known German American Chef who gave Aziz 6 years' worth of mentorship and guidance plus so much more all through his university years.
Having mentioned the names above, the Chef would make a special mention to Iftekhar Ahmed Khan, the Founder and Managing Director of all the restaurants that belong to Raffinato. To Aziz, Iftekhar Ahmed Khan is more than a mentor, partner and collaborator.
The Chef usually leaves the word compromise outside his kitchen door to maintain the authenticity of Raffinato's Cuisine; it's mostly Classic Regional Italian fare with many more elements of the Mediterranean added into his renditions. He has gone as far as procuring his herbs from Sicily and the out of the world unadulterated Extra Virgin Olive Oil from Greece to producing Raffinato's Fresh Buffalo Milk Mozzarella, Feta and Ricotta in-house at the restaurant.
If you have made it this far in the article and wonder what authentic Mediterranean dishes taste like, the chef would like you to try Raffinato's signature dishes Gnocchi, a varied family of potato dumplings in Italian cuisine, with both Bolognese and Pesto Alla Genovese sauces. For the carnivores out there, Bistecca alla Fiorentina (Florentine beef) is to die for. The chef looks at an Elegant Classic called "Tournedos Rossini" and his spontaneous renditions of the classic as one of his top Signature dishes. The Tournedos Rossini has been a sort of a "centrepiece of my Culinary Meditation", he says.
The chef concluded by stating that none of the recent cause célèbre would have happened without the help of his skilled team and his adoring patrons who supported him and Raffinato through and through.