Foreign missions' alert surprises PM
Says a BNP leader is acting suspiciously after Italian citizen's murder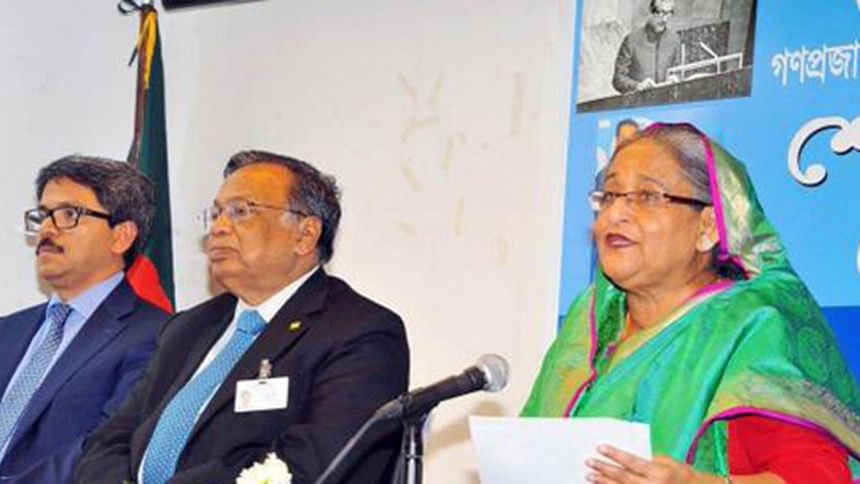 Prime Minister Sheikh Hasina has expressed her surprise as some diplomatic missions in Dhaka issued 'alert' to their nationals after the murder of an Italian citizen in Dhaka.
There is no justification of alert, the PM said at a press conference at Bangladesh UN Permanent Mission in New York Tuesday evening.
Stating that some stray incidents always happen not only in Bangladesh but everywhere in the world, the PM said: "US government didn't announce a alert when two Bangladesh nationals were killed in New York few years ago. Other diplomatic missions also didn't issue any such alert to their citizens. I don't know why diplomatic missions in Dhaka did this."
Hasina said she did not see any reason for issuing the alert to foreign nationals in Dhaka.
"I saw suspicious activities of a BNP leader after the murder. I think the clue of the murder would be revealed if the BNP leader is interrogated. I'll take the measure after returning home," she said.
The press conference was arranged to inform the outcome of the PM's New York visit to attend the 70th UN General Assembly Session.
Finance Minister Abul Maal Abdul, Foreign Minister A H Mahmood Ali, State Minister for Foreign Affairs Shariar Alam, members of PM's entourage, Permanent Representative of Bangladesh to UN Dr Abdul Momen and Press Secretary Ihsanul Karim were present.
The press conference was dominated by questions of expatriate journalists on current political and local issues.
About the reported link of Islamic State with the killing of the Italian national, Sheikh Hasina said a message from Chicago claimed linked of IS with the killing. But anybody from Bangladesh didn't claim it so far. Bangladesh's intelligence agencies have not received any information like that, she added.
There is certainly a strong force behind the killing. So they want to create a situation, she insisted.
Stating that terrorism and militancy are not only happening in Bangladesh, it's a global phenomenon, Hasina said Bangladesh believes in peace and certainly not in militancy.
Bangladesh does not want emergence of militants, the premier said, expressing sadness for the murder of a foreign national. "It's a pathetic incident."
AUSTRALIA TEAM FEAR
Regarding Australia national cricket team's not touring Bangladesh, Hasina said they were still not clear about the reasons. Both sides were discussing with the matter, she said.
In the past, similar situations were witnessed, Hasina said. Pakistan and India team played in Bangladesh. Even world cup cricket was hosted here. It is absolutely a matter of Australia why they suddenly decided not to visit Bangladesh, she said.
Bangladesh hosted a number of sports events in the past with complete security and no untoward incident was happened, the PM pointed out.
Untoward incidents have taken place in many countries, but not in Bangladesh. The law and order enforcement agencies and all concerned have enough expertise to ensure security of the players and people in Bangladesh are very conscious about this, she said.
'BNP, JAMAAT MILITANT ORGANISATIONS'
Hasina said her government is taking all measures to contain terrorism and militancy.
But BNP-Jamaat alliance denied taking part in the election and chose the path of killing people, she alleged. BNP and Jamaat started politics of killing from February 2013 and they continued it till 2014. And again they started resorting to terrorism from January to March 2015, she added.
Bangladesh would try those responsible for burning people alive. No killer would be able to escape, she warned.
Replying to a question, the PM said under the parliamentary system, the second largest party in the parliament is the opposition party.
But in Bangladesh, there is a political party which didn't contest the last election and resorted to militant and homicidal activities. They sometimes show their existence by setting fire to vehicles and killing people, even children and women, alive, she alleged.
"So, if you believe in democracy, particularly parliamentary one, you should accept the second biggest party in the parliament as the opposition party."
Terming BNP and Jamaat as "militant and terrorist organisations", she said people would decide which will be the opposition party.
The PM alleged that there are some people in Bangladesh who are out to create an abnormal situation by killing people. The killers of course would try to create the abnormal situation.
'NO EARLY POLLS'
Responding to another query, Hasina ruled out any chance of earlier election before 2019.
The supporters of militancy and terrorism who don't want Bangladesh's progress and development may want general election before the schedule, she suggested.
As long as Awami League remains in power, development of Bangladesh would get momentum, she said. Those who do not like this development may raise hue and cry for early election.
The next election would be held as per the schedule and according to the constitution. None should be worried about it, Hasina said.
Terming her visit to New York as a successful one, the PM said the UNGA has adopted the crucial Post-2015 agenda, a very 'pro-people' goal for sustainable development of the nations particularly poor ones.
Besides, she held very successful bilateral meeting with India, Japan, Netherlands and China.
Acknowledging the risk of international terrorism and militancy in Bangladesh, the PM said those people who plunged the country into politics of killing and coup have connection with international terrorism.
She said Bangladesh reeled on conspiratorial politics of killing and coup after 1975.
The government is implementing various programmes to free the nation from terrorism and militancy, she said.
"Certainly the war criminals and killers of Bangabandhu would try to create an unstable situation in the country and they are ceaselessly trying to do this," she said, adding that her government is making all efforts to ensure a peaceful situation in the country.
RELIGIOUS FREEDOM
Hasina said Bangladesh constitution allows equal rights to every citizen. People of every faith would observe their religion freely. Islam also says that, she said.
"If anybody does not observe religious rites, it is his or her matter. But none can hurt the sentiment of the theists."
Sheikh Hasina said her government is trying to find way to stop such acts by taking measures in this regard. Otherwise such incident would continue, she said.
Hurting the religious sentiment of others is a violation of constitutional rights. The authorities must take measures to stop degrading the religion. Otherwise, such things will continue to happen, she added.
In reply to a question, the PM said court would decide whether Khaleda Zia and her son Tarique Rahman would be punished or not in the corruption and grenade attack cases. However, she said she is always in favour of punishment of the perpetrators.