Celebrating Durga Puja with delicious recipes from West Bengal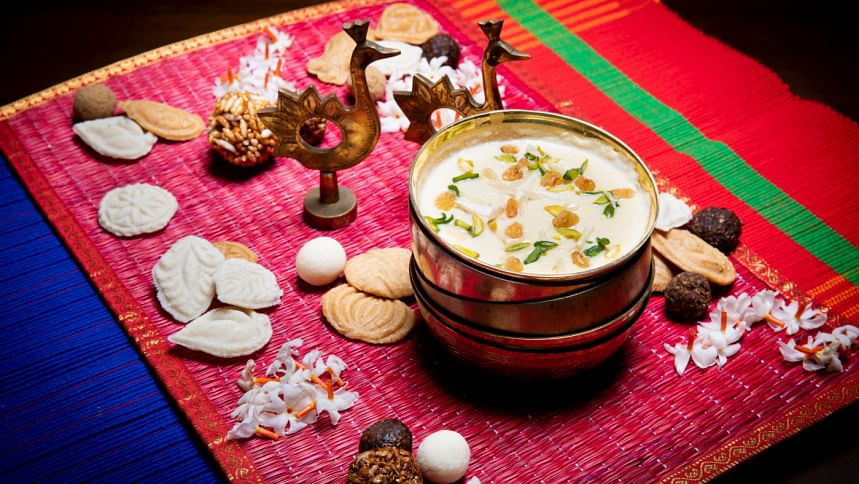 Bengalis celebrate the Durga Puja in style and food is at the heart of all Bengali celebrations. Puja festivities are incomplete without the snacks, the desserts, the vegetarian dishes, and even the non-veg dishes made from mutton. Handed over from one generation to the next, the following must-try recipes are at the heart of the puja festivities in Bengal.
ECHORER DALNA (UNRIPE JACKFRUIT AND POTATOES BRAISED IN SPICES)
Ingredients
800g cleaned echor (1 kg whole unripe jackfruit)
75g prawns, cleaned, and deveined (optional)
400g potatoes
65g tomatoes
4-5 pieces green chilli
2 tsp ginger paste
80g mustard oil
3 pieces dried red chilli
3 pieces bay leaves
3 pieces cardamom
2 pieces cinnamon
1 tsp cumin seeds
½ tsp red chilli powder
1 tsp Kashmiri red chilli powder
10g cumin powder
3g coriander powder
5g turmeric
18g salt
25g sugar
500g hot water
1 tbsp ghee
¼ tsp garam masala
Method
Peel and chop potatoes and divide them in 3 cm cubes. Roughly chop the tomatoes and slit the green chillies. Clean and chop the echor in 3 cm cubes. Keep soaked in water (make sure it does not turn black). Strain the echor and place it in a saucepan with 500ml hot water, 10g salt and ½ tsp turmeric. Cover with a lid and steam for about 8 minutes until slightly softened.
Drain the water and discard it. This will also get rid of the astringent flavour of the echor. Heat mustard oil in a pan and allow it to smoke gently until it loses its pungent flavour and turns pale yellow. If using prawns, smear them with salt and turmeric, and fry them for a minute before removing from the oil. Set aside for later.
Fry the echor with ¼ tsp red chilli powder and 3g sugar. Once it has fried for 4-5 minutes, strain it from the oil and set aside.
Now temper the oil with dried red chillies, bay leaves, cardamom, cloves, cinnamon and cumin seeds. Add potatoes and fry for 4 minutes on medium heat until golden. You can add about 2g salt to season the potatoes.
Make a paste of spices by mixing cumin powder, coriander powder, turmeric with little water. Add red chilli powder and Kashmiri red chilli powder directly to the oil and allow them to fry for 20 seconds. Now add the spice paste prepared earlier. Sauté the spices on medium heat for about 5 or 6 minutes, adding a splash of water whenever the pan dries out. Add ginger paste and fry the spices for another 3 to 4 minutes minimum.
Add tomatoes and green chillies.  Cook for 2 minutes. Now add the fried echor along with 16g salt and braise it along with the spices for about 5 minutes. If using prawns, you can add them to the pan now. When the spices are well cooked, add 500ml hot water and 22g sugar. Simmer on medium heat until the echor has cooked through. Finish with ghee and garam masala. Cover the pan and rest it for 2 minutes before eating. Serve with steamed white rice or luchi.
NARKEL DIYE CHOLAR DAAL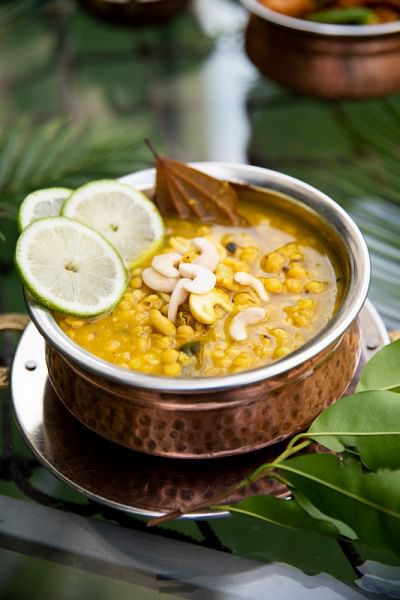 Ingredients
½ cup chana daal (cholar daal/Bengal gram)
¼ tsp turmeric powder
2 tbsp sliced fresh coconut
7-8 raisins
4-5 cashew nuts
½ tsp cumin seeds
A small pinch of asafoetida (hing) (Optional)
1 small piece of bay leaf
1 tsp garam masala
½ tsp grated ginger
1 dry red chilli
1 green chilli, slit vertically
½ tsp sugar or to taste
1 tbsp oil
½ tsp ghee
½ tsp salt or to taste
1 cup + ½ cup water
Method
Wash and soak chana daal in water for 30 minutes. Drain water and using a pressure cooker, boil with water, turmeric powder and teaspoon salt for 4-whistles over medium flame. Turn off flame and let it stand for 15-20 minutes to release the pressure inside the cooker (do not open the lid immediately as it may cause scalding). After pressure releases, open the lid and keep cooked daal aside.
Add cumin seeds, asafoetida, bay leaf, cinnamon, cloves, cardamoms, grated ginger and dry red chilli in the same pan and sauté for 20-30 seconds. Add cooked daal, slit green chillies, fried coconut slices, fried raisins and fried cashew nuts. Mix well and cook for 2-3 minutes over medium flame.
Add ½ cup water and sugar. Mix properly and cook until medium thick consistency for approximately 5-6 minutes. Stir in between occasionally to prevent sticking. Taste for salt at this stage and add more if required.
Turn off flame and transfer prepared dal to serving bowl. Authentic Bengali cholar daal is ready.
BHOGER LABRA
Ingredients
1 large potato
1 cup chopped egg plant
1 cup chopped jhinge (sponge gourd)
1 cup chopped potato
1 cup chopped runner beans
1 cup chopped radish 
½ cup chopped papaya
½ cup chopped carrot
1 cup cauliflower floret
1 cup cubed pumpkin
½ cup green peas
1/3 cup mustard oil
2 bay leaves
2 dried red chillies
¼ cup grated coconut
1½ tsp panch phoron
1 tsp ginger paste juice
4 slit green chillies
1½ tsp cumin powder
2 tsp Kashmiri red chilli powder
1½ tsp garam masala 
1 tsp turmeric powder
2 tsp ghee
Salt to taste
Sugar to taste
Method
First heat a pan and pour mustard oil. Separately, shallow fry the egg plant pieces, beans and pumpkin. In the remaining oil, put bay leaf, red chilli and panch phoron. Then add the vegetables (except the pumpkin, beans, and egg plant) one by one. Add salt and mix it well, put the lid on the pan for 15 minutes in low flame. Now we can put pumpkin and beans. Mix well. Now sprinkle turmeric, Kashmiri red chilli powder, jeera powder. Place a lid over the pan and cook for 10 minutes. Now put eggplant, grated coconut and green chillies and wait for 5 minutes in low flame. Lastly, put the ginger juice, sugar, ghee and garam masala. Turn off the gas and let it rest for 5 minutes. The labra is ready.
DOI DIYE KATLA MAACH
Ingredients
1 Katla fish
1 tbsp turmeric powder
1 tbsp Kashmiri red chilli powder
1 tbsp garam masala powder
4 tbsp yoghurt
2 tbsp onion paste
1 tsp ginger paste
1 tsp garlic paste
3 tbsp mustard oil
Few green chillies
1 tsp sugar
Pinch of salt to taste
Method
Marinate fish pieces with turmeric powder, salt, and keep aside for 15 minutes. Meanwhile, in a mixing bowl, add yoghurt, ginger paste, garlic paste, and onion paste. Now add turmeric powder, Kashmiri red chilli powder and garam masala powder to the mixture. Then add mustard oil, sugar and a little salt and some water and stir it up as a fine, smooth, lump free mix.
Shallow fry the fish pieces and dip them into the mixture and keep it covered for 15 mins. Add a few slit green chillies. Then, in a deep bottomed pan, pour the whole mixture and cook on low flame covered for 20 minutes. Check the salt and consistency of the gravy.
Doi katla is ready to be served. Sprinkle some coriander leaves if u want.
Kosha Mangsho (Spicy Bengali Mutton Curry)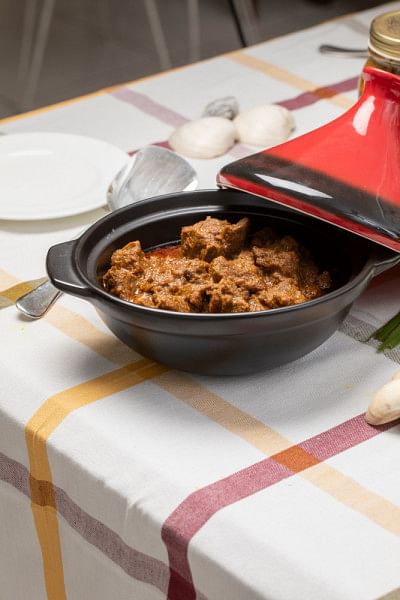 Ingredients
For marination —
1 kg mutton
100g onions
5g garlic
100g yoghurt
15g salt
5g turmeric
3g Shahi Garam Masala
For curry —
5 pieces cardamom
1 piece cinnamon
2 pieces dry red chilli
3-4 pieces bay leaves
20g green chillies
40g ginger paste
10g garlic paste
3g coriander powder
3g cumin
3g Kashmiri chilli
5g ghee
150g yoghurt
10g sugar
8g salt
400g onions (sliced)
Method
First, crush garlic and green chillies to a paste. Heat pan, and add 20g of mustard oil. Temper with dried red chillies, bay leaves, cardamom, cinnamon, cloves, and sliced onions. Cover and fry until brown.
After 15 minutes, add ginger-garlic paste. Keep stirring. After 5 minutes, add Kashmiri chilli paste to the mixture, then add coriander, cumin and continue the stirring process.
After 10 minutes, add marinated meat and stir in high heat. Then add yoghurt. Keep stirring and in-between, add salt, sugar, and water. Over the next 2 hours, keep the heat on medium and keep the pan covered. Serve hot with rice/polau or luchi.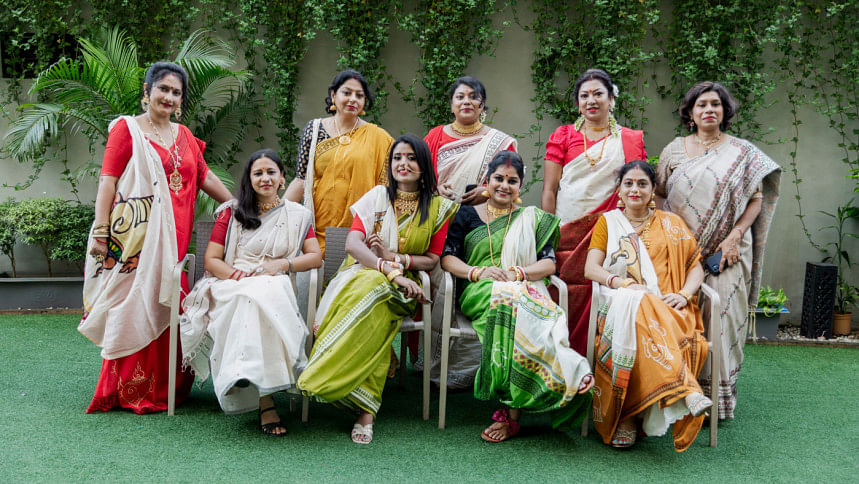 Bhoger Khichuri
Ingredients
Gobindobhog rice, moong daal, potatoes, cauliflower (small), tomatoes, ginger paste, cashew nut, raisins, crush coconut, ghee, mustard oil, dried red chilli, cinnamon stick, clove, whole cardamom, cumin seeds, whole bay leaf
Note: Since this is a community dish and made in large portions quantity of the ingredients are not mentioned
To make the spice paste —
Turmeric powder, cumin powder, red chilli powder, garam masala powder, sugar and salt to taste
Method
Cut potatoes in 5 cm chunks, cauliflower into 5 cm pieces, and tomatoes into quarters. Set a wok on medium heat and add the moong daal to it. Dry roast the daal, till it turns pinkish-brown giving off an aroma. Once roasted, transfer the daal to a large bowl and wash it.
In the same wok, add oil. Fry the potatoes till they develop a golden film. Remove from oil and set aside. Add the cauliflower to the pan, fry until the florets are lightly coloured, and set those aside too.
In a small bowl, mix the ginger paste, turmeric powder, and cumin powder with 50g water. Now, add mustard oil to the pan, set on medium heat. Once the oil is hot, temper it with dried red chillies, bay leaves, cardamom, cinnamon, cloves, and cumin seeds. Add the grated coconut. Fry for about 3 minutes until the coconut turns golden. Add the ginger-turmeric-cumin paste to the pan. Fry the spices on medium heat until their raw smell is gone and oil starts oozing from the mixture. Add the tomatoes, cover, and cook for about 2 minutes.
Next, add the gobindobhog rice. Fry for about 4 to 5 minutes, stirring frequently. Frying activates the sweet smell of gobindobhog rice. Add the roasted moong daal, and 2 slit green chillies. Stir them into the spices and cook for about 2 minutes. Add hot water along with the salt. Cover the pan and allow its contents to boil. The heat should be set at low from this point onwards.
Once the water is bubbling, add the fried potatoes and cauliflower. Cover and cook for about 15 minutes. Daal tends to settle at the bottom and stick to the pan, so do not forget to stir occasionally, scraping the bottom thoroughly. After 15 to 20 minutes, add the sugar. Stir and cook for 3 to 4 more minutes. Garnish with ghee and garam masala powder. Turn off the heat, cover the pan. And the khichuri is ready for serve.
Location: Khazana
Special Mention: Avishek Sinha, Khazana
Special Thanks for sharing their family recipes: Haimanti Chatterjee, Payel Roy, Koyel Roy Kundu, Manomita Ghosh, Rinki Maji, Suchismita Das, Rajashree Bhattacharya Mustafi, Dr Lopamudra Bhattacharjee, Amrita Basu Das