Beef curry and tortilla ruti on Eid ul Azha
Don't miss out on the ultimate beef curry recipe to try out this Eid and celebrate the wonderful day with loved ones.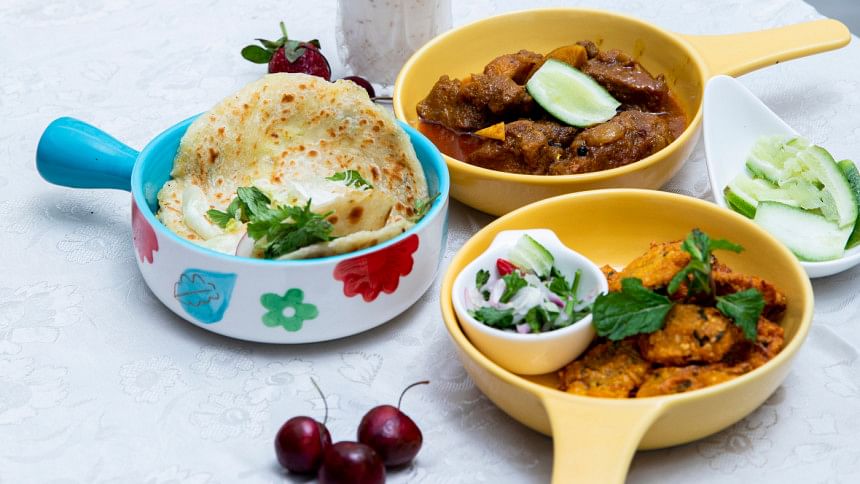 During the joyous occasion of Eid ul Azha, as we complete the prayers followed by warm embraces, and sacrifice our animals for the sake of the Almighty, there is a heart-warming aroma that we can all relate to — the lovely beef curry that awaits us afterwards. And we have the ultimate recipe for you to cook this Eid. This goes best with plain tortilla ruti, which can be made at home from scratch but is also available readymade in the market.
The ingredients for the recipe below have been adjusted for five people. You can change the amount of any element you wish depending on the number of people that needs to be served.
Beef Curry
Ingredients
1 kg beef
3 medium-sized onions
3 tbsp soya bean oil
500ml or 2 cups of water
2 tbsp ginger garlic paste
1 tsp turmeric
1 tsp chilli powder
½ tsp cumin powder
1 tsp coriander powder (optional)
2 bay leaves, cut in half
1 cinnamon stick, roughly 3" (halved)
4-5 cloves
8-10 black peppers
4-5 green cardamom
2 black cardamoms
Salt to taste
Method
First, wash the beef thoroughly and get rid of any excess fat and tissue. Slice the onions lengthwise and transfer them to a bowl. Get a pot and add the soya bean oil then start heating the pot. Wait a few minutes for the oil to heat up then add the dry spices like black pepper, cinnamon stick, bay leaf, clove, and green cardamom. Stir these in the oil for about 5 minutes until you start to get that spicy aroma.
Now, add the sliced onions and stir until the onions are slightly caramelised but not cooked all the way through. After that, add 1 cup of water, stir, then add the powdered ingredients. These are turmeric, chilli, cumin, coriander powder, and salt. Coriander powder is slightly overbearing so it is advised you add half a teaspoon first, then add more if you do not prefer that ratio. Stir all the spices in, adding your ginger-garlic paste, and sauté 10 to 15 minutes until it all comes to a boil and you can see the oil surface above the spice mixture.
This is a good time to taste so you can adjust the salt level in the curry. Finally, add the meat and stir it well to coat in all the delicious spicy goodness. Cook at high heat for about 15 minutes, then add 1 cup of hot water and continue stirring it well. Now would also be a good time to taste and adjust the salt. Cook for about another 15 minutes. Turn the heat down and leave the meat for a final 30-40 minutes to rest.
After all that's done, garnish with some sautéed onions and coriander. Serve the dish with polao or ruti, and proceed to impress everyone with the ultimate beef curry on Eid day!