6 must-have street food to try in Thailand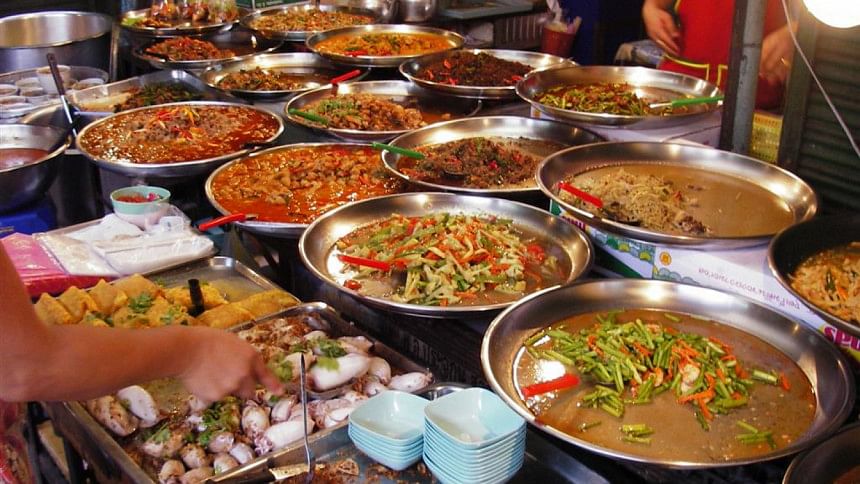 Street food in Thailand is a prominent feature of any visit to Thailand, for both its variety, cost effectiveness and taste. The indigenous ingredients and relatively cheaper prices attract people from all around the world. During a recent trip to Thailand, I was fortunate to experience this for myself.
Coconut smoothie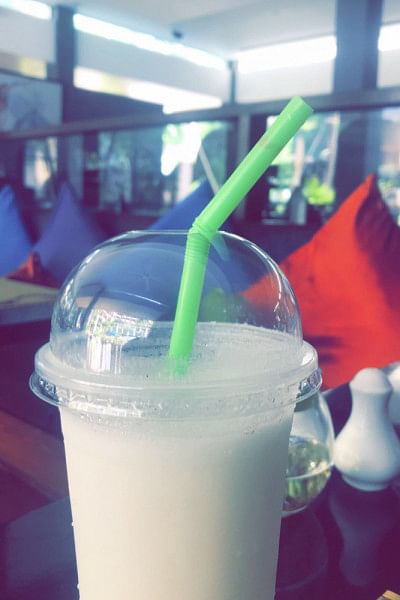 At the gorgeous Kata Beach in Phuket, where the sea water merges with the alluring blue sky above and the golden beach below, you will find these cute little smoothie stalls right beside the umbrella chairs where they make the yummiest coconut smoothies I have ever tasted.
Now, they do have a lot of options of fruits, but coconut was the winner. At least, for me it was. A glass almost as tall as my forearm, filled with ice blended snowy sweetness which instantly refreshes from within, that too for a cost of 70 baht only, has the potential to become anyone's favourite.
Som Tum, papaya salad
This is a special type of Thai salad that uses shredded green papaya as the key ingredient. The tanginess from lime juice, the fishy taste from fish sauce and shrimp pastes and the freshness from the herbs and spices will hit right at the spot. This, again, is a Thai specialty served either as a snack or sides with grilled beef or chicken and easily available at The Chatuchak Weekend Market or the stalls on Sukhumvit Soi 103, both of which lie in the traffic clad city of Bangkok.
Prices start from around 50baht and vary depending where you eat.
Khao Neow Mamuang, sticky rice and mango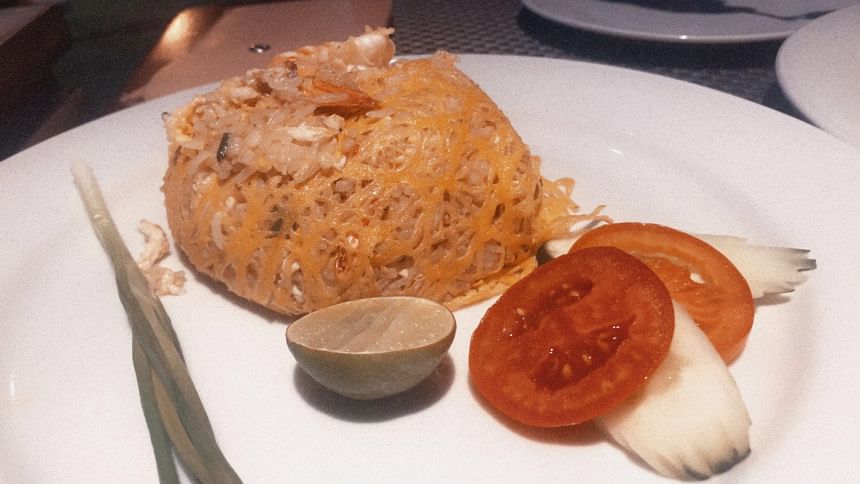 I remember ranting about the troubles of adult life and suddenly forgetting my speech as soon as a spoonful of the heavenly dessert dissolved in my mouth. There are some dishes which do not approach our stomach, they straight on reach our heart. Mango sticky rice with coconut syrup, also known as khao neow mamuang, is definitely one of them.
As you pour the coconut syrup on the sweet sticky rice, sprinkle some crispy yellow mung beans on top and smoothly cut through the ripe mango, the process itself feels oddly relaxing. Finally, indulging into a spoonful of the entire combination will give you a wonderful floating feeling, like you are on seventh heaven or something.
The rich flavours from mango and coconut wrapping around the sweet stickiness of the rice and the crunchiness of the mung bits, is my definition of a happy place, one of those desserts which leaves you saying, 'Mmmm… Wow!'
Mango sticky rice can be spotted at most of the fruit stalls (and there are plenty of them), so finding it is easy. I found mine at a fruit stall at Siam Paragon, one of the largest shopping malls in Thailand.
Stir-fries, Pad Thai & Khao Pad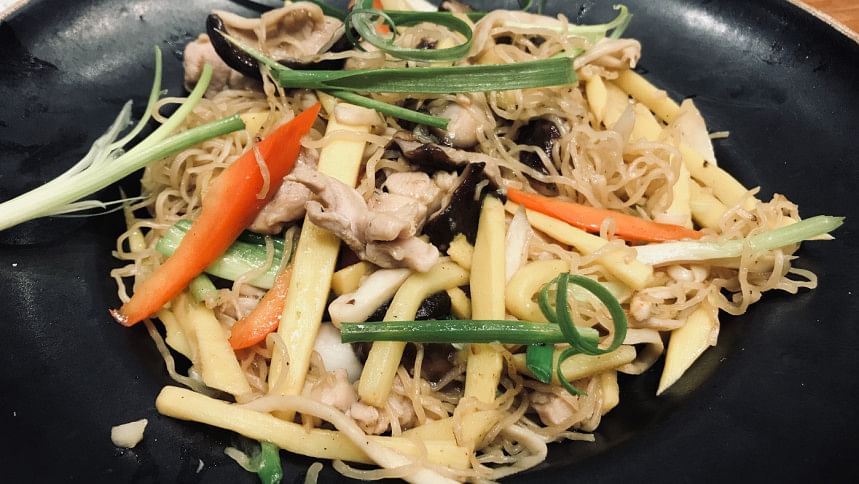 Stir-fries occupied a place in my to-do list the moment I decided to spend my holidays in Thailand. Stir-fried noodles, aka pad thai, and stir-fried rice, aka khao pad, are staples at Thai restaurants and the most popular street foods of all.
The aroma of wok fried rice noodles sautéed together with shrimps, chicken, tofu, peanuts, bean sprouts with their signature scrambled egg on top is sure to meet your stir-fry cravings. They are then tossed and turned in the wok with the traditional Pad Thai sauce which constitutes fish sauce, tamarind paste, sugar and vinegar.
Khao pad is similar to the Chinese fried rice. However, unlike the Chinese one, people of Thailand use the fragrant jasmine rice instead of white rice and fish and oyster sauces instead of soy sauce.
This dish is also wok fried with shrimps and chicken, scrambled eggs, lime juice, red chillies, garlic, spring onions and other veggies and spices, bringing out the perfect balance of sweet, sour, salty and spicy.
The dish comes with choice of other proteins like crab meat or pork. There were a number of places I tried stir fries from but the one at Laimai Courtyard Restaurant and Bar near Patong Beach in Phuket, deserves a special mention. Albeit a little expensive than the ones in the street stalls (around 300 baht), it was worth it. Plus, with the seaside breeze blowing on your face and the soothing live music, I bet you will feel guilty about crossing your budget.
Gyoza
Artfully shaped into a crescent and fried and steamed with equipoise of crispness and chewiness with chicken/prawn/pork/veggies stuffing inside, gyoza is another Thai favourite. These scrumptious fried dumplings originated from the Chinese Jiaozi and later its popularity reached other parts of East Asia. I had mine from a restaurant called Teraoka Gyoza, again at Siam Paragon, for 230 baht.
Tom Yum Soup
This signature Thai soup needs no introduction. This is the king of all soups and a must try in Thailand. The sweet and savoury flavours loaded with greens, tomatoes, prawns and chicken cubes create an equally healthy and tasty broth. Plus, it is so filling. Tom yum is among the very popular Thai foods and can be found in most restaurants. I hunted mine from one of the numerous food stalls in Central Phuket at a price of around 80 baht. This, however, varies on the size of prawns.
Foodies with adventurous spirits, who are in the mood for an experience somewhat similar to that of Elizabeth Gilbert in Eat, Pray, Love (I said 'somewhat' similar), street food hunting in Thailand should be definitely on their wish list. The sound of sizzles and essence of sauces wandering only on the Thai streets, will be carved into your memories for a lifetime.